New England Patriots: How Albert Haynesworth Could Be Cure for Lack of Pass Rush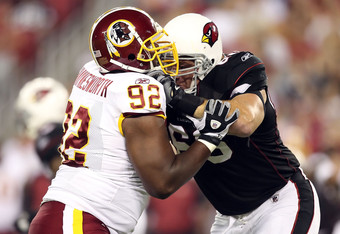 Christian Petersen/Getty Images
It was a shocking move, to say the least. An abrupt shift in character and departure from the routine.
It's difficult to come up with an exaggerated take on the trade that brought Albert Haynesworth to the New England Patriots from the Washington Redskins. After all, Haynesworth's recent years are smeared with trouble, laziness and attitude. And Coach Bill Belichick—the disciplinarian whose obsession with football is matched only by the devotion he expects of his players—wanted him. And wanted him eagerly.
It made little sense. It was controversial. According to many, it was a risk. According to some, it was a mistake.
But Belichick is on to something. Fixing the pass rush was the biggest task entering this offseason. Acquiring Haynesworth initially seemed to be putting it off. Instead, Belichick may have his answer.
The Patriots defense is going to be different this season. For evidence, look at the formats New England played last year. It came out in sub packages 57 percent of the time. The transition from a bread-and-butter 3-4 style had already begun.
But if that's just speculation, a high percentage due to the inexperience of a young defense, Ty Warren provides proof. After he was cut, Warren, a 300-pounder whose run-stuffing skills make him an ideal 3-4 end, confirmed that the Patriots may very well be changing their traditional defense.
Christian Petersen/Getty Images
"I think it looks like they're trying to get away from the 3-4," he said.
In a 3-4 scheme, defensive linemen either draw double teams or control the gaps to stop the run, while the linebackers either rush off the edge or through the holes to provide the pressure. In a 4-3, which the Patriots have started to try out, the extra defensive lineman gives the ends and tackles more playmaking opportunities. Far more.
That means that teams can generate pressure from the defensive tackle position. And for the Patriots, who have two of the best in the game in Haynesworth and Vince Wilfork, that plays right into their hands.
Flanking Haynesworth and Wilfork with two ends would force offenses to reconsider their blocking schemes. Up to this point, even though offenses have been forced to commit two blockers to Wilfork, they've been able to get by because the Patriots' revolving door of linebackers has simply not been good enough to take advantage of the holes opened up.
That changes now. Pairing Wilfork with Haynesworth gives New England two dominant forces in the trenches that command double teams. Offensive lines will either have to either give each player his due attention and greatly thin themselves out for the rest of the defense, or take a chance with a one-on-one matchup, and risk Wilfork or Haynesworth winning an easy battle. It wouldn't be pretty.
Either way, the tandem gives the Patriots an excellent chance to provide pressure to the quarterback up the middle, which is an added bonus because the rush gets into the pocket quicker in a straight line, rather than by going around the tackles.
In less than a week, the Patriots' anemic pass rush has transformed into a dream force, one to be reckoned with. But there's a catch.
The catch is that the key to this scheme, Haynesworth, is, unfortunately, Albert Haynesworth. It's the guy who became the laughingstock of the league with his multiple off-the-field incidents, conditioning test follies, attitude blowups and flops on the field, which are most damning because they show that he compromises his in-game play as well.
The catch is that this defense falls apart if Haynesworth simply does what he's been doing the past two years, and not what he did the two years before that.
But Belichick is gambling that he's getting the Haynesworth that can give offensive linemen nightmares again. And if he is, he has his pass rush.
But don't think the situation is without risk. True, Haynesworth's salary currently isn't guaranteed, and if he goes sour, the Patriots do not have to pay for it. But their defense does.
New England's defense could be great this year. It all depends on whether Haynesworth wants to be a part of it.
This article is
What is the duplicate article?
Why is this article offensive?
Where is this article plagiarized from?
Why is this article poorly edited?

New England Patriots: Like this team?