Philadelphia Eagles: 8 Reasons They Still Have a Long Road to the Super Bowl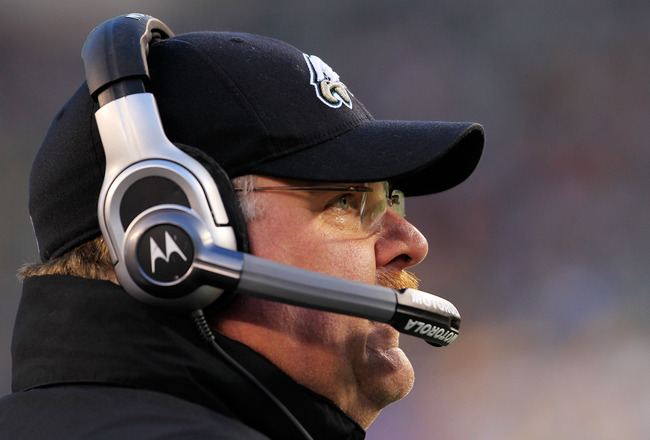 Chris Trotman/Getty Images
"Super Bowls are won in February, not in Free Agency."
Thus is the text that I had to send to a friend after he worried that the Steelers weren't signing anyone in free agency. Thus is the life we have been used to as Steelers fans when the only huge splashes we've made in Free Agency since 1994 are Jerome Bettis, James Farrior and Ryan Clark.
My friend was flustered because we live in the eastern half of Pennsylvania, which is running rampant with Eagles fans. Many of these fans are even my family members or my fiancée.
Needless to say, a lot of them are bragging about the Eagles' recent free agent signings, and they have every right to be excited. But I just want to warn that free agency isn't where Super Bowls are won. Eagles fans should know this best playing in the same division as the Washington Redskins, who have still yet to win the division for more than a decade despite rampant spending.
So with everyone penciling in an Eagles-Patriots Super Bowl, I figured I would present some non-hating reasons that the Birds might not make the Super Bowl.
1.) Nnamdi Asomugha Makes Rodgers-Cromarite and Samuel Coverage Liabilities.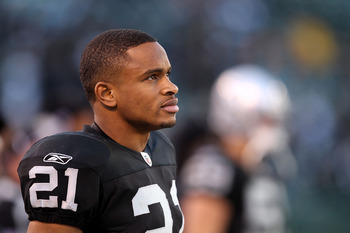 Ezra Shaw/Getty Images
The Eagles easily got a steal when signing Nnamdi Asomugha to their team. He is probably the best defensive player in the league regardless of position. Yes, I consider him better than the likes of Troy Polamalu, Ed Reed and Darrelle Revis.
Asomugha has made a living out of opposing quarterbacks avoiding him following his 2006 season. From 2007 on he has never been targeted more than 36 times in a season. Over that span he is the only cornerback to start all 16 games in any given season and be targeted less than 35 times, and he's done it twice. If you move the barometer to 40 targets, he's done it three times.
So the Eagles got better without question by signing him right?
Not necessarily so.
The cornerbacks opposite of Asomugha over this span—Chris Johnson and Stanford Routt—have played well. They have had good metrics, but the one that has always stood out is the number of targets for them—routinely at least around 80 and sometimes surpassing 100 in a season. This was due to man coverage heavy systems.
Where I am heading with this is that neither Rodgers-Cromartie nor Samuel excel in man coverage. In fact, it's both of their respective weaknesses. They excel in off-zone coverage and either bating the quarterback into throws (Samuel) or jumping poorly thrown passes (Rodgers-Cromartie).
Sure Samuel was only targeted 35 times last season, but that is due more so to an incomplete season and the five other members in the Eagles secondary being terrible. That's no longer the case.
Sure Samuel and Rodgers-Cromartie will now get more opportunities for interceptions playing with Nnamdi, but they'll also get many more opportunities to get beaten, which both have displayed a propensity towards in their careers, whether it be before the catch or after it by missing tackles.
2.) Nate Allen and Jaiquawn Jarret Are Glaring Holes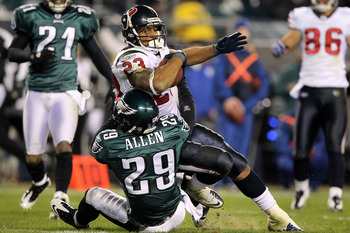 Al Bello/Getty Images
While I like Nate Allen, his rookie season was better looking on paper than on film. While I've never seen Jaiquawn Jarret play much is to like about his size and the fact that he's coming from Temple so he knows about the Eagles and their personnel already.
As much as I like these guys, the reality exists that they are a second-year and first-year safety, respectively. Even the second-year safety had his rookie campaign cut short due to a terrible leg injury, which is tough to recover from.
If I am an opposing quarterback, I am certainly scared to test the likes of Asomugha. Likewise, I realize that Asante Samuel has studied film on me and is ready to make me pay. Finally, I realize Rodgers-Cromartie will pick off my pass if it's inaccurate. However, I'd also realize that the middle of the field is mine for the taking with two young safeties having to anchor the defense.
These two young guys are going to have to channel Brian Dawkins with the amount of responsibility placed on them now. Sorry Eagles fans, while it isn't impossible, it still seems very improbable even if they are second-round picks.
3.) Asomugha and Rodgers-Cromartie Have 5 Weeks to Learn a New System.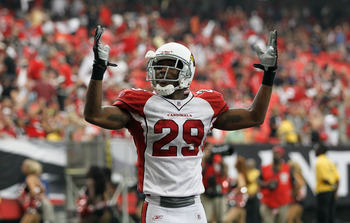 Kevin C. Cox/Getty Images
This seems to be the thing that everybody is overlooking. If these signings and trades were made during the traditional months of March and April then I'd truly be enthralled with all of the hype. But they were not.
So enamored with the fact that we just got football back people seem to forget that players lost a month of organized team activities and training camp days. Additionally, players lost the five or six months that they normally would have had to study their new teams' respective playbook.
So without all that time, Asomugha and Rodgers-Cromartie essentially have the month of August to learn the Eagles' system. The system is changing back to the Jim Johnson-style zone blitz with the emphasis on the former sentiment.
The reason that this is tough is due to the fact that Asomugha has primarily played man coverage his entire career. When he has appeared human a lot of the time it was in zone coverage. Now he has to learn a system that looks to feature lots of zone coverage.
For Rodgers-Cromartie the issue is more so his immaturity. Although he believes he sees a pick-six, will he be able to stick to Juan Castillo's scheme and remain in his designated zone? Will he understand the complex schemes that weren't so present in Arizona?
Combine this with the fact that a rookie safety behind these two guys has to learn this system as well on a shortened time period and we have ourselves some foreseeable "holes in the zone" or perceived lapses of coverage due to this.
4.) Jason Babin Will Not Revolutionize the Eagles' Pass Rush.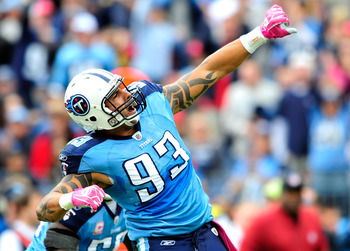 Grant Halverson/Getty Images
Since the Eagles have signed Jason Babin, many people have been up in a roar. Some consider Babin this premier pass rusher, who will line up opposite Trent Cole and finally give him the help he needs. I personally do not see it.
Babin has had an entire career marked by mediocrity and finally had success last season in Tennessee. Some people have attributed this to being coached up by Jim Washburn. However, such a thing isn't quantifiable and thus hard to measure.
While I say Washburn did have an effect on Babin, it wasn't Babin's own personal abilities that allowed him to finally break the double digit sack barrier last season. Rather, it was the coaching staff in Tennessee allowing under tackle Jason Jones to wreak havoc.
As Jason Jones was wreaking havoc and drawing additional blocking support from opponents, Babin was many times left one-on-one or with a free rush at the opponent.
Babin figures to get some one-on-one looks thanks to Cole's relentless engine, but even with the signing of Cullen Jenkins, I don't see an interior defensive lineman with Jason Jones' abilities at the under tackle position. Sure Antonio Dixon has shown flashes, but without somebody to wreak consistent havoc on the interior, Jason Babin is going to have trouble repeating his success.
If he doesn't repeat his success then he's a more expensive version of Juqua Parker, only he may actually record a sack after Week 8 in a season.
5.) Their Linebacking Corps May Be the League's Worst.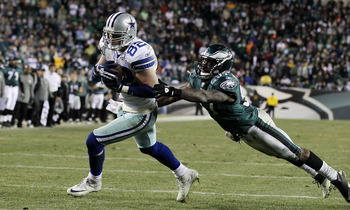 Jim McIsaac/Getty Images
Can anybody who is not an Eagles fan name their linebacking corps? How about Eagles fans? Can you tell me who the frontrunners are for the SAM, WILL and MIKE positions?
Casey Matthews, Greg Lloyd, Jr., Moises Fukou, Jamar Chaney, Keenan Clayton and Akeem Jordan are all average players or unproven commodities at this point. Fukou, Chaney and Jordan have shown signs of great play, but they've also shown signs of a need to be cut.
Sadly, Matthews and Greg Lloyd Jr—both drafted this offseason—look the best going forward, and that is primarily due to the fact that both of them are legacies to great linebacking families. However, that is admittedly a pure speculative opinion of mine.
The game of football is unpredictable. So maybe this group of relative unknowns can step up and be amazing players. This is indeed possible. Unfortunately, I also found myself uttering this stance last offseason and two offseasons ago as well when talking about the Eagles.
6.) Alex Henery Is a Rookie Who Will Be Called Upon for Big Things.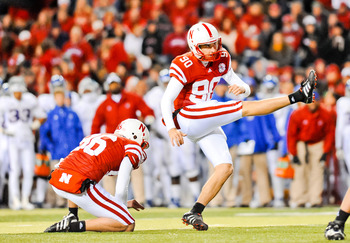 Eric Francis/Getty Images
The Eagles felt confident enough in Henery to let David Akers go to the San Francisco 49ers recently. Or perhaps they were just "punishing" Akers for missing two field goals in their Wild Card loss to the eventual Super Bowl champion Packers. Either way, Alex Henery will be a rookie kicker for a team with lofty expectations.
Obviously, kicker is the position that is the easiest to transition from college to the NFL, but that doesn't mean that pressure doesn't exist. In the "City of Brotherly Love," where you are only as good as your most recent play, I could see Henery missing after succumbing to the pressure of the fans if he has to hit a very long field goal to win a game.
This one obviously isn't as crucial as the ones listed above, but it still remains valid that as unimportant as people think kickers are, they most certainly are an important position with games on the line.
7.) Michael Vick and Vince Young Have Inconsistent Careers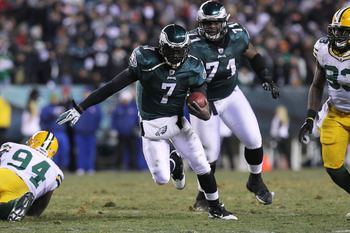 Nick Laham/Getty Images
Michael Vick had an excellent season last year. While I believe MVP talks were very premature, it doesn't change the fact that he may have been the second best quarterback in the league last season.
However, that was last season in which he experienced many career highs and abilities he hadn't otherwise displayed prior to going to jail or even in limited snaps in the 2009 campaign.
Eagles fans are usually quick to point out that Vick will now "have an entire offseason to workout as the starter and prepare himself," but that certainly wasn't the case now, was it?
He had minimal attempts to work out with DeSean Jackson during the offseason due to the lockout as well as Jackson wanting a new contract.
Even if Vick did have more time to work out with receivers, it means little if his offensive line doesn't tremendously outdo their efforts from last season. In addition, Vick has to learn how to read a blitz.
Sure Vick has more time to work with the first team now, but conversely, teams now have much more film on him. You had better believe they will examine the Vikings, Giants and Packers footage to try and develop a gameplan to stifle Vick.
I am not saying that Vick will be bad. I am, however, saying that it is every bit as possible that he will regress from last season than it is he will improve. And if Vick regresses, it will be a tough season for the Eagles, who even with their defensive acquisitions are predicated on their offense.
In addition, Vick is almost guaranteed to go down with injury due to his playstyle, trouble in reading blitzes and the offensive line. In comes Vince Young.
Sure Andy Reid is a quarterback guru. Sure Vince Young has a propensity towards somehow ending up on the winning side of competitions. But does anyone outside of Philadelphia actually believe that a guy who has constantly been inconsistent, made asinine statements to the media and failed to make big plays with his arm can replace Vick and get wins?
I certainly don't, but maybe I'm wrong.
8.) Andy Reid Is Still the Head Coach.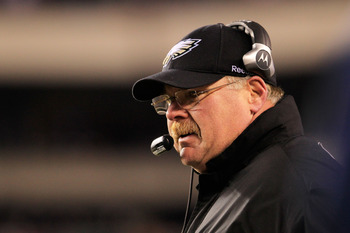 Chris Trotman/Getty Images
I love Andy Reid as much as the next guy. I'll be the first to acknowledge his strengths as a talent evaluator for the draft, his ability to develop offensive players and his ability to script the first 15 plays of a game. He may be unrivaled in those three respective categories by any other coach in the league, but there is more to coaching than that.
The "Jolly Green Giant," as I like to call him, has issues with hubris. Many times Andy Reid will stick to his gameplan and refuse to abandon it. Many times it has resulted in losses in crucial moments, including the 2002 and 2003 NFC Championship Games.
With all this talent acquired and Reid being at the forefront of all of the acquisitions, it doesn't bode well for him in the way of making changes to his style.
I don't expect Reid to suddenly run the ball when gaining leads. Nor do I expect him to make halftime adjustments when the Eagles are losing because now they have the talent that "should" overcome any deficit. Finally acquiring talent certainly isn't going to make Reid suddenly challenge obvious calls and cease to challenge calls that clearly are correct.
Reid still has these problems and hasn't shown any signs of changing them for the better during his entire tenure as a head coach in this league. It all starts with coaching, and until Reid can fix his problems, it doesn't matter if the Eagles fix their personnel problems from last season.
The Birds can only go as far as Andy Reid can take them.
So There You Have It...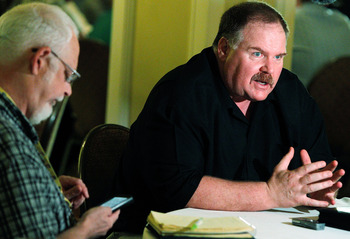 Sean Gardner/Getty Images
So there you have it...
Eight reasons why I believe that the Eagles aren't as great on paper as they appear to be. This does not mean they won't reach the Super Bowl. Nor does it mean that they won't win it. Part of me wants them to because SOME Eagles fans most certainly deserve the feeling of a Super Bowl victory.
While the joy and jubilee of winning the free agency market is certainly warranted here, I just employ all those already making their plans for a parade on Broad Street to remember...
"Super Bowls are won in August, not in Free Agency."
Keep Reading

Philadelphia Eagles: Like this team?