MLB Trade Deadline Winners and Losers: Hunter Pence and 10 Best Deals
Andy Lyons/Getty Images
The 2011 MLB trade deadline was caught in the crossfire of the NFL's post-lockout free agent frenzy. Still, we were given an exciting deadline with several big names traded in the final week leading up to July 31 Judgment Day.
Nearly every big name mentioned leading up was dealt. From No. 1 slugging rental Carlos Beltran to the pitching gem on the trade market Ubaldo Jimenez, this deadline did not disappoint for certain franchises.
This year, the Yankees failed to make a blockbuster deal, but World Series contenders San Francisco, Philadelphia, Pittsburgh, Texas, St. Louis, Boston, Cleveland and Atlanta became much richer after the smoke settled. Most of the sellers sold their main attractions and the contenders bit (hard) as top prospects were shipped across the league.
Of the many players dealt, we're going to rank the top 10 deals based on which player will have the biggest impact for their new organization.
10. Orlando Cabrera, SS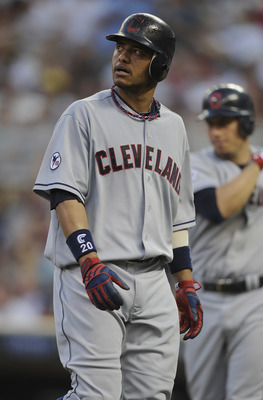 Hannah Foslien/Getty Images
2011 Stats: .242 BA, .318 SLG, .275 OBP, 4 HR, 38 RBI
From Cleveland to San Francisco for OF Thomas Neal
San Francisco was in desperate need of infield help and they were able to land one of the more underrated veterans in the game.
Not many knew Cabrera was on the trade market, but San Francisco snuck in at the end to land him.
Cabrera's experience and ability at multiple positions in the field will greatly assist this team during the postseason as they look to create mismatches on their way to a World Series repeat. The Giants have been dealing with the injury bug throughout the season, so Cabrera's versatility will be a welcomed addition.
9. Mike Adams, RP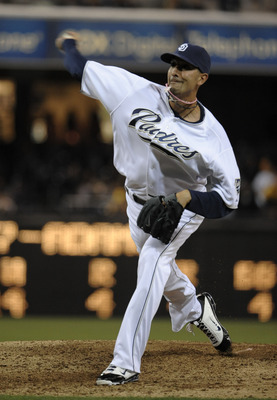 Denis Poroy/Getty Images
2011 Stats: 3-1, 23 HLD, 1.13 ERA, .73 WHIP, 49 K's
From San Diego to Texas for LHP Robbie Erlin and RHP Joe Wieland
Texas has everything going for them—remarkable lineup, incredible starting rotation and a superstar closer in Neftali Feliz.
The only way to go at the deadline, despite the Carlos Beltran and Ubaldo Jimenez jibber jabber, was to bolster the bullpen.
Many will be concerned as he heads from the arguably the most pitcher-friendly park in the major league to the arguably the most hitter-friendly park, but Mike Adams has awesome stuff and will transition well heading to the American League.
Texas landed a man who has a ton of experience in the setup role and will excel in front of Feliz.
Mission accomplished at the deadline.
8. Colby Rasmus, CF
Brad White/Getty Images
2011 Stats: .240 BA, .410 SLG, .326 OBP, 11 HR, 42 RBI
From St. Louis with LHP Trever Miller, LHP Brian Tallet and RHP P.J. Walters to Toronto for RHPs Edwin Jackson and Octavio Dotel, LHP Marc Rzepcynzki, OF Corey Patterson and three players to be named later or cash considerations
Toronto was dealing this week.
After stealing Edwin Jackson from the White Sox, they immediately flipped him for the emerging superstar center fielder Colby Rasmus.
They traded away a couple of pitchers they had no use for and an above average center fielder in Patterson to land a man with as much potential as anybody in this league.
Rasmus and "Joey Bats" Jose Bautista will form one of the most feared one-two slugging punches in the majors.
Rasmus has been timid in the field and batter's box this year as he felt like an outcast in St. Louis. Now in Toronto with a clear mind, he will be able to thrive and live up to his potential. Get ready to see that ball rocketed towards the moon from north of the border!
7. Derrek Lee, 1B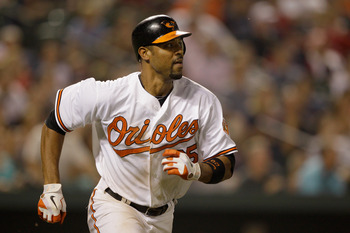 Rob Carr/Getty Images
2011 Stats: .246 BA, .404 SLG, .302 OBP, 12 HR, 41 RBI
From Baltimore to Pittsburgh for 1B Aaron Baker
Pittsburgh desperately needed to add a slugger and they found the perfect veteran to fill their gaping hole.
Lee will slide right into the heart of this lineup to give the Pirates a gritty, experienced and lethal power hitter.
They wisely targeted a home run hitter who has a ton of experience and knowledge of the National League Central, which will give him and the Pirates an advantage moving forward.
Lee is also an underrated first baseman, so the Pirates kill two birds with one stone. He was a cheap option for the Pirates, who only gave up High-A minor leaguer Aaron Baker in the deal to land a man who can single-handedly power the Pittsburgh to the postseason.
6. Ryan Ludwick, RF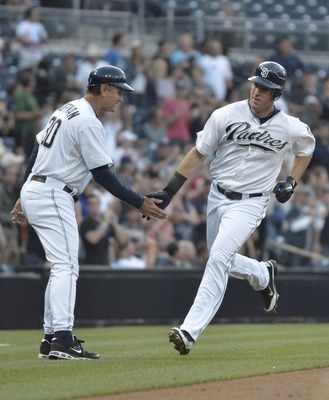 Denis Poroy/Getty Images
2011 Stats: .238 BA, .373 SLG, .301 OBP, 11 HR, 64 RBI
From San Diego to Pittsburgh for player to be named later or cash considerations
Once again Pittsburgh is on the list after they landed Ryan Ludwick, who could very well be the steal of the deadline. They may not even have to give up a player to acquire his monstrous services!
Ludwick is an underrated outfielder with a humungous bat. Finally back to this galaxy and outside of Petco Park, expect him to destroy balls once again with ease. In 2008, he blasted 37 homers with the Cardinals and his power hasn't dipped much.
Pittsburgh has been dealing with injuries, none more important perhaps than the game-changer Jose Tabata, so Ludwick will be a pleasant staple in left field until Tabata gets healthy.
5. Ubaldo Jimenez, SP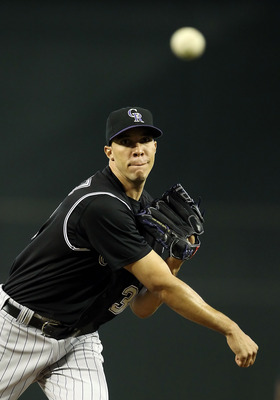 Christian Petersen/Getty Images
2011 Stats: 6-9, 4.46 ERA, 1.37 WHIP, 118 K's
From Colorado to Cleveland for RHPs Alex White and Joe Gardner, 1B-OF Matt McBride and a player to be named later, presumably LHP Drew Pomeranz
This may have been the weakest trade deadline ever for starting pitchers, but the Tribe managed to walk away with the top prize in Colorado's ace Ubaldo Jimenez.
Jimenez is a 27-year-old ace entering the prime of his career, but many are concerned that he was a one-hit wonder. More importantly, many are concerned that he will disappoint as he heads from the National League to the American League.
Nonetheless, this was a power move by the Tribe and one that needed to be done. They now have a psychological edge over the Rangers, Red Sox, Tigers and Yankees as all four World Series contenders were hoping to land him to bolster their rotation.
Yes, they gave up a lot—perhaps even mortgaging their future—to appease their fans, but they still walked away with this year's trade deadline gem.
4. Michael Bourn, CF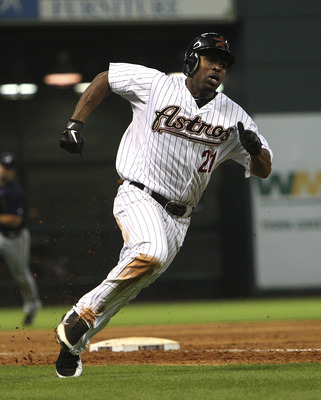 Bob Levey/Getty Images
2011 Stats: .303 BA, .403 SLG, .363 OBP, 1 HR, 32 RBI, 39 SB
From Houston with cash considerations to Atlanta for RHP Paul Clemens, LHP Brett Oberholtzer, OF Jordan Schafer and RHP Juan Abreu
Aside from Hunter Pence, no man better fit Atlanta's glaring needs more than the highly underrated Michael Bourn.
Bourn is a spark plug and game-changer in center field, the batter's box and on the base paths. He is enjoying one of the best seasons of his career and will thrive atop this heavy-hitting lineup.
Hotlanta, you can expect a ton of hits, stolen bases and runs scored.
Bourn is important for the Braves as they have Chipper Jones and Brian McCann on the disabled list. This team needed to add speed in the outfield and they land one of the fastest center fielders in the league.
3. Edwin Jackson, SP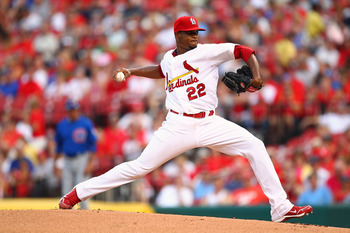 Dilip Vishwanat/Getty Images
2011 Stats: 8-7, 3.78 ERA, 1.41 WHIP, 101 K's
From Toronto with Octavio Dotel, LHP Marc Rzepcynzki, OF Corey Patterson and three players to be named later or cash considerations to St. Louis for CF Colby Rasmus, LHP Trever Miller, LHP Brian Tallet and RHP P.J. Walters
St. Louis may have been in need of a starting pitcher more than any team in the majors. They are looking to take back the NL Central after being absent from the postseason last year.
They landed the second best starter on the trade market in Jackson, who will benefit heading back to the National League. More importantly, he will benefit from the immense run support provided by a finally healthy lineup.
This was a power move by the Cardinals who were able to get rid of the disappointing Colby Rasmus for a quality starter who can strike out the side in any given inning.
2. Carlos Beltran, RF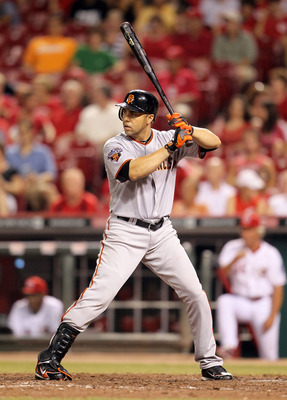 Andy Lyons/Getty Images
2011 Stats: .281 BA, .495 SLG, .382 OBP, 15 HR, 67 RBI
From New York with cash considerations to San Francisco for RHP Zack Wheeler
Did any team need a slugger more than Giants?
The answer is an emphatic no if you haven't been paying attention to baseball since the season started.
The Giants had been strapped for run support long before Buster Posey was sidelined for the season. San Fran proved last year their pitching staff can get the job done with minimal run support. Now they can at least hang their hat on having an All-Star slugger in the heart of the lineup to drive the offense.
Beltran is enjoying a bounce-back All-Star campaign and will produce further now that he is on a contending team.
He needs to prove to the world that he can lead a team through the postseason as he eyes another hefty contract in the offseason. San Francisco will capitalize on his determination and abilities.
1. Hunter Pence, RF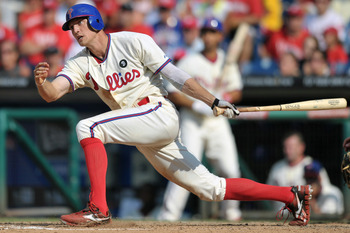 Drew Hallowell/Getty Images
2011 Stats: .306 BA, .468 SLG, .355 OBP, 11 HR, 63 RBI
From Houston with cash considerations to Philadelphia for 1B-OF Jonathan Singleton, RHPs Jarred Cosart and Josh Zeid and a player to be named later
The Phillies didn't need Pence, but he could very well guarantee the World Series for Philadelphia.
He's that good.
In an awful Houston lineup, Pence produced MVP-type numbers. Imagine what he can do in the Phillies' star-studded heavy-hitting extravaganza.
Philly wasn't enthralled with Domonic Brown's lack of production and sought out the best right fielder available to bolster their defense and offense.
Pence will put the pressure on the opposition with his great speed in the outfield and a fantastic pinpoint accurate arm. He can also put the pressure on the base paths as he is an underrated base stealer. Expect him to be unleashed in the upcoming weeks.
Pence is will hit for average and drive in a ton of runs. He is already familiar with the best pitchers in the NL, which will prove to be invaluable moving forward as the Phils make their advance towards the World Series Championship.
Checkmate, MLB.
-Brandon Galvin is a Bleacher Report Featured Columnist and Syndicated Writer. Follow Him on Twitter.
Keep Reading

Philadelphia Phillies: Like this team?