Manchester United vs. Barcelona: 5 Lessons Learned from Their Preseason Friendly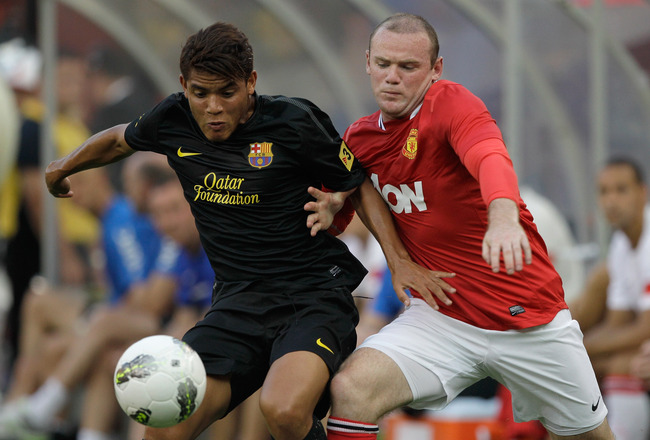 Rob Carr/Getty Images
Manchester United took on Barcelona in a last preseason match of its US tour last night, and the Champions League final rematch did not disappoint.
Although several first team starters were missing from both teams, the two teams played out a very exciting game in front of 81,807 fans at FedEx Field near Washington D.C., with Manchester United emerging victorious courtesy of a Michael Owen goal in the 76th minute.
Let's take a look at some of the things we learned from the game.
Again, America Proves It Is Very Open to Football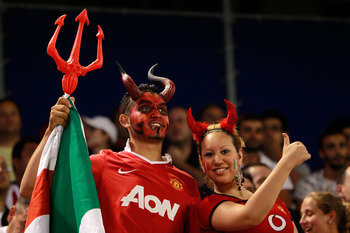 Chris Trotman/Getty Images
Within hours of the opening of ticket sales for the game, all of FedEx Field's 80,000-plus seats were sold out to the game.
What this proved, for the 100th time, is that contrary to popular belief, the United States is open to football and is willing to embrace the beautiful game.
Each of Manchester United's games in the United States have drawn huge, usually sell-out crowds. The game against the New England Revolution drew a crowd of 51,523, the game against the Seattle Sounders drew a crowd of 67,052 and against the Chicago Fire drew a crowd of 61,308.
The only game that didn't exceed the 50,000-mark was the MLS All-Star Game, which was poorly placed in a stadium that could only hold 26,760 people. Needless to say, the game was quickly and easily sold out.
These huge ticket sales aren't limited to only Manchester United. Real Madrid have had crowds of 50,000-plus in attendance at every one of their US preseason games, and Barcelona are expected to have similar numbers, if not more, over their last two preseason games.
Obviously, Manchester United, Real Madrid and Barcelona are three of the biggest, if not the three biggest, clubs in the world, so it is expected that they draw such massive crowds wherever they go.
Nevertheless, for a country like the United States, where people consistently claim that football will never be taken seriously and will never grow, such huge attendance numbers are a promising sign for the growth of the game.
Michael Owen Still Has It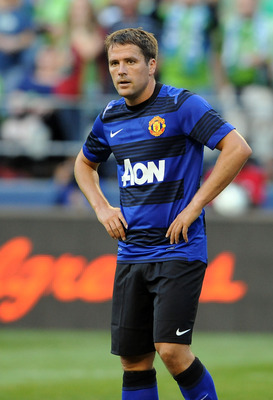 Steve Dykes/Getty Images
No, I'm not saying that Michael Owen is back to his best now after scoring against a makeshift Barcelona defense in a preseason friendly.
What I'm saying is that, with three goals scored in five preseason friendlies, the best of the bunch being his cheeky chip over Victor Valdes, Michael Owen has shown that he is far from done with his career, and that Manchester United were wise to sign him on for another year this summer, despite their numerous other striking options.
Especially in his most recent goal, Michael Owen showed that he still has the hunger and desire to score goals, choosing to chip Victor Valdes rather than lay the ball off to an open Tom Cleverley who probably would've passed the ball into the net with ease.
Yes, he did miss a chance to score in injury time with the net wide open that would've added insult to injury for Barcelona, but, to be fair, the ball was bouncing off the turf and wasn't wait to simply be redirected into the net.
As a striker, sometimes you're gonna make misses like that, which okay as long as you don't do it consistently (like Carlton Cole or Mirko Vucinic). Michael Owen has scored a good amount of the chances he's been given this summer, which is promising going into the 2011-12 English Premier League season.
Tom Cleverley Will Be Great for Manchester United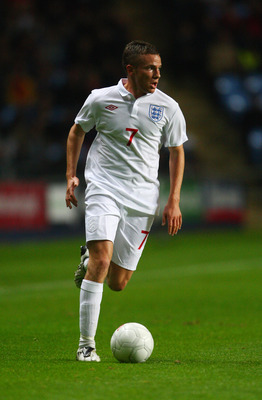 Jamie McDonald/Getty Images
Last night, Tom Cleverley was finally given the opportunity to stake his claim for a spot in the midfield rotation at Manchester United, as he was given a starting berth in midfield for the game.
He didn't disappoint, controlling the midfield alongside Anderson and breaking up play. One of his interceptions led directly to the winning goal, as Cleverley not only intercepted Sergio Busquets' pass (who had a rather awful game at center back for Barcelona), but also made the run and pass to Michael Owen, who would go on to score.
After the game, Sir Alex Ferguson saved his best praise for Tom Cleverley, about whom he said:
"It's crucial because with Paul Scholes retiring and Darren Fletcher still recovering from his virus it's [referring to center midfield] an area we have to find a solution for,'

Tom Cleverley, physically, isn't the strongest lad but he's wily and he has a great idea of the game. He's a good footballer and I thought he was our best player tonight.

His discipline was terrific, he's a good passer, he has good eyes. He's a big possibility to start for us at the start of the season."
That's right, he didn't just say he was impressed with Cleverley, he said that he was a "big possibility to start" for Manchester United.
At just the age of 21 (22 by the start of the season), stepping in the shoes of Paul Scholes will be a daunting task for Tom Cleverley. We'll see how he deals with it, but there is no doubt the future is bright for the young Englishman.
Barcelona Must Give Thiago Alcantara Games in the 2011-12 Season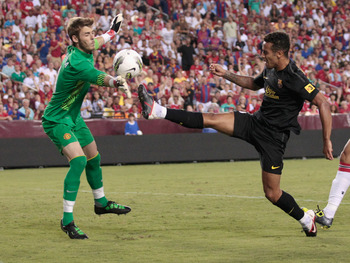 Rob Carr/Getty Images
If it were possible to name a player "MVP of the Summer," I would give that title to Thiago Alcantara without a second thought.
The Italian-born Spaniard has responded to speculation about his role at Barcelona should Cesc Fabregas arrive at club in magnificient fashion.
Starting his summer off with 2011 UEFA European Under-21 Football Championship, Thiago Alcantara was ever-present in the side, helping his side reach the final with consistent, reliable performances. The final is where Thiago Alcantara truly shined however, scoring a spectacular 40-yard free kick to put Spain up 2-0 against Switzerland.
He would go on to be selected as man of the match.
Thiago Alcantara joined up with the Barcelona squad for the Audi Cup afterwards, and once again, his brilliance and class could not be denied. In the final of the cup against Bayern Munich, Alcantara scored the only two goals of the game as Barcelona won the competition.
Particularly impressive was the nature of the two goals. The first goal was a header, reminiscent of Lionel Messi's goal against Manchester United in 2009, except more impressive as the tiny midfielder climbed above his defender to score it.
The second goal was arguably more impressive though, as the Barcelona midfielder curled a beautiful long shot around the highly-rated Manuel Neuer to seal the victory and win the trophy for Barcelona.
Thiago Alcantara's performance against Manchester United last night was the icing on the cake.
Despite being on the losing side, Alcantara still managed to show his unstoppable ability, scoring a scorcher to equalize for Barcelona in the 70th minute. As seen in the clip, the ball was in the net before David De Gea even had time to react.
Why on earth Pep Guardiola would want to bring Cesc Fabregas to Barcelona after seeing Thiago Alcantara's incredible skills, I don't know, but if Alcantara isn't given the opportunity to regularly play at Barcelona next season, it'll be a huge mistake on Pep Guardiola's part.
The midfielder has done everything possible, and then some, to prove his worth and value to the coach, and at a club that claims to put its youth products first, it'd be a crime not to see Alcantara regularly producing his magic for Barcelona.
Danny Welbeck Must Be in the Striker Rotation for Manchester United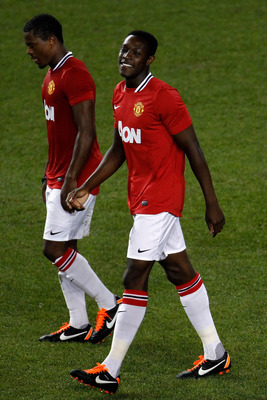 Jeff Zelevansky/Getty Images
Along with Tom Cleverley, Danny Welbeck has been without a doubt one of the brightest young players during Manchester United's preseason USA tour.
Last night, Danny Welbeck continued to show the great form he's shown since the start of the 2010-11 season, when he was on loan with Sunderland.
Welbeck made the perfectly-timed pass to allow Nani to score the opening goal of the game and created many chances for himself to score as well, before being subbed off for Mame Diouf in the 77th minute.
Unfortunately for Welbeck, the Manchester United are currently stacked in the forward spots, and Wayne Rooney and Javier Hernandez have a firm grip on the starting spots for now.
Luckily for Welbeck however, Sir Alex Ferguson has a very high opinion of him. Earlier this month, at a press conference during the clubs' USA tour, Sir Alex Ferguson has this to say:
"Welbeck is an England international now,"

"He is an exceptional talent. And Cleverley will play for England too. He is an intelligent modern-day footballer. His movement and understanding of space is really good for a young player. We are happy both of them will stay with us."
Also speaking on the possibility of either Welbeck or Cleverley going back out on loan, SAF said:
"They won't go on loan again; going on loan only serves one purpose; keeping them happy by playing all the time."


"At their ages, it wouldn't do us any good because other clubs would be benefiting from what we could be benefiting from. Because of the experience they have had, keeping them now benefits us."
Thus, SAF has made it abundantly clear that he intends to utilize Danny Welbeck throughout the season, and thinks of him as a "exceptional talent."
Danny Welbeck will probably spend the season as the third or fourth-choice striker, competing with Michael Owen for the "supersub" role and covering for Rooney or Hernandez whenever either striker is injured.
Unfortunately for Berbatov, this likely means that he'll fall further down the pecking order at Manchester United, but, in this case, one striker's loss is another striker's gain.
Thoughts?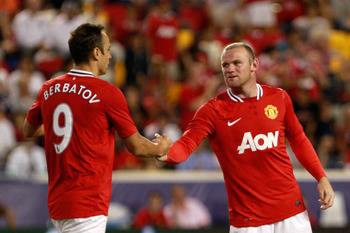 Chris Trotman/Getty Images
What do you guys think?
Is Tom Cleverley really "all that," and is he ready to step into Paul Scholes' shoes like Sir Alex Ferguson thinks he is?
How about Danny Welbeck and Michael Owen, how much time do you think they should or will get next season? And what does their good preseason form mean for Dimitar Berbatov?
Finally, what should Barcelona do about Thiago Alcantara? He gives them a selection headache that any manager in the world would love to have but a headache nonetheless. Should Cesc Fabregas still be brought in, and if he is, how will Thiago Alcantara get any playing time considering he, Fabregas and Xavi all play practically the same position?
Looking forward to hearing your thoughts and reading your opinions.
Keep Reading

Manchester United: Like this team?