Philadelphia Phillies: 7 Players Who Must Maintain or Elevate Play Down Stretch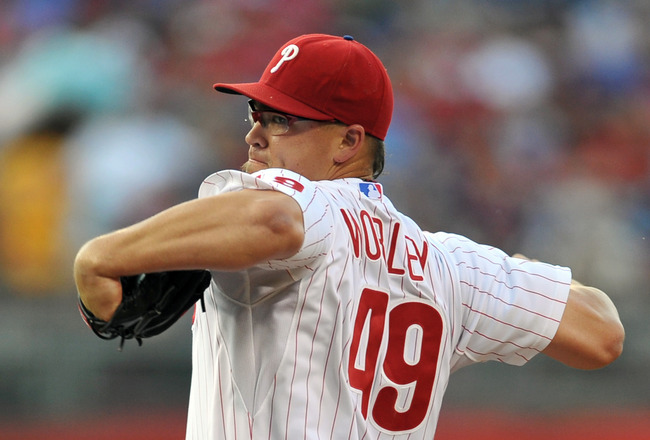 Vance Worley's not the only one the Phils are counting on for pre-October pick-me-up.
Drew Hallowell/Getty Images
In case you haven't noticed, I've taken a pretty hard line on how acquiring Hunter Pence changes expectations:
It pushed the Phillies out of the nest.
It's fly or die time now.
The team just doesn't have passes left. Anything short of a championship damns this season as a catastrophe and dooms the immediate future.
They have to win, and now, because the team has been so now-loaded to do so.
While tacking on Pence, and clinging to Vance Worley and Domonic Brown, the team has more than enough pieces. Pence gives them right-handed balance. Worley stretches out the rotation. Brown provides and option and rest and promise, ready the moment rosters expand come August.
Still, it's not that easy. As much an on-paper game as baseball is, myriad factors must mix in the postseason blender to make a winner's puree. That was the difference last October. The Giants blended well. The Phillies didn't.
So looking forward to that late-season juncture, we're going to identify which contributors matter most. Which players have to keep it up. Which players need to step it up.
In other words: Who's gotta give what to get Philly the World Series.
Criteria: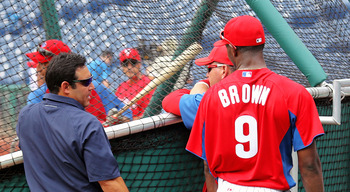 Len Redkoles/Getty Images
You're not going to any of the Three Dealers on this list.
Or Ryan Howard.
Or Chase Utley.
When you're paid a combined $60 million (Roy Halladay, Cliff Lee, Cole Hamels and Ryan Howard) or have been the franchise's gumption for the better part of a decade (Chase Utley), that's sort of a foregone conclusion. You're expected to elevate in the clutch. That's just what stars do.
No, this list is dedicated to the rest of the Phillies' moving parts. The guys who've been embattled, inconsistent or underachieving -- or the ones you fear will be. Talented but flawed, they're what putties the bulk of this team into a single, World Series-bound unit.
A slideshow for our Featured Five might be in order for post-championship cred.
But this one, much like the challenges issued in it, has to come first.
Ratings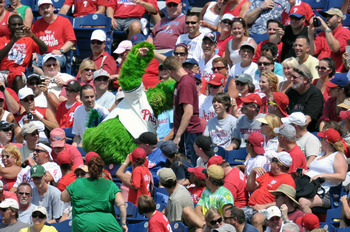 Drew Hallowell/Getty Images
Not every baseball player is played equal.
You can't have an outfielder emulating a raccoon on acid in left field, but the reliability of his glove doesn't match that of your shortstop.
Similarly, your No. 7 hitter is paid to hit about 25 percent of the time, but the consequences of underachievement in the last third of your lineup are baseball slaps on the wrist compared to a lead-off hitter posting an ofer, or your cleanup guy striking out 728 times in nine World Series innings.
So while Ross Gload did have a few pivotal at-bats in last year's National League Championship Series, and anything more than his utter uselessness might have made the difference in the ninth inning of Game 6, you still can't peg his relevance to a starter.
Seems pretty redundant, but it's important to remember that moving foward.
We could certainly make compelling arguments for Gload, Wilson Valdez and Michael Martinez as integral contributors on a team whose depth will be tested by the best bats and arms in the National League. But pinch hitting and mop-up hitting don't win World Series.
At least not nearly as much as, say, your fourth starter. Or your No. 5 or 7 or 8 hitter (or wherever they're going to stick Raul Ibanez). Or your set-up man. Or your closer.
Those are the players whose roles simply matter most.
From that, we derive Metric No. 1:
Role Importance

In the same breath, some players simply have more pull in the locker room. That sway or respect can charge a clubhouse far more than any isolated performance can. While an up-and-comer has the potential to win pivotal starts, preserve the ground another lays or give/get him leads, he alone can't captivate the entire roster.
That's reserved for veterans, the Jamie Moyer types whose presence and experience have value, but whose knack for otherworldly performances can inspire.
Thus, we have Metric No. 2:
Leadership Potential
But even beacons of poise pose diminishing returns. Sure, you'd like a guy to talk your youngsters off a ledge if they're on the precipice of a postseason meltdown. But when guys have too much experience -- to the degree that limbs and stats start falling off like leprosy -- that's problematic.
(Note: That applies to injury history, crucial to analyzing Brad Lidge or Roy Oswalt. But they didn't make the cut, so assume we're talking only about aging.)
Similarly, not enough age poses its threats. That could be a starter who hasn't waded through an entire MLB calendar, and second-time adjustments he could stumble over; a reliever with glimmers of brilliance, but as many flashes of calamity; a hitter without quality plate appearances to brace him for what's coming.
Or any of youth's variations that occur, giving us Metric No. 3:
Experience Favorability
It would seem then, you'd want to coast in the middle. Between the peaks and troughs of the experience-value spectrum.
Kind of how you want your players performing.
Not erratically, with the sabermetric ebb and flow that leads to shrugs, if not screams. But steady, dependable and calculable and clutch, the sure-things championships are built upon.
This correlates with experience and leadership potential pretty closely, being that the middle two usually beget the fourth. But we figure we should leave consistency as its own entity.
So to wrap our valuation system, we have:
Consistency
These are exactly what the purists wish sabermetrics were: Incomplete.
They're not the whole story. We're privy to that.
I know, I know -- that means you're actually going to have to read the whole slide.
Bummer...
Jimmy Rollins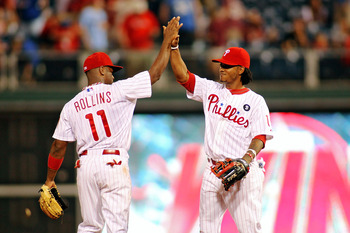 Len Redkoles/Getty Images
Positional Importance: 8
Consistency: 5
Leadership Potential: 9
Age Favorability: 6

I get the confusion, given that the first words uttered were something along the lines of "stars" and "omitted."
But including Jimmy Rollins here contradicts that.
Yes, he's a former league MVP who long complimented Chase Utley the team's richest source of intangibles.
And most of Rollins' numbers are near-indisputable, even at a crusty age.
He's still something of a stud with the bat, hitting .305 for July, well over his .267 season average. Maybe he was hurting for vitamin D before summer took, being that his OBP (.365), slugging (.534), OPS (.899) -- everything -- have upswung.
Runners in scoring position, he's .272 in 2011, more-than-adequate for a No. 1 hitter. His .288 with RISP and two outs ain't bad either.
Going down the list, it seems every clutch stat holds up.
But then you get to situations where you'd think he'd shine.
He bats just .239 at home. In "late and close" situations, he's only a .200/.299/.231 guy.
He's more than comfy when the Phils have a lead, batting .298. But when they're trailing, his .205 is more fizzle than spark. And the list goes on...
His high leverage batting average? Just .243. (It's .272 in low leverage spots.)
In extra innings? He's 2-for-8 (.125).
Sure, he whups up on the Astros (.500 BA) and and Pirates (.438) and Marlins (.321).
But when the Giants (.083) or Braves (.235) or Cardinals (.238) come to town, it's another story entirely. Same with their one-time interleague series with the Red Sox (.091) and Rangers (.200).
Is that star power?
Tough argument.
I won't deny what he means to the team, as selfish and unmotivated and smug as he can be at times, he's a hit in the clubhouse. The team loves him. You can see it plain as transparent, vanilla day.
But you wonder if that exacerbates the problems. If he'll dog ground balls because he knows he's paid dues. If he exploits the second-highest payroll in the game's understanding of his contract issues.
If his 2007 MVP and 2008 ring content him.
Does his .316 average and .866 OPS in Philly's 63 wins glean that the team goes as he does? Or does his .182 and .529 in losses hint that Rollins mails it in when things sour?
I don't know answers to those questions.
I do know he's at a tweener age that preserves his potential impact. If he can couple his last slivers of athleticism with unabated effort (and uncompromised health) he can carry the Phillies far as they need to ride him.
He'll have to, to compensate for a National League fourth-worst range factor (4.29) defensively.
(And exonerate him for eternally bombing the eye test. Don't even get me started... Feel like every 12 seconds a ball ricochets off some part of Rollins' being.)
And during the Phils September, their last and toughest month, slating them for the road in 17 of their last 27.
Michael Stutes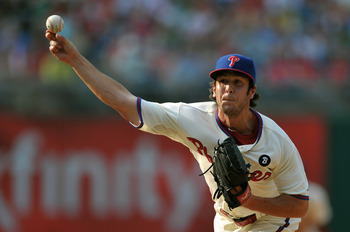 Drew Hallowell/Getty Images
Positional Importance: 7.5
Consistency: 5.5
Leadership Potential: 4.5
Age Favorability: 5

Michael Stutes' importance might be among the most understated on the roster. To establish context, we're talking about a team that:
1.) Struggles to score
2.) Pays $56 million for its five-man rotation (Halladay, Lee, Hamels, Oswalt and Blanton)
3.) Closes games near-perfectly (Madson and Bastardo: 26-of-27 save opportunities)
If that doesn't scream a club needing consistency from its middle relief, there isn't one.
I understand that those pivotal innings between the expected six from your starter and one from your closer are of the essence for every major contender. And that often times, middle relievers are lesser players, burnt out starters or closers needing experience or a stretching.
But just because Stutes' role is as important on 99 percent of other MLB teams doesn't mean he's anything short of crucial on yours. The Phillies need him.
More specifically, they need Dr. Jekyll Stutes. They need the Stutes that didn't allow a run until May 8. The Stutes who's made 29 appearances without incident.
But, sprinkled throughout his 37 takes overall, an uglier side of Stutes has reared. There were single-pitch collapses against the Braves (May 8), Dodgers (June 7), Braves again (July 9), and Mets (July 15) -- three of those coincided with a complete unraveling, or started it. The team has gone 1-3 when Stutes has allowed a home run.
That speaks to how tenuous some of the Phillies leads are, which aren't Stutes fault, and shouldn't be common in this post-Hunter Pence trade 2011 season.
Still, Stutes can't implode like he did in the four games he's allowed two-plus runs, two of which -- June 25 against Oakland (2 runs allowed) and July 9 against Atlanta (3 runs allowed) -- the team lost 1-4, the difference of which was mostly or entirely Stutes' doing.
If you're looking for someone to help shoulder the top two most ridden picthers in baseball. Single-inning breakdowns like those don't instill confidence that leads from Halladay and Lee -- Nos. 1 and 2 in innings pitched this year -- can be safe through nine innings, some of which someone else has actually pitched.
Neither his opposition nor critics will relent because of Stutes' age. It's something he's perfectly capable of, but Stutes needs the consistency from his seven-appearance scoreless streak (May 13-25) or the three five-appearance goose eggs he's posted.
His last five games -- 7.1 IP, 2 ER, 7 K, 2 BB -- will cut it.
Anything less (or, I guess, more) won't.
Vance Worley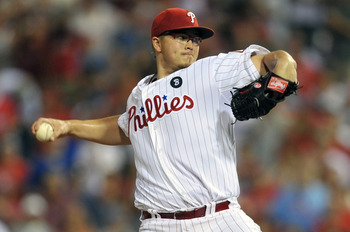 Drew Hallowell/Getty Images
Positional Importance: 7.5
Consistency: 9
Leadership Potential: 4.5
Age Favorability: 5

Have a feeling you saw this coming, given how much attention I and the rest of the fan base pay to the Vanimal.
But it's perfectly founded.
True, Vance Worley likely won't factor into the five-game series the Three Dealers can more-than-handle. But he extends the rotation's unhittables to four, making a seven-game series that much more manageable.
I'm not going to dive into this too much, to save material for a future column. But know that his 7-1 overall record and 1.23 ERA July has to spill into August and beyond for this team to vie in October -- especially given the uncertainty nested in Roy Oswalt's lower back.
Ryan Madson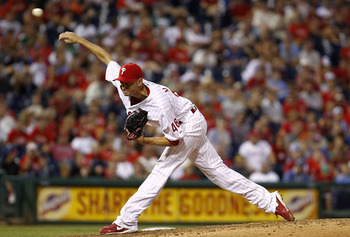 Jeff Zelevansky/Getty Images
Positional Importance: 9
Consistency: 9
Leadership Potential: 6
Age Favorability: 8

Throughout the steroid era, there were four main classes of juicers.
1.) Fringe juicers -- These were your quintessential backups, journeymen and expendables, guys who probably wouldn't make or last on rosters without the help of modern pharmaceuticals. While they're not the highest profile, use among "fringe players" vastly outnumbered that of guys whose names you'd recognize or suspensions you've heard of. (Assuming MLB knew who they were, and cared enough to test.)
2.) Bounce-back juciers -- The rejuvenative abilities of human growth hormone are pretty well-documented, if not coveted among the pro athlete ranks. Players with anything from tightness in a hammy to a shoulder reconstruction knew they'd benefit from use of the drug, and did. Needless to say, if you had Tommy John surgery, or were named Andy Pettite, you probably stuck yourself a few times in the butt with a needle.
3.) Old fogie juicers -- Basically the same impetus as that of our "bounce-back juicers," but I can't remember old age ever landing anyone on the 15-day DL. Figure it's worth distinguishing.
4.) Egomaniac juciers -- The Barry Bonds/Roger Clemens archetype. Dudes would've been Hall of Famers if they kept it organic, but favored a 12 hat size over a pristine public image. Two high-profile wastes of money may not have found evidence that they perjured, but we didn't need to know whether they used and why.
BONUS CATEGORY: I'm throwing the Manny Ramirez "so curious I doped" class in here. I'm not defending the man's honor. I just genuinely think some blend of boredom and curiosity led Ramirez to the needle more than our conventional factors.
The goals varied from fame to wealth to unforgettability, but some quest for approval was central to all these players' decisions. All except one.
It's a pretty popular story, how Alex Rodriguez started using around the time he inked his 10-year/$252 million deal with Texas in 2000. But it's important to note how the pressure to perpetuate success can mess with athletes' heads.
By then, Rodriguez had already arrived. That he was the best player in baseball was the consensus. That he was destined to break the home run record was a foregone conclusion.
Rodriguez knew it. But, more than anything, he was afraid of it. He feared that he wouldn't live up to the then-biggest deal in sports history, and take his place among American sports' biggest bums with Todd Marinovich and (though we didn't know it yet) JaMarcus Russell.
So he turned to the juice. He figured, "If I'm this good clean, there's no way I'm not at least as good on steroids."
Simple as that.
Now, Ryan Madson hasn't been implicated in the Mitchell Report or any retroactive random drug screenings leaked to the New York Times or San Francisco Chronicle.

But the same pressure that smothered Rodriguez looms over Madson in 2011.
He started the year 15-for-16 in save opportunities, before landing on the DL June 28 (retroactive to June 19) with that quirky hand injury. Since his July 15 return, he's been slowly eased into the closer's role over six games, only allowing three hits and one run in 5.2 innings.
Conventional wisdom tells you that if Madson maintains his early-season caliber, the Phillies have options. Depending on who's hot, they can trot out Madson or Antonio Bastardo -- hell, even Juan Perez glimmered before that two-run outing July 17 -- to get the last three.
But then there's the contract situation
On the one hand, the obvious incentive for him to elevate his game -- and our experience with Rollins and Carlos Beltran and Jose Reyes and others who've found something extra, coincidentally, just in time for contract years -- figures to bode well down the stretch. If he does well, he'll make money.
But here's where the stakes raise: Not only are years and millions on the line, but the potential to vie with a contender. If he bombs late in the season, not only won't he land in Fenway Park or Yankees Stadium, he might not even be retained by the Phillies.
Then what?
Needless to say, then, that there's going to be a lot on his mind when he takes the mound come October.
What if the pressure crumbles Madson? What if chasing the Almighty Dollar and national relevance prove too much to handle?
You can't have that from your closer. Everything we said of Michael Stutes and the importance of preserving your $40 million men's contribution is magnified with Madson. On any given night, Halladay, Lee, Hamels, Oswalt -- even Worley -- could watch 8.2 scoreless innings (if not the entire season) go straight to hell if Madson implodes.
For someone who could potentially throw the last pitch of the MLB calendar, that's a lot of responsibility.
With the way he's pitched all year, and how he's bounced back after injury, there's no reason to believe he can't handle it.
But it's something to keep an eye on, especially how it's affected bigger names than Madson in recent history.
Ross Gload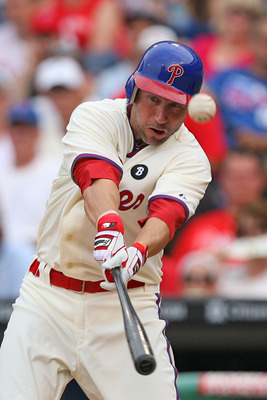 Hunter Martin/Getty Images
Positional Importance: 3.5
Consistency: 6.5 (oxymoron if I've ever seen one; "pinch-hitter" and "continuity")
Leadership Potential: 3.5
Age Favorability: 7
Give me, like, 37 seconds before hate mailing.
This slide actually started as a preface to Domonic Brown's, arguing how Brown's early-2011 seasoning makes him insertable for clutch situations that inexperience precluded him from in last year's NLCS.
This is exactly how the slide started:
"Not to pick on our buddy Ross, but Gload is kind of horrendous.
OK, he's actually abysmal.
That he's never lasted in an organization longer than three years (2004-06 with CHW) isn't flooring. But would you believe he's eked his way onto six over a10-year career (DNP in 2001)?!
(If you look at the numbers, he's actually not that bad. Dude's a career .282 hitter going for .275 in 2011 and... "
And then I started digging. What I found:
Gload's indispensible as a pinch hitter.
I'm not saying I agree with it, but it's hard to argue against.
(Believe me: I spent a lot of time on this tangent. I really wanted to prove that he was atrocious, to make the clownery in my opening spiel for Brown's slide stick.)
But every time I crafted a jab at him, Gload's body of work proved me wrong.
Would you believe:
His batting average isn't affected by whether he starts? (He's hit .278 as starter, .275 as sub in 2011)
Or by inning? (.300 during innings 4-6, .288 during 7-9 and .333 in extras)
That sends the "he leeches his numbers of bleeding teams in losses" angle packing.
In fact, he's even useful in (some) key spots. He's hit:
.355 in 32 PA against .500+ teams
.333 in "high leverage" situations
.273 with two outs and RISP
.310 in "late and close"
.276 to .302 trailing from 1 to 3 runs (only .200 with a 4+ run deficit)
.371 from behind
Am I betting the moon on him? No, nor am I likely to hit him in any NLCS. Ever.
But with your back against the wall, Gload isn't that bad an option.
For a guy who comes in cold 99 percent of the time, and will have to moving forward, Gload makes a pretty compelling argument for his importance.
Domonic Brown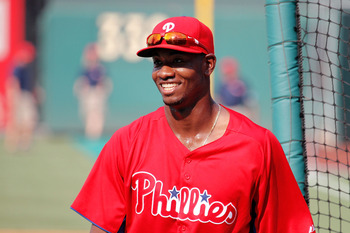 Len Redkoles/Getty Images
Positional Importance: 6
Consistency: 5
Leadership Potential: 4.5
Age Favorability: 4.5
An hour later, I figure we should set some ground rules for the Domonic Brown slide...
No clowning on other Phillies
No conjuring NLCS Brown didn't play in
No uttering anything rhyming or sharing more than three letters with "Ross" or "Gload" (1)
But even within those narrow confines, laid solely to save me from hours of work I had neither the time nor intention on doing, there's plenty of room to argue Brown's down-the-stretch significance.
...
Alright, this isn't going to work.
Listen: Whether or not it was for specific at-bats in certain postseason series that his inexperience may have forced Charlie Manuel to go another, seemingly less productive way, Brown could have been a key contributor in patchwork duty for the Phillies this postseason.
But he couldn't be. As much as you can blame Charlie Manuel for leaving Brown ill-equipped (and himself hurting for options), he made the right decision not to bat him in bright lighted spots. He would've withered.
Actually, you can't even say that, because "withering" implies a deviation from some sort of baseline contribution that's at or above average. Or at least exists.
You didn't have that with Brown. Sure, his .210 batting average from 2010 wasn't wowing anybody, but the 35 game sample from which it came was hardly conclusive. That was the scariest part about the situation. (2) It was next-to-impossible to figure where he'd go. Up? Down? To first base? To the wrong airport the next day?
Really. Brown was about as predictable as San Franciscan drops of Mitch Williams rain. (3) Can't have that with the season on the line.
This year will be a far cry from the uncertainty and unpreparedness of 2010, though. While he's been optioned to AAA Lehigh, Brown could be reinserted at any moment. Hunter Pence seems pretty untouchable -- why would you make such a stink about acquiring a guy, only to yank the rug from under him, like, 41 seconds later? -- but another injury could shelve Shane Victorino. If Raul Ibanez doesn't meet the challenge I pose, he could be catching splinters too.
It's very possible you see Brown reinserted into a prominent spot sometime soon, to plug a hole.
Still, you'd like to see him earn it. It's one thing to earn confidence retroactively, after being shuttled into a role extenuating circumstances thrust you into.
But if he can conjure those .300 averages from the past two years throughout various stages of the system, maybe quicken his swing and compact his stance and beg that his .246 days in the bigs are far behind him, Brown could be called back up before roster expansion, as soon as he fertilizes the organization with confidence.
When that happens, when Brown starts to bear closer semblance to Darryl Strawberry the Met, versus Darryl's atrocious Dodger, Giant and Yankee cousins, he could make noise in October.
Can't you hear it already? The deep, bellowing monotone of "DEEE BEE!!! (thump thump) DEE BEE!!! (thump thump)..." ?
Can't wait.
***
(1) And I really like "glean." Think it's a great word...
(2) Not seeing a faceplant from a mile away is comforting. Still...
(3) I'm thinking "acid rain" would work interchangeably here, but the Williams reference still had to come first. Great to have something to tie something else to, but you still need that second something, the subject of the tying. ... Make sense?
Raul Ibanez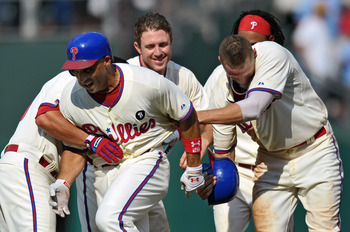 Drew Hallowell/Getty Images
Positional Importance: 6
Consistency: 5
Leadership Potential: 6
Age Favorability: 5
Much as I'd like it to be the opposite, this slide will be more challenge than cheers to Raul Ibanez.
Look: Even at a zillion-years-old (he's 39), Ibanez has potential. That's what let his batting average and RBIs hover over .300 and 100 toward his end in Seattle. That's why the Phillies inked that $31.5 million deal with him in 2008.
Whether he's lived up to that deal is, at this point, moot. He may have been brought on to be one of the core complimentary sticks to Ryan Howard and Jayson Werth. Disappointing as he was dazzling, Ibanez isn't going to be that.
But to be considered successful down the stretch, he doesn't have to be. He doesn't have to hit 30 home runs or drive in 100 RBIs. If the Phillies can wring 25 and 80 production out of him, maybe eke out 35 doubles, he'll cement his value (whatever you want to call it).
That's why you pay Ryan Howard $20 million. That's why Hunter Pence was so diligently sought for insurance.
Likely being bumped to No. 7 in the lineup (you figure Placido Polanco will hit No. 6, until his back falls apart like Jenga tower) Ibanez only needs to knock in runs here and there. Not to be brilliant, but to bear some semblance to the all-star-caliber player he seems only a shell of now.
(Note: If he doesn't, he could lose his job to the guy we pumped up earlier. Seriously. If Brown's time in the minors shores up the fundamental quirks that have hampered him, Ibanez could be riding the bench.)
What the Phillies need from Ibanez more than anything is consistency. I know, I know -- Department of Redundancy Department should dole out awards for obvious knowledge bombing like that, that teams need steady results from players.
But Ibanez hasn't been atrocious -- at least not overall.
He hit .339 in May and .284 in July, like every other turn of the calendar fires some chip installed in him that triggers hand-eye coordination. ... Until it turns again, like it did in April/March (.161) and June (.211) that leaves him as talentless as Bow Wow and powerless as his character in Like Mike.
(You know, when he loses MJ's shoes? Oh. I'm the only unlucky schmuck to have sat through that whole, godawful flick? Oh...)
If you look closer, though, his game-to-game numbers read like Roger Clemens' polygraph. (1)
(Oh, he hasn't been subjected to a lie detector test either? Real bang up job there, federal prosecutors...)
Ibanez hit .450 and .360 in separate five-game spurts in May, and .395 for an eight-game stretch that ended July 17.
But he's droughted like a hitless Dust Bowl, too. In different seven-game stints, Ibanez has gone .045 (June 19 to 28), .185 (May 27 to June 3), .148 (April 7 to 14), and went completely cold for 12 games between April 17 and May 1, when he hit .050.
Yikes.
Same thing goes for his clutch numbers. You can't make any conclusive argument about him based on situational hitting. Though it'd be comical to watch someone try...
Well... He's hit .264 with 2 outs and RISP (nodding silently) but .147 in "late and close" games and ".171 in tie games"?
Yes, Ibanez has ended his fair share of games on dribbling grounders with seeming glove-seeking devices installed. But he's also come up in huge spots, too.

Yesterday's 2 HR and 4 RBI outing against the Pirates isn't the first time he came up clutch. He also went yard in the 10th against the Braves before the break, by all accounts sending the Phillies surging into the intermission.
While you don't want to rely on that -- if it's too sporadic to lean on in summer, it's probably too flaky for October -- clutch moments like those down the stretch seemingly give him.
He's gone for .243 on the year, which isn't acceptable. So long as he gravitates well above that -- we'll say at .270 -- for the rest of the year, the Phillies lineup goes from toe-to-shoulder deep.
***
(1) The federal perjury charges against Roger Clemens have not yet been tried against him, after a mistrial postponed, if not jeopardized, the case earlier this month.
Keep Reading

Philadelphia Phillies: Like this team?