LaDainian Tomlinson or Shonn Greene as the Featured Back for the New York Jets?
July 31, 2011
Jeff Zelevansky/Getty Images
This is a tough call, LaDainian Tomlinson is a future member of the Hall of Fame and still has some fight left in him.  On the other hand, Shonn Greene is a promising back, who is perfect for the New York Jets' style of ball. 
Everyone remembers Greene's run that ripped out the heart of the Chargers in the 2009 AFC Divisional game.  
He has never really been given the chance to get the full load of carries for an entire season. Unfortunately, he did struggle last season towards the beginning of the year but gained momentum as the season wore on.  
That kind of slow build up is similar to Greene's running style.  He comes at you play, after play with a ferocious intensity, and when you least expect it, he's off and running for a touchdown. Greene has underrated speed and a great burst.   
What is there to say about Tomlinson?  He's a consummate professional, has a work ethic that rivals Jerry Rice and Walter Payton. He is one of the most talented backs of all time.  Tomlinson is a football player, pure and simple.  
If you have seen the movie, Friday Night Lights you know the scene where Boobie Miles' uncle is describing his nephew to college scouts.  After listing all the things he can do on the field he exclaims, "and he can pass!" as Boobie Miles lofts a bomb for a touchdown.  That always reminds me of Tomlinson.  He does it all, pass protection, route running and runs inside and outside the tackles.  Like I said, he's a football player even before he is a running back.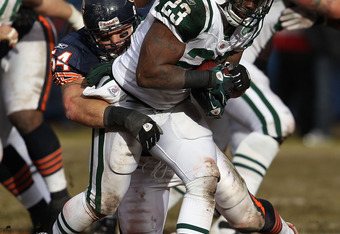 Jonathan Daniel/Getty Images
As great as Tomlinson was, his skills have slightly diminished, I emphasize slightly.  That's where the whole decision between the two gets tough.  Tomlinson is a superior third down back, a wily vet and still has some wiggle left in those old hips.  He showed last year he isn't done yet. 
On the other hand, Greene is a more powerful runner, younger and has yet to have his best season.  
To me, the answer is similar to last season, only Greene needs to get more carries in 2011.  The Jets can still allow Tomlinson to excel on third down and in passing situations without leaving  Greene out of the mix.  
Let Greene punch the defense in the mouth for a few quarters, Tomlinson will be fresh late in games and for a potential playoff run.  Both backs, are legitimate threats with complimentary skills and make the Jets offense a more versatile assassin.  
If given the chance, Greene can develop into a runner who can put up 1,200-1,500 yards and really force teams to bring extra defenders into the box on a consistent basis.  With Santonio Holmes coming back, and Mark Sanchez having had another year of experience, Greene as the feature back could be the difference between another season of heartbreak and a Super Bowl championship.
Remember, Rashard Mendenhall showed the benefits of a back who can beat up a defense in the AFC Championship Game.  He was a major problem for the Jets defense.  Gang Green needs a similar force in their backfield.  
If you liked the article follow me @edwardorza 
Click my name on this article for the rest of my stories.