Ben Roethlisberger, Offense Will Carry 2011 Pittsburgh Steelers
July 31, 2011
Jared Wickerham/Getty Images
Eventually, it happens: steel starts to rust—sometimes out of inactivity, but mainly due to age.
The Steeler defense is starting to rust and it's not from inactivity.  No, this well-traveled unit's rust is from age. 
Sure, it's still reliable, like a Ford pick-up truck with 300,000 miles, but, it doesn't quite have the same kick as it once did. 
Yes, the Steeler defense is good enough to dominate offenses led by Jimmy Clausen and Colt McCoy, but when it comes to the elite quarterbacks (e.g. Tom Brady, Drew Brees and Aaron Rodgers), the defense doesn't get the job done.
That's when something else is needed to take up the slack.
Enter the Steeler offense.  Playing the new sports car to the defense's pick-up truck, the offense has the weapons to become the main player, rather than the second fiddle.
This type of shift is not unprecedented among the great teams in Steeler history.  In 1978, head coach Chuck Noll realized two things: his defense was getting older and his offense had the weapons to take advantage of the rule changes.
Presto.
Bradshaw, Swann and Stallworth took over for Greene, Lambert and Blount, and by the end of the decade, the Steelers had two more Super Bowl trophies on display.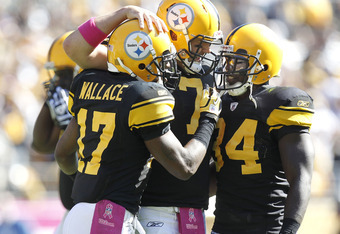 Gregory Shamus/Getty Images
History can repeat itself.
Roethlisberger may not be Peyton Manning, as James Harrison put it not-so-eloquently, but that's fine.  Unlike Manning, Roethlisberger has two Super Bowl rings.  He may not be pretty, but he wins.
He also has a young, dynamic corps of receivers in Mike Wallace, Emmanuel Sanders and Antonio Brown.  Throw in the steady Heath Miller and this unit becomes scary.
Although Rashard Mendenhall may not realize that asinine opinions don't need to be tweeted, he does run the ball fairly well and has break-away speed.  Isaac Redman is a dependable short-yardage back and Jonathan Dwyer has shown potential.
The offense line is shaky, but that doesn't seem to matter.  In 2008, the Steelers probably had the worst offensive line to ever play in a Super Bowl.  That distinction was surpassed by the 2010 edition.  Apparently, crappy offensive line play has no direct correlation to this team's chances of making it to a Super Bowl.
All of this makes for an offensive that has the ability to score a lot of points, taking pressure off an aging defensive unit.
Yes, the 2011 Pittsburgh Steelers will be defined by the offense, not the defense.  And that might not be a bad thing.