NFL CBA Needs to Address Illegal Hits to the Head to Truly Be Complete
July 31, 2011
Jim Rogash/Getty Images
The NFL Players Association and the NFL are one step closer to completing the new collective bargaining agreement as on Saturday the NFLPA recertified. This clears the way for the two sides to complete the negotiations.
Already the NFLPA negotiated a handful of measures to ensure player safety and health including:
The elimination of full-contact two-a-day practices from training camp. One full-contact practice per day is allowed.
One full-contact practice per week during the season.
Regular season remains 16 games. Increasing the regular season to 18 games can only be done with the Players Association's approval.
Reducing offseason mandatory workouts. The number of weeks goes to nine, down 14. Organized training days go down to 10 from 14. And at least four days off during a bye week.
Former players can enroll into the NFL optional post-career insurance for life. Previously it was for just five years.


Additional funding for retiree benefits of between $900 million and $1 billion over the next 10 years.


$50 million per year joint fund for medical research, health care programs, and NFL Charities, including NFLPA-related charities.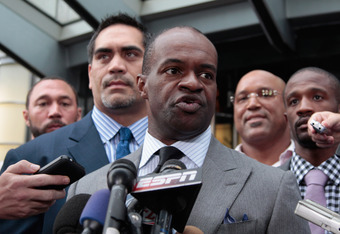 Rob Carr/Getty Images
Reconstituting the union was a condition to complete the CBA negotiations. Several details remain including drug testing, player discipline, disability and pension programs.
Not listed as one of the details is anything addressing illegal hits to the head. It was a furiously debated topic after NFL commissioner Roger Goodell took actions into his own hands and delivered punishment without opposition.
In the days following Goodell's stricter enforcement, many players, especially defenders, lamented how Goodell ruled the NFL like a dictator with no clear standard for illegal hits.
It was a necessary knee-jerk reaction by Goodell back in October, but better definition of that spontaneous change in emphasis should be addressed.
Players can't change the rules, but should demand the formation of a panel that includes present and former players to clarify illegal hits to the head in the future.
The NFLPA had head health in mind as they negotiated for reduced contact during practice time and additional money and care for players after they retire. But it does nothing to eliminate the gray area of what is a clean hit and what is penalty-worthy.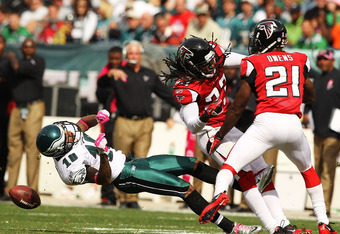 Al Bello/Getty Images
The same week Goodell fined New England Patriots safety Brandon Merriweather, Atlanta Falcons cornerback Dunta Robinson and Pittsburgh Steelers linebacker James Harrison, the NFL put together a DVD with narration defining legal and illegal hits. The players came away just as confused as before.
A lot can happen in the split second before contact occurs that can make a hit legal or dirty. The players on the field understand this best. Get them involved in the process so they can adjust in time for week one. Clear understanding what are clean hits will reduce the number of concussions.
Less contact during practices is a good start towards reducing concussions, but players don't hit in practice like they do during games.
Do you think Merriweather would launch himself head-first towards teammate tight end Rob Gronkowski during practice? Please. Head coach Bill Belichick would have Merriweather run so many penalty laps around the field that Merriweather would qualify for the Boston Marathon.
And less practice time won't keep Harrison from wielding his massive dome like Bonk the Caveman during games.
This is the perfect opportunity for the players to raise this issue with Goodell and the owners. It addresses player safety when they are most at risk—during real games. A poignant reminder of that danger was front and center just weeks before the lockout ended.
Hall of Famer John Mackey was a seminal tight end, playing with power and athleticism never seen at the position before. Decades later he was a hollow shell of himself as he suffered from dementia, a possible long term side effect of repeated head injuries.
It's a frightening future players should do everything they can to prevent. There might be nothing greater than clearly defining illegal hits to the head that can improve player safety. The two sides must agree to get players involved and clear up this issue.
The deadline to approve the new CBA is August 4. There is still time to negotiate the formation of a committee to define illegal hits to the head. It would be a major disservice by the NFLPA if they fail to push for this committee.
Randolph Charlotin writes a blog at www.randolphc.com. Send any questions or comments to talktome@randolphc.com.