Baltimore Ravens Team Questions: Wide Receiver and Mount Cody
July 30, 2011
Offense – Will a legitimate deep threat emerge for Baltimore?
Answer: Not as much as it hopes.
Baltimore's offense was tremendous in 2009, it finished 9th in points scored and 13th in yards. After adding star wide receiver Anquan Boldin via trade from Arizona, most thought the Raven's offense would only improve. But surprisingly, it took a step backward in 2010, finishing 16th in points scored and 22nd in yards gained. Some thought Joe Flacco regressed in his third year, but he threw more touchdowns, less interceptions and had a higher yards per attempt in 2010 when compared to 2009. Could it be that Boldin didn't fit in as much as Baltimore had hoped he would.
Boldin's style is a bruising, physical slower one. He plays wide receiver like a running back with a chip on his shoulder. Boldin's physical nature forces him to play slower than most wide receivers.
What Baltimore needs is to make its offense more explosive. To do that, they need a fast wide receiver to complement Boldin.
The Ravens thought they had that last season when they signed Donte Stallworth to a one-year deal. Stallworth turned out to be worthless for Baltimore, catching only two passes for 82 yards. He won't return to Baltimore in 2011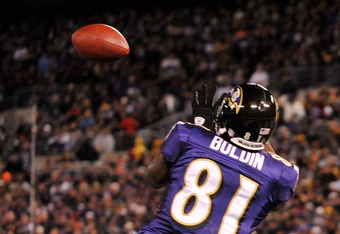 Larry French/Getty Images
The Ravens also drafted Maryland's Torrey Smith in the 2011 draft. Smith, a six-foot one, 204 pound speed demon ran a 4.43 40-yard dash at the combine. Smith can provide exactly what Baltimore needs–someone to stretch the opposing defenses.
But Smith is just a rookie, and a raw one at that. His route-running needs to improve before he can fulfill his potential.
So unless Smith learns extremely quickly or a unknown free agent comes into play, Ravens' fan will be forced to watch Baltimore's fail to live up to expectations.
Defense – Can Terrence Cody emerge as a dominant force?
Answer: Yes.
What makes Raven's GM Ozzie Newsome so great at his job is that he doesn't overreact to needs.
Baltimore's biggest needs going into the 2010 draft were cornerback and tight end.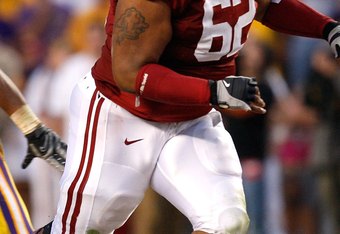 Kevin C. Cox/Getty Images
When its first-round pick came around at 25, the number one tight end in the draft, Oklahoma's Jermaine Gresham was already off the board.
Instead of reaching for a cornerback at 25 and "filling a need", Newsome saw an opportunity to gather more picks by trading down with Denver.
Using their own second-round pick, the Ravens selected Alabama nose tackle Terrence Cody.
Although his stats didn't show it, Cody, or "Mount Cody" as he's sometimes known, was a dominant force at Alabama. He was the anchor for Nick Saban's 3-4 defense, which finished second in the country in 2009.
He, like all players, has flaws.
His weight can become an issue. He weighed in at 380 pounds as recently as the Senior Bowl.
Cody's size (listed at 6'4'', 349 pounds) causes him to be stiff and slow, especially when attempting to rush the passer.
However, despite the flaws, Cody has the natural talent to be one of the best nose tackles in the league.
Cody's first season with Baltimore was very disappointing. He didn't get to play much due to other veterans in front of him on the depth chart. Cody also struggled adapting to the speed of the game. With a year under his belt, he will now be able to make a significant impact on the field.
And with the Ravens' release of Kelly Gregg, Cody now has a golden opportunity to shine in Baltimore. With nobody else to challenge his roster spot, I believe he will.