MLB Trade Rumors: New York Yankees All over Ubaldo Jimenez
July 30, 2011
Doug Pensinger/Getty Images
There is a bit of tension between GM's Brian Cashman of the New York Yankees and Dan O'Dowd of the Colorado Rockies. Both teams are trying to negotiate a Ubaldo Jimenez deal and get a high amount of value in return.
When Jimenez was first introduced to the market a few weeks ago, the Rockies were asking a huge price of the Yankees. The Yankees would need to give up Jesus Montero, Ivan Nova, Manny Banuelos and Dellin Betances. 
At the beginning of this week, the price tag for Jimenez reportedly decreased to include three of the four major prospects: Jesus Montero, Ivan Nova, Manny Banuelos, and Dellin Betances.
Right now, apparently the price has lowered again by a tad. According to Jon Heyman of SI, the Colorado Rockies are no longer asking for Manny Banuelos. They want Jesus Montero, Ivan Nova, and Dellin Betances. This seems still seems overpriced, but not by such an exorbitant amount. I do not see how it is really lowering the price by a tad, as the New York Yankees would have not given up Manny Banuelos in a deal anyway.
Cashman is still having a stare-down with Dan O'Dowd, as he is trying to negotiate this deal as best as possible.
Brian Cashman is making all of the right moves so far. He is making it known to the media that he is apparently not interested in pitching or making any moves.
This is a ploy by Cashman to drive down the price for Jimenez. If he does not seem desperate and does not continue calling the Rockies for Ubaldo, Colorado will be forced to make a deal with two prospects.
Do not think about the Hiroki Kuroda deal possibly happening. The Yankees are done with that, as the Los Angeles Dodgers want Ivan Nova and Jesus Montero or Austin Romine for a two month 36 year old rental. No thank you. Plus, that deal would have to happen today, as Kuroda has a full no-trade clause. No major developments on that front show that it will almost surely not happen.
Ivan Nova is pitching tonight against the Baltimore Orioles. You need to hope he performs well because it could be a showing for the Colorado Rockies. At the same time, Ubaldo Jimenez is pitching tonight, so there will surely be Yankees scouts on hand to watch him. If both players pitch well enough to give their team a decent chance of winning, a deal will surely brought into more advanced stages tomorrow.
It mostly depends on Ivan Nova. It would be much more disheartening for a rookie like Nova to pitch poorly than it would for an established pitcher like Jimenez to pitch poorly. 
Prospect-wise, I see the Yankees giving up potentially two top prospects and more. I could see Ivan Nova and Dellin Betances being traded. Maybe Jesus Montero could be substituted for Betances. Then you might see Andrew Brackman or someone like Graham Stoneburner go.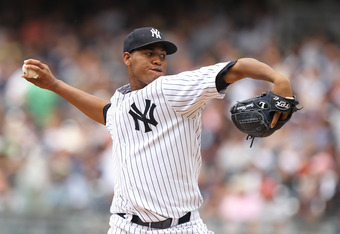 Al Bello/Getty Images
It looks something like this:
Rockies Acquire:
Ivan Nova
Dellin Betances or Jesus Montero
Andrew Brackman and/or Graham Stoneburner
New York Yankees Acquire
Ubaldo Jimenez
Andrew Brackman really could develop into a solid pitcher for the Rockies. He had a decent outing last night, pitching 3.1 innings of no hit baseball. The bad part about this is that he was the starter and threw about 80 pitches. He had an awesome year last year and is technically a Killer B.
Graham Stoneburner needs to be moved in this. He has great value, as he is performing well in AAA and can easily slot into Colorado's bullpen. The Rockies are looking to move pitchers in the bullpen, so this makes room for Graham. The Yankees would find little use for him, so this gets the most value for such an arm.
The Yankees should not hesitate to include Adam Warren or David Phelps, if not both, in the deal. They are so intent on the fact that Banuelos and Betances are the future of the club. If that is the case, Warren and Phelps have no huge role on the big league club in the future. They could be traded and are having great seasons. Hey, the Rockies wanted MLB-ready players, and these guys are more MLB-ready than Banuelos or Betances.
It is becoming more and more likely that this type of deal will go down to the wire, so be sure to tune in! It will be very interesting!