No Trades Needed; the Boston Red Sox Just Need to Use Their "Ace"
July 30, 2011
Jim Rogash/Getty Images
The Boston Red Sox got some bad news earlier this week, when it was made clear that the return of starting pitcher Clay Buchholz was going to come later rather than sooner.
The Boston starting rotation, seen as a major strength of the team going into the season, has been decimated by the loss of Daisuke Matsuzaka, Jon Lester and Buchholz for varying lengths of time.
Even Josh Beckett went down for a while earlier this season after becoming ill.
Despite this, the Red Sox have managed to hold their own and even maintain a small lead in the American League Eastern Division over their arch-rivals, the New York Yankees.
Relying on ageless veteran Tim Wakefield and a handful of reclamation projects, the Red Sox are getting just enough people out to win more than two-thirds of their games.
Still, there is a strong call for the team to swing a deal for one of the starting pitchers being peddled by teams that are out of contention.
One of the biggest names available is the Colorado Rockies' Ubaldo Jimenez, who can apparently be had by any team willing two trade about three Grade-A prospects. Jimenez has been mediocre this season, but he was a top contender for the Cy Young award in 2010.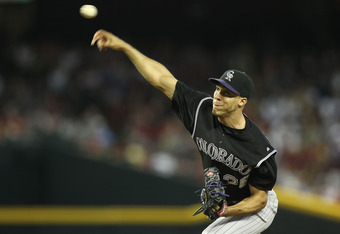 Christian Petersen/Getty Images
The Red Sox could easily get him if they wanted. I'm sure a package including players like Anthony Ranaudo and Ryan Lavarnway could get Jimenez in Boston.
The Yankees could easily get him too, if they were willing to cough up the Rockies' high asking price.
I can't help but think—and have done so out loud on this site three times today—that this is one that the Red Sox should just walk away from. If the Yankees want Jimenez in the Bronx, let them have him.
Last year, Jimenez, who was an established starter with an ERA typically in the mid- to high-threes, opened the season white-hot and through mid-June, posted an ERA of 1.15.
Sportswriters, who should have known better, openly speculated on the possibility that he might beat Bob Gibson's modern record for the lowest ERA in a season, 1.12, set in 1968.
Of course, he came back to earth after that, as soon as his luck, in the form of a .215 BABIP (batting average on balls in play, typically about .300), evened out.
Since then, he's lost some velocity on his fastball, and over the past 13 months, Jimenez has posted a 12-16 record with an ERA of 4.27 over 242.1 innings. Granted, this is in Coors Field, but he's also in the weaker league and doesn't have to face teams with designated hitters in their lineups.
These things tend to cancel each other out, so Jimenez should probably be regarded as a pitcher who would pitch about .500 ball on a good team, with a 4.27 ERA right now.
Now, even at that, a starting pitcher on the Red Sox is going to pile up some wins if he posts a 4.27 ERA. The Red Sox seem to put up numbers that look like football scores a few times each week.
The bigger question is whether or not they actually need him, at any price.
The Red Sox have another option. There is a pitcher on staff who has thrown 198.1 innings over the past four years, moving between starting and relieving roles. He's been equally effective in each.
His entire major-league career, consisting of 89 games, has been with contending teams in the AL East. In those 198-plus innings, he's posted a 3.22 ERA, a stellar 37 percent above league average for the environment he's pitched in.
Does this pitcher have any experience pitching in a pennant race? Check.
In September of 2009, he was a regular member of the Yankee relief corps, where he appeared eight times, pitched 16.2 innings and was 1-0 with a 2.16 ERA. Five of those eight appearances came against the Angels, Red Sox and Rays.
The year before, he came up on Aug. 31, while the Yankees were still on the fringe of a pennant race they would ultimately fall out of. It certainly wasn't his fault. He made two strong relief appearance and then entered the rotation.
Over 30 innings, he posted a 2.40 ERA (with a solid 1.167 WHIP for those who think that is useful to know), and even that is misleading, because he had one bad outing at the end of the season after the Yankees had been eliminated from the race.
On top of all that, he's pitched well when he's had to. His career won-lost record is a remarkable 20-2.
Any Red Sox fans out there knows that I am talking about Alfredo Aceves. So do Yankees fans, although probably to their regret.
Aceves was injured last year after making 10 strong appearances early in the season, and the Bombers cut him loose in the offseason. Theo Epstein promptly grabbed him off the scrap heap on Feb. 8, for a paltry $650,000 salary.
For the Red Sox, he has started four games and also stepped in for a struggling starter early in several other contests, racking up a 6-1 record and a 3.24 ERA with solid supporting numbers.
I don't know about you, but 3.24 in Fenway Park, in the AL East, sounds a lot more impressive than 4.27 anywhere else.
Theo Epstein needs to hold on to his top prospects and patch up the Red Sox' starting rotation with the addition of an "Ace," not a pitcher that the media wrongly perceives as being one.