NFL Free Agency 2011: Why the Lions Should Make a Play for CB Carlos Rogers
July 30, 2011
Jamie Squire/Getty Images
The Washington Redskins made Auburn University standout Carlos Rogers the ninth overall selection of the 2005 NFL draft.
But in six seasons for the Redskins, he has only accumulated eight interceptions.
One thing is certain when it comes to the 30-year-old unrestricted free agent: he won't be playing for Washington in 2011. Rogers made it clear that he has no intention of returning to the team.
Washington's acquisition of DeAngelo Hall in 2008 irritated Rogers. He has repeatedly stated that he's better than Hall and deserves No. 1 cornerback money.
"I ain't never discounting the Redskins, but my mindset right now is that it's time for a change," Rogers said.  "I don't think I've been as appreciated as I should be in that organization, not by everybody.  I've always been the No. 2 corner, but I'm the one they put on a guy they want to shut down."
In a text message to Chris Russell of ESPN 980, Rogers said, "I wasn't the corner that gave up the most TD's or yards or first downs," Rogers said, "but I'm the corner that is looked at [as] the 2nd corner, [that] I need to be replaced."
It's clear that the Washington/Rogers experiment is over.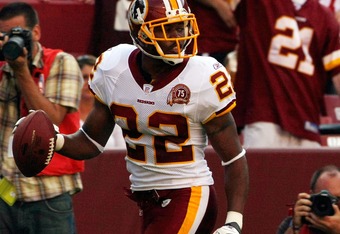 Win McNamee/Getty Images
After two sub-par seasons opposite of Hall it looks as if the Redskins have finally prepared themselves to let Rogers walk.
So why should a team like the Detroit Lions, in dire need of impact players in the secondary, be interested in a player like Carlos Rogers?
Because Rogers is still the athletic, physical cornerback that made him a standout at Auburn and a top-10 draft selection in 2005.
The 200-pound corner stands at nearly 6'1", and with 4.4 speed he would be a perfect post-lockout plug-and-play option for the Lions.
Rogers is exactly the type of man-to-man, press coverage cornerback that would thrive behind a powerful defensive line like that of the Detroit.
Rogers has been labeled by NFL scouts and analysts alike for having stone hands, alluding to his inability to secure interceptions.
But no one can deny his ability to defend the pass.
In his last three seasons, Rogers has accumulated 48 pass deflections and four interceptions. In comparison, over that same span four-time Pro Bowl selection Nnamdi Asomugha has recorded only 19 pass deflections and two interceptions.
I understand the difference in pass targets Asomugha and Rogers have experienced, but the numbers show that Rogers has been a worthy investment.
Singing both Chris Houston and Carlos Rogers would allow Detroit to move Alphonso Smith to the nickel position and take him "off the island" in coverage (see Thanksgiving Game 2010, Lions vs. Patriots).
The acquisition of Carlos Rogers this offseason was never the ideal acquisition.
But now that big-name free agent cornerbacks like Nnamdi Asomugha, Ike Taylor, and Jonathan Joseph are off the market, it would behoove of Detroit to make a move on the disgruntled Redskin.
In my mind, Philadelphia's signing of Asomugha means that the Jets will most likely re-sign free agent Antonio Cromartie, who is probably the best available free agent cornerback at present time.
Other options are Atlanta's Brent Grimes, Carolina's Richard Marshall and Baltimore's Chris Carr, all three of whom have contracts predicated on featured roles.
Detroit is also looking at linebackers Stephen Tulloch and Nick Barnett.
The signing of one of those two linebackers could impact Detroit's ability to re-sign Chris Houston and pursue a Rogers, Grimes, or Marshall-type in free agency.
If Detroit signs one of those two big-name/big-money linebackers, look for the Lions to sign Houston and make a move for Chris Carr, Richard Marshall or Nate Clements.
A trade proposal for Philadelphia's Dominique Rodgers-Cromartie isn't out of the realm of possibility either.
As of right now it looks as if Carlos Rogers is Detroit's best option at cornerback considering both ability and money.