FC Barcelona Transfers: 4 Roles Alexis Sanchez Could Play at Barça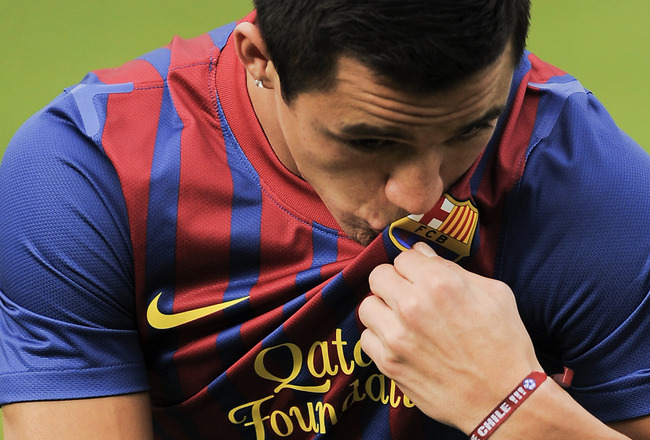 David Ramos/Getty Images
Barcelona have signed winger Alexis Sánchez from Udinese for €26 million, plus up to €13 million in incentives. But the question still remains: where will he fit in with Barça?
The Catalans are already packed in their offensive line with Pedro Rodríguez, David Villa, and Lionel Messi as their incumbent strike force. They also have a strong sub in Ibrahim Afellay for the wings.
Given his transfer price, big things will be expected from the Chile international. But in reality, where does Alexis Sánchez fit in with Pep Guardiola's side?
In this slideshow, I have come up with four possible line-ups Barcelona might have prepared for the former Udinese player to fit right in.
4. Alexis as the Game-Breaking "12th Man"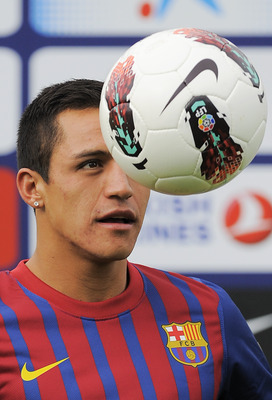 David Ramos/Getty Images
The Starting XI:
Valdés
Alves Piqué Busquets Adriano
Xavi Iniesta
Messi
Pedro Villa Alexis
Who gets dropped?
A central defender, with Busquets moved back to the defensive line.
How Barça would work:
The starting point for Alexis Sánchez at Barça will be as a wild-card coming from the bench when the going gets tough.
Yes, even if they paid what they did for him.
Whether it's a tied game against a team playing with ten defenders, or a situation where Barça has to come from behind in a knockout match, expect to see Sanchez as the man Pep Guardiola will look for to win the game until he wins a starting role, if he does.
When he's on a good day, Alexis Sanchez's one-on-one dribbling skills are second only to the likes of Messi Robben, and it could prove a very valuable asset come crunch time.
3. Alexis on the False Number Nine Spot (A.K.A. "the Messi Role")
David Ramos/Getty Images
The Starting XI:
Valdés
Alves Piqué Abidal Adriano
Busquets
Xavi Iniesta
Messi/Pedro Alexis Villa/Pedro
Who gets dropped?
Option 1: Pedro or David Villa with Messi moving back to the right wing.
Option 2: Messi dropped (or injured), Villa and Pedro as wingers.
How Barça would work:
It can be argued that Alexis's best position at Barça might be the false nine or "Messi role". His best games at Udinese came from playing a very similar role to what Lionel does with Barcelona every weekend, linking play between midfield and the forward line.
However, that position is Messi's to lose, and that won't be happening anytime soon.
Playing devil's advocate though, if it were to happen, Messi would move to his former role as a right winger, with Pedro or Villa playing on the left.
Anyhow, it's good to know Sanchez is fully capable of holding the centre forward position if Messi goes down because of an injury or because he's tired.
He wasn't given number '9' for nothing.
2. Alexis as a Right Winger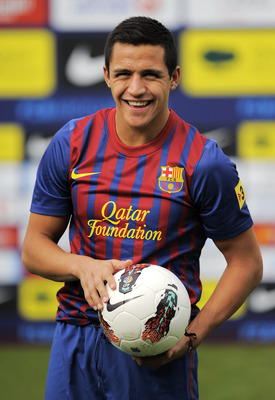 David Ramos/Getty Images
The Starting XI:
Valdés
Alves Piqué Abidal Adriano
Busquets
Xavi Iniesta
Alexis Messi Pedro/Villa
Who gets dropped?
Pedro or David Villa.
How Barça would work:
When playing on the wings, Alexis seems way more comfortable playing on the right side of the pitch. His left foot's just not as good, and as a pure line-hugging winger, he prefers that side so he can use his "good" leg to cross it in.
He has had some great performances there for Chile and Udinese, and his dribbling skills really show their colors when he dribbles past full backs time and time again on the sideline.
Having him paired with Xavi and Dani Alves on the right would really be a great sight to behold.
It will certainly be hard for opposing defenses to mark those three men and not leave a space open for Messi, Villa or Pedro to take advantage of.
The mischief Alexis, Alves and Xavi create on the right seems particularly dangerous for their rivals with David Villa and Messi waiting to finish moves off in the centre.
1. Alexis on the Left Wing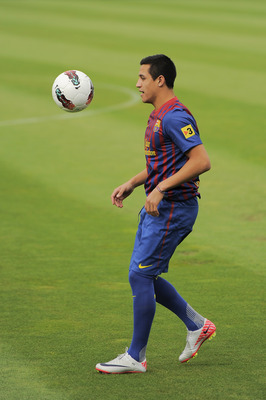 David Ramos/Getty Images
The Starting XI:
Valdés
Alves Piqué Abidal Adriano
Busquets
Xavi Iniesta
Pedro/Villa Messi Alexis
Who gets dropped?
David Villa or Pedro.
How Barça would work:
It's no secret that Pep Guardiola like playing wingers on their "weak" side with Barcelona so they can make moves towards the middle of the pitch.
Messi plays on the right being a lefty. Pedro does the same.
And Villa and Afellay are used on the left while being predominately right-footed.
That's not to say they can't play on the other side, but their "bad" sides are actually their "good" ones with Barça.
Even though Alexis Sanchez has seen very limited time on the left, I think that's where he'll play the most with Barça, given that the false 9 is occupied by the world's best player.
Alexis's dribbling will be very useful and could be reminiscent of what Messi himself did a few years ago from the right. His diagonals towards the middle could be a very dangerous weapon for a team already stockpiled on the offensive front.
But in principle, Alexis can play anywhere. Just like every other striker Barcelona has.
That seems to be a good sign, doesn't it?
Follow me on Twitter @ehrli
Keep Reading

FC Barcelona: Like this team?