Hunter Pence to the Phillies: 4 More Moves the SF Giants Could Counter With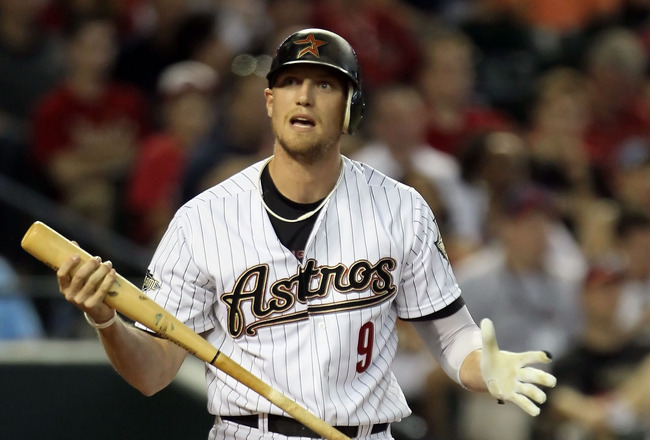 Jeff Gross/Getty Images
The big bomb has been dropped on the MLB Trade Deadline season, as the Houston Astros traded slugger Hunter Pence to the Philadelphia Phillies for two standout prospects and two players to be named later.
Both teams are winners, as the Phillies get their powerful and all-around skilled player to take over right field from the platoon of Ben Francisco and John Mayberry.
The Astros boost their rebuilding process with 21-year-old pitcher Jerred Cosart, 19-year-old slugger Jonathan Singleton and Josh Zeid. The two other players have yet to be named, but the Phillies did not have to relinquish their top prospect in Dominic Brown, who failed to live up to top billing this season.
Pence is batting .308 with 11 home runs and 62 RBI this season, immediately turning a solid Phillies lineup into a ferocious and intimidating one that has very few weak spots. Pence will probably bat either second or fifth in the lineup, getting on base for Chase Utley and Ryan Howard or providing protection.
Now it is the Phillies' new rival for the National League title, the San Francisco Giants, leaders of the NL Western Division, to respond and make more impressive moves.
Bolstering their lineup with Carlos Beltran, previously of the New York Mets, is impressive but not enough to overtake a Phillies lineup with Pence fueling the already roaring fire.
Here are four more moves the Giants can make to ensure they are the ones representing the National League in this year's Fall Classic. The winner of the pennant will not be decided for another two months, but the decisions made this weekend could push the Giants over the edge and onward to success.
Giants Pick Up Reliable Catcher Ramon Hernandez from Reds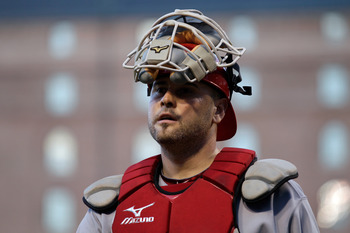 Rob Carr/Getty Images
Ramon Hernandez, quality catcher for the Cincinnati Reds, has been the target of the San Francisco Giants for some time now. However, the Reds have not dangled any player on the market yet because management believed they were still in the playoff race.
The Reds now stand at 50-55, 6.5 games back in the NL Central race. It is time to sell and get the most for your talent. Hernandez is having a tremendous season, batting .307 with 10 home runs and 27 RBI. His on-base percentage is .366 and he provides experience and presence to the bottom of the lineup.
Hernandez is a 13-year veteran, playing for five different teams over his career. The Giants would be one of the first teams' he could have played for with a legitimate chance of reaching the World Series, so it would be great to see Ramon have a shot at glory.
After the gruesome season-ending injury to Buster Posey, the Giants' backup catchers Eli Whiteside and Chris Stewart have been serviceable, but lackluster in his absence.
Hernandez would provide the spark that Bengie Molina gave the Texas Rangers last season that propelled them to the World Series, where they ultimately lost to the Giants.
Hernandez is a free agent after the season and only due about $1.5 million for the rest of the year. The Giants could rent Ramon and see how far his bat, but more importantly his skillful glove and knowledge of playoff baseball, could carry the improved Giants.
Giants Pick Up Dodgers Shortstop Rafael Furcal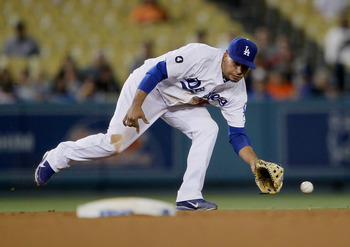 Jeff Gross/Getty Images
The injury to starting shortstop Miguel Tejada is almost healed and his return is coming up momentarily. So why trade for the rival Dodgers' injury-plagued shortstop?
Well, since Furcal is going to be a free agent and his contract is bloated, all the Giants would have to do is offer to cover some money and then the Giants could have a multiple-time All-Star shortstop backing up their infielders.
Furcal has been hampered by injuries, but has returned and has started to break out of his season-long slump. His average has climbed almost 40 points in the last couple weeks and his swing looks tremendously better.
With three doubles and eight hits in the last six games, Furcal is starting to come around. His defense has never been affected by the injuries, and his glove is still very reliable.
With Brandon Crawford struggling as Tejada's replacement, Tejada being fragile himself and Mike Fontenot needed to play all the positions in the infield, Furcal could be an asset that would not be expensive or costly in talent.
Either a low-level prospect or some money could sway the selling Dodgers, who need to make a move quickly if they want to receive anything back for their disappointing veterans with bloated contracts.
Giants Add Dodgers Catcher, Rod Barajas, As Well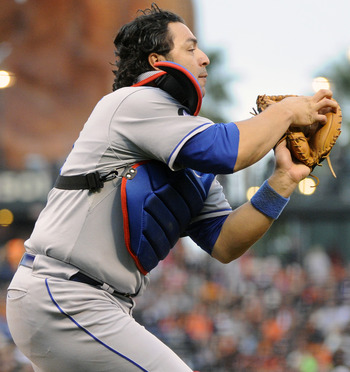 Thearon W. Henderson/Getty Images
A veteran Dodger without a bloated contract is Rod Barajas, starting catcher and quality major league hitter. Barajas has also been slowed by injuries this season, as a traumatic play at the plate injured Barajas' ankle and put him out for over a month.
Now, Barajas is back and playing every couple of days. Barajas is fresh and healthy, but the Dodgers are giving Dioner Navarro a longer look at the starting role.
Since Barajas is a free agent at season's end, I doubt the Dodgers are looking at bringing back the 36-year-old from the Los Angeles area.
Batting only .209 but with 9 home runs in only 200 plate appearances, Barajas has lacked some of the discipline a veteran player should show, but he has had more power displays than all other Dodgers but Matt Kemp himself.
Just Wednesday, Barajas boomed a solo home run into the left-field bleachers, shocking some of the few fans at Dodger Stadium.
If the Giants failed to get Ramon Hernandez, look for Barajas' name to be called quickly after. Rod is a good guy who worked hard for the Dodgers, along with every team prior, and deserves to play on a winner.
Giants Add Mariners Utility Man Chone Figgins and Pitcher Erik Bedard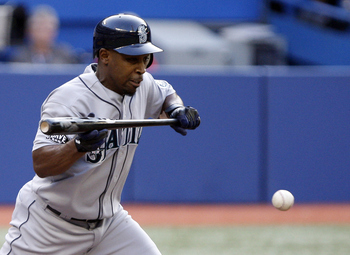 Abelimages/Getty Images
In a shocking move, the Giants could add two once-fantastic players in both Chone Figgins and Erik Bedard from the Seattle Mariners. I know, Giants GM Brian Sabean will read this and laugh heartily at the ridiculousness of this suggestion, but it has some validity.
The Mariners are looking to sell, but cannot find suitors for the guys like Figgins who have big contracts but can't do a whole lot. Figgins is in the second year of a four-year, $36 million deal that he has failed to live up to. Figgins is batting less than .200 with only 10 stolen bases, his career low so far.
Figgins is on the bench now, playing sparingly and looking forward to a very slow career. The Giants could rescue him by offering some salary relief and offering a low-level prospect for pitcher Erik Bedard as well.
Bedard is still recuperating from his surgery, but is starting to regain form again and pitched last night. Bedard struggled mightily last night, but overall they are getting some love.
The Giants could use Figgins as a versatile utility infielder who can play all positions except first base. Bedard could be used instead of the struggling Barry Zito or in case of an injury to another starter.
In any case, this move is a long shot but could truly help both teams, increasing the Giants' odds of overtaking the mighty Phillies and winning the National League pennant.
Keep Reading

San Francisco Giants: Like this team?