SEC College Football Preview: How the 2011 SEC West Will Be Won
July 30, 2011
Christian Petersen/Getty Images
This is part seven in a series previewing the 2011 SEC college football season. 
Alabama Crimson Tide
This must have been what it was like when Bear Bryant was head coach at Alabama (1958-1982). Each year Nick Saban reloads and regardless of the fact that he's losing a two-year starting quarterback and a Heisman Trophy winning running back, most of the country expects him to win another national championship. With 7 starters returning on offense, 8 if you count Trent Richardson, and 7 returning on defense one can start to understand the hype. 
Bama is not without some major holes before everyone crowns them national champs again. They need to replace their starting LT James Carpenter, QB Greg McElroy, RB Mark Ingram, and WR Julio Jones. Saban recruits talent to Tuscaloosa like no one else but those holes are huge! Yes they have talent but its recruiting stars given from websites and practice squad talent at this point. No one doubts the ability of Trent Richardson as a change of pace back and with this offensive line he should be a 1,000 yard rusher before they meet Tennessee. Defenses will put 8 in the box until Bama can prove they can throw the ball. 
If Bama is to recapture their championship form of 2009 their defensive unit can carry them. Linebackers (Dont'a Hightower and Courtney Upshaw) and secondary (Dre Kirkpatrick and Mark Barron) are amongst the best in the country. Their defensive line is young but coverage sacks should help these guys get better.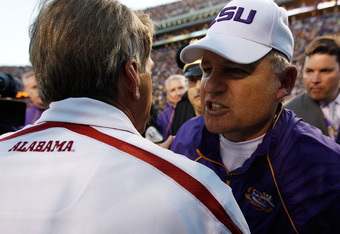 Chris Graythen/Getty Images
Bama's schedule is grueling just like the rest of the SEC West and they play at Penn State, at Florida, and at MSU. If they end up 10-2 this could be one of Saban's best coaching efforts. Bama should be in a top tier bowl, perhaps a BCS Bowl, but Arkansas, Florida, LSU, and South Carolina will have something to say about that before the season is over.
Arkansas Razorbacks 
Plug in and keep on playing. This will be Bobby Petrino's theme for Arkansas' 2011 season. Petrino will try to keep University of Arkansas' momentum going after last years BCS run to the Sugar Bowl; the first BCS visit for the program. Like Alabama, Arkansas has a few important holes to fill before announcing their team as the SEC champs or a BCS Bowl team, namely starting quarterback. 
Arkansas may have the best and deepest skill position players of any team in the nation. Their senior wide receiving core of Greg Childs, Jarius Wright, and Joe Adams is second to none. The backfield combination of Knile Davis, Ronnie Wingo Jr., and Dennis Johnson is as good as any other in the nation as well, just without all the hype. Tyler Wilson appears to be the heir apparent to take snaps for the Hogs after the early departure of Ryan Mallett. With the amount of talent he has around him, and the three quarters of work against Auburn (332 yards passing, 4 touchdowns, and 2 interceptions), Petrino has the Razorback faithful optimistic about another BCS season. According to Scout.com Wilson is the fifth rated quarterback prospect for the 2012 NFL Draft.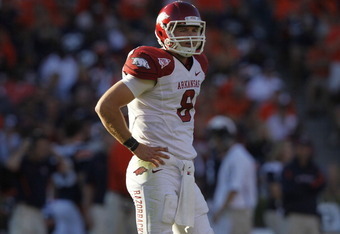 Mike Zarrilli/Getty Images
The Razorbacks biggest question is who will replace their graduated tackles? Top recruit OL recruit Brey Cook enrolled early to participate in spring practice to get a jumpstart on the season. Junior college transfer Jason Peacock will be expected to fill the other tackle spot with the release of Anthony Oden from the team after his July arrest; his second in two years. If the Razorbacks can give Wilson a little time to throw but more importantly run block for Doak Walker Award watch list finalist, Knile Davis (previously won by Darren McFadden in 2006 & 2007), this Razorback team could be the dark horse team of the SEC. 
The Hog's defense finished the season ranked 36th in total defense; this includes the 65-43 slugfest with Auburn at Jordan-Hare Stadium. Seven returning starters should make this team tough to beat at home and on the road. All-SEC DE Jake Bequette, LB Jerry Franklin, and S Tramain Thomas are poised for monster senior seasons. Defensive coordinator Ellis Johnson has methodically turned Arkansas' defense from one of the worst in the SEC to one of the best in three seasons. They have quality depth along the defensive lines but are thin at linebacker. Any injury problems to the linebackers and the Hogs could be in trouble. 
Arkansas' schedule is tough but manageable. Arkansas was in every game they played last season; that was with Ryan Mallet at quarterback though. Their two toughest games should be at Alabama and at LSU; they split those games last season. A&M will be highly ranked as will South Carolina when they arrive in Arkansas, a team Arkansas has beaten 7 times in the past 10 years. If the Hogs split their four toughest games they should be in the running for a shot at the SEC Championship Game and a possible BCS berth. But the Hogs could end up 8-4, a disastrous 2011 season for Razorback fans but a great season in the Houston Nutt days.
Auburn Tigers/War Eagles
Auburn's head coach Gene Chizik will find out how good of a coach he really is during the 2011 season. Auburn is completely depleted of starting talent; they only return two starters on offense, and three on defense. Chizik's best strategy may be to let Gus Malzahn run every gimmick play he has in the play book. 
Auburn's brightest offensive point, other than Malzahn, is returning true sophomore Michael Dyer. Dyer averaged over 6 yards a carry in 2010 on his way to amassing 1,093 rushing yards; an Auburn freshman rushing record. The other returning player is right tackle Brandon Mosely. Every other position is up for grabs during August practices. With the incoming flux of freshman and all the redshirt freshmen from 2010's recruiting class, this should be a wild year for the Tiger faithful. Look for Kiehl Frazier to make a couple of starts after the LSU game unless the Tigers choose to get ready for 2012 before then. 
DT Nosa Eguae will be the focal point of all opposing teams until other Auburn players start to step up. Eguae will receive more double and triple team hits than a WWE wrestler over the season and his production could lag because of it. Look for teams to test the War Eagles' secondary early and often and grind out their young linebackers and defensive linemen until they break in the fourth quarter.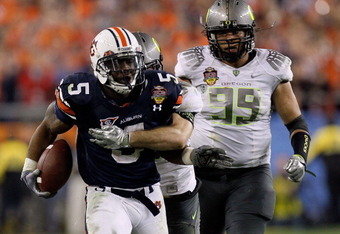 Kevin C. Cox/Getty Images
All the teams that were upset by Auburn's run last year can take their shots this year. Auburn has a six game stretch starting in October that could yield only one victory; at South Carolina, at Arkansas, versus Florida, at LSU, vs. Mississippi, at Georgia. They get MSU at home, at Clemson, at Georgia, and the Iron Bowl at home. 
Auburn may have the same element of surprise in their favor as last year. No credible person expected Auburn to ride Cam Newton's abilities all the way to a national championship last season. Nick Fairley came out of no where with the help of former defensive line coach Tracy Rocker. Is there enough magic left from the 2010 season to make a bowl run? Or is there too much talent gone mixed with a championship hangover for the coaching staff to deal with? Tiger fans will have to remember yester year for football smiles and play their Sports Illustrated commemorative DVDs to make up for this year's heartache. Look for Auburn to set up shop this year for another run next year.
Louisiana State University Tigers
Les Miles wins 10 games every year and personally loses a couple every year as well. There's a lot of preseason hype surrounding LSU even though they have more holes to fill than Alabama and Arkansas combined. Will new offensive coordinator Steve Kragthrope be able to ignite a LSU offense that ranked 86th in the nation last year? Will a talented but inexperienced defense be able to dominate opposing offenses again (ranked 12th in total defense in 2010)? Miles is placing his trust, again, in third year starting quarterback Jordan Jefferson and Kragthrope to bring home the crystal trophy for the Tiger faithful. Let the games begin!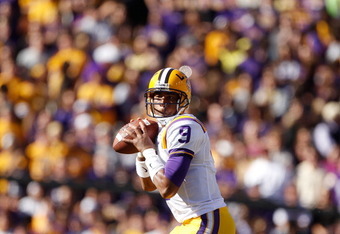 Chris Graythen/Getty Images
The difference between LSU winning their third BCS Championship in 8 years or being just another great defensive team, centers on how well the offense performs. Jefferson must feel the weight of college football on his shoulders, and if he doesn't someone please inform him of this monumental moment in time. 
LSU has eight returning starters on offense but questions along the offensive line remain. Mainly who will start at left tackle, sophomore Chris Faulk or incoming freshman Le'El Collins? Stevan Ridley's 1,411 yards will be missed but Spencer Ware seems ready for the touches; he had a 100 yard game against A&M in the Cotton Bowl. Incoming freshman Kenny Hilliard could push for playing time as well. LSU has talented receivers at the ready but who will be their breakout player? 
Depth and talent are all over the defensive side of the ball. Seven starters return but some of those starters may be beat out by underclassmen; that's depth. MLB Melvin Sheppard will be hard to replace but, again, LSU has talent everywhere and sophomore Kevin Minters is talented enough to do it. Corners Morris Claiborne and Tyrann Mathieu should allow a younger defensive line to get some coverage sacks. Not much changes here except the names and numbers on the jerseys. If LSU's offense produces this defense could be even better than advertised. 
Miles didn't do himself any favors with his non-conference schedule. LSU, like Georgia, can set an early tone for the season and all other college football teams if he can beat Oregon in week one in Arlington. Back to back games on the road against Mississippi State and West Virginia will test the offense and show football fans if LSU means business this year. LSU has to go on the road to face Alabama but they get a bye week before that pivotal SEC matchup. Tennessee could be a trap game for LSU if they let their guard down. Tough games against Arkansas, Florida, and Auburn are all at home.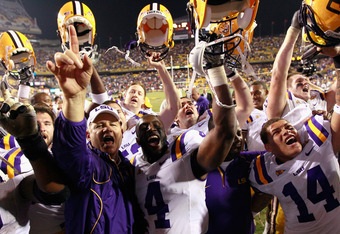 Kevin C. Cox/Getty Images
Recruiting talented players to Death Valley has never been a problem for Miles and his staff. Getting the most from those talented players is another issue for the Fighting Tiger's fans. The loss of Patrick Peterson will be the toughest to overcome. He won two games by himself last year, maybe more depending on your viewpoint (vs. UNC 257 return yards, 60 yard punt return vs. West Virginia). He was a lockdown corner and their punt and kickoff returner. They have talented players that can do both but not as well as he did it. 
If Jefferson stumbles out of the gate, look for former Georgia recruit, now a transfer from Butler, Kansas Community College, to step in and see what he can do with the offense. Jefferson will dictate if LSU is an 8-4 team or a BCS team.
Mississippi State Bulldogs
Dan Mullen has taken a program that only won 3 games in 2006 and in two years had them knocking on the door of a 10-win season in 2010. Mullen has a great mix of talent coming back on both sides of the ball and a senior quarterback to lead the way. The cowbells will be ringing in Starkville this year and for good reasons. 
Quarterback Chris Relf may not set the world on fire with his stats but he plays smart and keeps the chains moving (13 TD passes, 6 INT, 713 yards rushing). Relf will miss the security LT Derek Sherrod provided last year but he's blessed with all the skill position players returning. If MSU can find a serviceable replacement for Sherrod this team could be tough to beat; keep in mind, that's a really big if. Even with two new starters on the offensive line, Vick Ballard should improve upon his 968 yards rushing during last season. If he improves upon his 19 rushing touchdowns, this team may be in the SEC Title Game.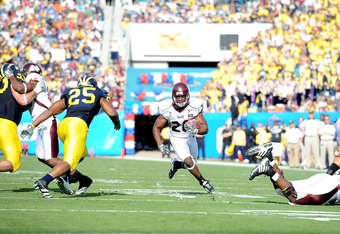 Rick Dole/Getty Images
MSU has seven returning starters on defense which is the good news. The bad news is none of them are linebackers. Hard to stop the run and cover tight ends in the SEC without some good linebackers. MSU will spend August pushing, motivating, and developing a trio of linebackers to take on tough SEC West runners. Their defensive was a middle of the road unit last year. Geoff Collins was brought in from Florida International to improve those numbers. Collins has quality linemen in Fletcher Cox and Josh Boyd up front and bell ringer Charles Mitchell at safety. With a lot of the flash gone from last year's SEC quarterbacks, MSU will have to put an extra emphasis on having their linebackers ready to stop the run or every 4th quarter could be an ugly time for MSU this year. 
Mississippi State is an enigma wrapped in a SEC riddle. Will Mullen keep improving the play at MSU or have the Bulldogs topped out? Their non-conference schedule is really weak, so a bowl game is a definite. How well they perform in SEC play is the reason for all the insomnia in Bulldog land. The schedule shines on them, all things considered, this year. True they have to play at Georgia but they get USC at home and miss playing Florida. They play at Auburn early in the year when leadership and roles may still be undefined for the Tigers. LSU, Alabama, and Ole Miss all have to visit Davis Wade Stadium. Their toughest game on the road is against Arkansas which could prove to be another make or break SEC Title Game moment. 
Mississippi State should be no worse than an 8-4 team going into their bowl season. If MSU can win 3 of their 5 big games they will shake up the SEC and make a bid for a SEC Title Game berth. If MSU has any problems they may turn the keys of the offense over to incoming freshman quarterback Dak Prescott to get a jumpstart on next year.
Ole Miss Rebels/Rebel Black Bears
Ole Miss may be in big trouble in 2011. No head coach, not under NCAA investigation, is feeling the pressure in college football more than Houston Nutt and his staff. After back to back 9 win seasons in Nutt's first two seasons at Oxford, Ole Miss fans were crushed when 2010 ended with a 4-8 record. Expectations had gone through the roof as fans thought the program's savior had arrived. A preseason Heisman Trophy candidate in 2009 with Jevan Snead ended abruptly and talented Oregon transfer QB Jeremiah Masoli went nowhere in 2010, fans are now unsure what the future holds. 
The one shining point for the Rebels on offense is their offensive line. Four starters return and Matt Hall, starter at right guard during spring practices, will be a beast for offensive line coach Mike Markuson. Houston Nutt is known to grind out games with his offensive line and running attack; keep the score close, wear out the other team's defense, then run all over them in the 4th quarter. Look for a whole lot of off-tackle right and off-tackle left throughout 2011 in Oxford, until they find a playmaker at quarterback. 5' 11" Randall Mackey won the starting quarterback job in the spring but Barry Brunetti is rumored to be the favorite going into August two-a-day practices. Mackey's ability to run should help keep the offense on the field and give the defense a breather. Look for defenses to stack 8 in the box and beg Mackey to beat them with his arm. Brandon Bolden will get plenty of chances to improve upon his 976 yards rushing and 14 touchdowns he earned in 2010.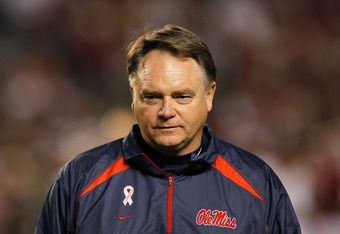 Kevin C. Cox/Getty Images
In 2010 Mississippi's defense was 107th in scoring defense and 103rd in passing defense… the good thing is only 3 returning starters are back from last years squad (SLB Joel Knight, CB Marcus Temple, and FS Damien Jackson). The bad thing is 8 positions are up for grabs with little to no SEC experience. Nutt has signed back to back top 25 recruiting classes and may use this season as an effective tool to get players ready for 2012, if the fans let him. 
The only break Ole Miss gets this season with the schedule is location. The Rebels play host to BYU, Georgia, Alabama, Arkansas, and LSU. If new offensive coordinator David Lee can find some play makers Ole Miss might be able to outscore a few teams on their schedule. The only problem is its really tough to win on the road in the SEC and all of Ole Miss' swing games are on the road; at Vanderbilt, at Auburn, at Kentucky, at Mississippi State. 
Despite the lack of veteran SEC players on this year's team, Nutt can sell the future and hope for a few close wins to keep the fans happy. Nutt plays the field position game like he wrote the book and he will not let David Lee put his team in the hole with high risk passing routes. Going 3 and out put pinning the opposition back on their end of the field is the way Nutt likes it. Lee developed the Wild Hog for Darren McFadden while at Arkansas, and until a team learns how to stop it, expect Ole Miss to run it as soon as they get off the team bus and they won't stop until it's time to shower. 
Arkansas fans learned the mantra "wait until next year" during Nutt's time coaching the Razorbacks. Nutt is either a couple of big plays away from having a great year or he's in the midst of a two year ramp-up of back to back 4 or 5 win seasons before getting back to a 8 or 9 win level for a year or two. Let's see how fast Ole Miss fans learn the Houston Nutt mantra, "wait until next year".
Predicted Order of Finish
SEC East
Team/SEC Record/Overall Record
South Carolina 6-2, 10-2
Florida 6-2, 9-3
Georgia 5-3, 9-3
Kentucky 4-4, 8-4
Tennessee 2-6, 6-6
Vanderbilt 1-7, 5-7
SEC West
Team/SEC Record/Overall Record
Arkansas 7-1, 11-1
Alabama 6-2, 10-2
LSU 6-2, 10-2
MSU 5-3, 9-3
Auburn 1-7, 4-8
Ole Miss 0-8, 2-10
SEC Championship Game
Arkansas Razorbacks vs. South Carolina Gamecocks
Final Score
31-17
SEC Champion
Arkansas Razorbacks
The SEC Championship Game will be held December 3, at the Georgia Dome in Atlanta, Georgia. CBS will televise the game starting at 4:00 p.m. EST.