Detroit Tigers: Sunday's Matchup May Bring More Entertainment Than the Deadline
July 30, 2011
Jed Jacobsohn/Getty Images
The Detroit Tigers will head into Sunday not knowing exactly who will make up their rotation for the rest of the season.  There is one thing that is certain about their rotation, however, and that is that Justin Verlander will be the workhorse, Cy Young-caliber, No. 1 guy all year long.
Sunday's matchup with the Los Angeles Angels brings to town the Angels' version of that No. 1 guy, and likely Verlander's main competition for the Cy Young, as Verlander takes on ace Jered Weaver head-to-head.  Talk about a dream pitching matchup.  We get to see two of the best pitchers in baseball and the fact that both are on contending teams makes the battle all the more interesting.
And we should have a nice long look at both starters, as Verlander is a threat to throw a complete game every time he takes the mound while Weaver has improved his average innings pitched per start from 6.59 in 2010 to 7.32 in 2011.  Verlander leads the Majors with 173.0 innings pitched in 2011.
That is where the similarities in their pitching end, however.  Verlander is a power arm with an upper-90's fastball that can crack triple digits, a curveball that will buckle the knees of even the game's best, a devastating change-up, and an above average slider that he'll throw in there just for fun.  And his unreal stamina has allowed him to save the real gas for the late innings, as he often throws his fastball 92-95 mph through the first 5 or so before cranking it up between 97 and 101 mph in the latter part of the game.  It almost isn't fair.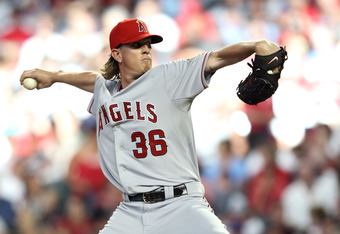 Christian Petersen/Getty Images
Weaver, on the other hand, uses his long 6'7" frame to his advantage in a deceptive delivery.  He's not overpowering by any means, as his fastball generally tops out at around 90 mph and he utilizes his speedy outfielders in inducing a ton of pop ups.  Considering the fly ball pitcher he is, it is a testament to his control that he has given up only 6 home runs to date this year.
Here is a quick look at the two pitchers'  2011 resumes:
GS: Verlander, 23; Weaver, 22.
W-L: Verlander, 14-5; Weaver, 14-4.
ERA: Verlander, 2.34; Weaver, 1.79.
K: Verlander, 169; Weaver, 134.
BB: Verlander, 34; Weaver, 37.
IP: Verlander, 173; Weaver, 161.
WHIP: Verlander, 0.89; Weaver, 0.95.
Both pitchers can certainly make an argument for their Cy Young candidacy at this point and Sunday is certain to heat that discussion up even more.  Regardless of the outcome, this is sure to be must-see TV.