MLB Trade Rumors: Hunter Pence to Philadelphia Phillies?
July 29, 2011
Bob Levey/Getty Images
The Phillies got the first glimpse of Carlos Beltran in a San Francisco Giants uniform (going 0-4 with two strikeouts in his Giant debut), but now that the switch-hitter is off the market, all eyes turn to Houston, where Hunter Pence is the best consolation prize available.
Earlier this week, it was reported that the Astros had taken Pence off the market and were not going to deal their most marketable commodity unless they were "overwhelmed" in a trade.  Reports from ESPN and elsewhere have stated Pence is back on the market and the Phillies and Astros are "heatedly" discussing a deal.
Phillies GM Ruben Amaro's initial offer of prized prospects Jonathan Singleton and Jarred Cosart was flatly rejected by the Astros, who have demanded more.  Domonic Brown's name has surfaced, although reports are the Astros are not interested in obtaining the 23-year-old outfielder for themselves.
According to ESPN's Jayson Stark, a former beat writer for the Philadelphia Inquirer, the Phillies and Astros are attempting to contact other teams to include in the deal, perhaps to ship Brown there in an effort to sweeten the prospect pot for the Astros.
Making this deal would be a mistake for the Phillies.
The charismatic 28-year-old outfielder may very well be the final piece to the puzzle, the one that ignites a championship offense and propels the Phillies down Broad Street for just the third time in their long history.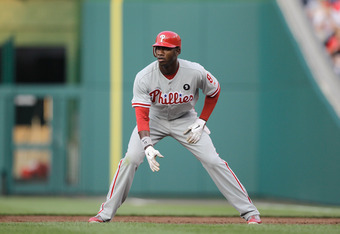 Rob Carr/Getty Images
But at what cost is it worthwhile?  
I know the Phillies are in a "win-now" mode, and "all-in" for 2011 and nothing matters except that trophy.  But what is the mantra going to be in 2012?  "Well, we won in 2011, so this year doesn't matter?"  No, it's going to be another "win at all costs" year, but eventually those costs will begin to add up.
Trading Brown (and prospects) for Hunter Pence makes the Phillies a better team today.  Domonic Brown has shown countless times he is not ready for the big leagues and has already cost the Phillies games with his immature play.  Three years down the road, Brown is likely a better player than Pence ever was or could be, though.  And three years down the line, Brown is also still cheaper than Pence is today.
Scouts have analyzed Pence's abilities and come away unimpressed.  He's got a slow bat and cheats to stay ahead of the fastball, they say.  That, in turn, has made him more prone to strikeouts—something this Phillies lineup does not need.  Sabremetics users will tell you Pence has been extremely lucky this year, based on his .370 batting average of balls in play, an obscenely high number.  Others will point to his consistency, hitting 20 plus home runs while driving in 70 plus runs each of the last three seasons.
Regardless of how "lucky" Hunter Pence remains to be, he is not the player the Phillies should mortgage their future for.  His style of hitting, while what the Phillies need on the surface (a right-handed slugger, to bat fifth behind Ryan Howard), is just as susceptible to stellar October pitching as the current Phillies lineup is.  And the cost—for today, tomorrow and the day after that, too—is far too substantial.
Dealing away prospects is part of the business, and in my opinion, what they are there for—with some exceptions.  But constantly adding big-priced talent to an already top-heavy club is foolish.
Heading into the 2012 season, the Phillies already have more than $110 million committed to just nine players.  If Brown is included in any deal for Pence, the Phillies will have holes in the outfield, at shortstop, in the starting rotation, the bullpen and on the bench to fill.
Pence will be in line for a significant raise off his 2011 salary of $6.9 million.  If he's as good as Phillies fans want him to be, he could nearly double that in arbitration.
Jimmy Rollins will be back, also.  Win or lose, the Phillies are not going to entrust shortstop to a 21-year-old kid who hasn't shown an ability to produce offensively in the minor leagues.  Without a lot of shortstops on the market, Rollins could easily see a raise into the eight-figure range.
The Phillies and Roy Oswalt could opt to hook up for one more year, at a salary cost of $14 million.  (Go ahead, argue with me on that one.)  But then who plays left-field, who is the closer and how do the Phillies replenish an atrocious bench?
The Phillies bullpen next year will probably look a lot different than it does today.  High-priced veterans will be gone, replaced by younger, cheaper arms.  However, coming off either a World Series title or another crushing October defeat, how can management allow this team not to have a high-priced, shut-down closer?   They can't and that will eat up another big portion of their budget, still with several holes to fill.
Perhaps John Mayberry will turn the corner and be that cheap outfielder.  Maybe Justin DeFractus and Phillipe Aumont are ready for the big leagues and Vance Worley proves he's not a fluke the league hasn't seen enough of to catch up to yet. 
That would be fantastic and help continue a run to greatness the Phillies have never seen before.  However, if they deal for Hunter Pence, the cost he will add to their payroll will make it impossible for the Phillies to be wrong.
On the surface, dealing for Hunter Pence, regardless of the costs, makes the most sense.  He makes the Phillies a better team right now (or does he?) and that is all that matters (or is it?).  Worry about tomorrow when tomorrow arrives.  
However, that is impossible to do completely.  Ignoring tomorrow is what led this country into the financial trap it is in today and is what could prematurely ruin an unprecedented run in Phillies history.  
Hunter Pence is too expensive.  The players needed to acquire him and the cost of retaining him will far outweigh the benefits.  With his contract in the mix, and without young and cheap Domonic Brown, the Phillies will be pressed against their financial cap and unable to make moves to better the team.
The Phillies WILL WIN the World Series in 2011, regardless of whether or not they bankrupt the team for Hunter Pence.  Don't do it!