MLB: A Final Farewell to Manny Ramirez
July 29, 2011
Dilip Vishwanat/Getty Images
Dear Manny Ramirez,
On July 31, 2008, Major League Baseball decided to drop you off in my backyard. You had pretty much worn out your welcome in Boston, and rode a three-team trade into Los Angeles (cue Mannywood and the unnecessary hype that followed).
Don't get me wrong, I've never been a fan of yours. The whole "Manny being Manny" thing never sat right with me. Why do you get to slap a tagline on your bad attitude and make it acceptable?
With your familiar foe (the trade deadline) looming, I've sat too long with a foul taste in my mouth, and your decision to "retire" was the last straw. You got caught with your hand in the cookie jar...again. Except, it wasn't a cookie jar and your punishment wasn't just a slap on the hand from mommy.
You retired from Major League Baseball at age 38. It wasn't because you thought your body was too old for the game. It wasn't because you needed surgery and would be sidelined for the whole season. You retired because, for the second time in your career, you tested positive for a banned substance. And instead of accepting the consequences–a 100-game suspension–you decided to run, leaving behind your teammates, your fans and the game you supposedly love so much.
You're ridiculous.
Remember the time you couldn't recall which of your knees was injured? The Yankees were in Boston for a three-game series, and at the time you were riding an 11-game hitting streak. You took yourself out of the lineup two days in a row because your right knee was sore. After losing 1-0 in Game 2, the Red Sox made you go get MRIs on both knees because you couldn't remember which knee was hurting you. The next day you were back in the lineup and went 0-for-4. Tsk, tsk.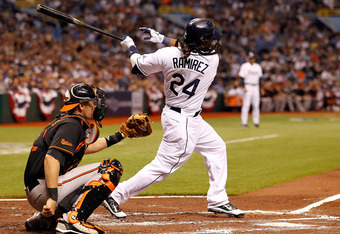 J. Meric/Getty Images
I guess I shouldn't be surprised by your decision. It's not very uncharacteristic of you. I'm more upset with your disrespect and disregard for the game. In 2003, you failed a drug test that all players took to find out whether steroids were an actual problem in Major League Baseball. 
Eight years later, you've stepped in it again. But instead of facing your 100-game suspension, or attempting to go through the appeal process, you're taking the easy way out and leaving baseball forever. Did you even stop to think about everything you'll be leaving behind?
Let's start with the fans: You have so many of them. And while I am not one, I will admit your fan base is a force to be reckoned with. They've got the Manny dreadlock wigs, the jerseys, the doo-rags, and now you're turning your back on them? They buy tickets and take time off of work and school to see you play. And you just know there is a 10-year-old boy out there who is crying right now because he learned his favorite ballplayer retired after testing positive for steroids.
Remember when you were younger? You loved baseball. You used to tie a piece of rope around your waist and attach the other end to a tire then run up a hill to build your strength and speed.
Somewhere between then and now, you lost your love for baseball and your respect for the game.
Playing baseball professionally is a gift, and you should have been thankful every day that you had the chance to step onto a perfectly manicured field and excel at a beautiful game. Instead, you flipped the bird at every family member, coach, teammate, friend, agent, manager and fan who trusted in you.
Anyone who takes performance-enhancing drugs is a coward, period. You've let down so many people, and while you might not realize it now, the person you let down the most is that little boy who is running up a hill with a tire tied to his waist. 
Thanks for your time,
KG