WWE: Top 10 Gimmicks of the Early '90s
The Wrestling Opus Presents the Top Gimmicks of the Early '90s. From 1991-1993 the WWF was largely characterized by ostentatious gimmick wrestlers. This span of time is largely nameless; some would consider it the tail end of the Golden Era, others consider it a precursor to the steroid scandals of 1994, however I think it deserves better. "The Gimmick Era" should be an official era as it presented us with characters that would go on to live in the virtue of wrestling lore.
My rankings are not based on in-ring accolades; rather I will explore the actual gimmick of each wrestler and give them a position based on the eccentricities they displayed in and out of the ring. Many wrestler's with a gimmick are not included, such as the Million Dollar Man, as their success transcended their actual character.
10. The Berzerker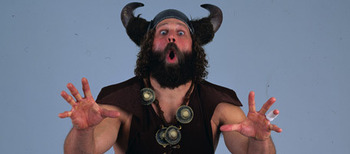 HUSS! HUSS! The infamous chant from the Berzerker still remains with us today. The Berzerker was a viking character, which by itself isn't the pinnacle of creativity, however his HUSS HUSS chants while grabbing his wrists, and generally acting like a maniac make the Berzerker a memorable wrestler.
9. Papa Shango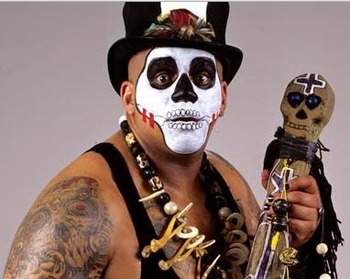 Papa Shango was one of the few gimmicks to get pushed into the upper card spotlight with the likes of the Ultimate Warrior, Hulk Hogan, and Sid. His gimmick was that of a voodoo witch doctor who could cast spells on his opponents. Papa Shango never reached the level that was possibly intended for him in-ring, but his creepy gimmick lives on.
8. Tatanka
Tatanka, as seen in the picture, depicted a Native American gimmick. He performed a war dance, wore a head dress, and had blood colored hair. He was given an undefeated push and had a longer career than many of the other gimmicks on this list.
7. Nailz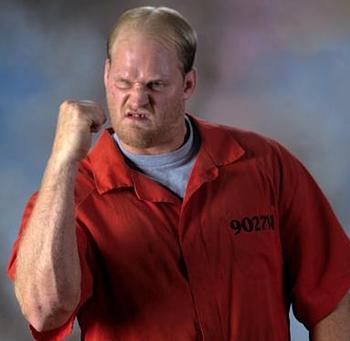 Nailz was a short lived Convict gimmick in 1992. He was brought in to feud with the Big Boss Man, a gimmick himself, as the Boss Man was Nailz' former prison guard who abused him. I remember being terrified of Nailz as a kid. He looked demonic. He eventually was fired for allegedly attacking Vince McMahon. Not a whole lot of creativity here, but he played his part very well.
6. Tugboat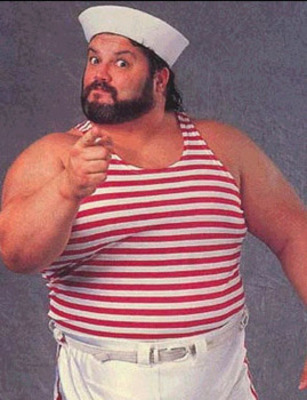 So get this, a fat guy named after a fat boat, wearing a sailor's shirt and a sailor hat, who chanted "TOOT TOOT". What you have is a classic gimmick that not only offended tug boat captains, but also aligned himself with Hulk Hogan. TOOT TOOT!
5. Doink the Clown
An evil clown who played pranks and could actually wrestle. Enough said.
4. Skinner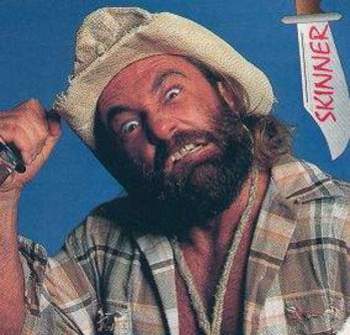 An Alligator hunter from the Everglades who carried an alligator claw and had chewing tobacco dripping all over his beard. And this man was a wrestler. Whoever came up with this novel idea should be given a medal.
3. The Mountie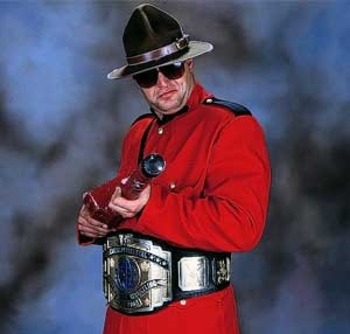 Portraying a Canadian as a heel? Good idea. Making that Canadian a smug Mountie? Great idea. The Mountie was a Canadian "policeman" who feuded with the Big Boss Man (obviously) and even won the Intercontinental Championship from Bret Hart.
2. Irwin R. Schyster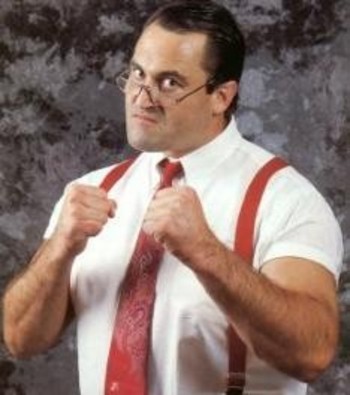 Irwin R. Schyster better known as IRS was a heel who, get this, accused other wrestlers of not paying their taxes. Taxes and wrestling? What a combination. IRS was a tag team champ, a legitimate contender and is still involved in WWE to this day.
1. The Repo Man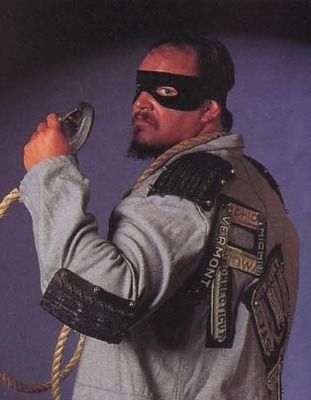 As far as gimmicks go, I don't think you can top this: a wrestler wearing a bandit mask, with tire tracks on his singlet, who slinked around the ring carrying a car tow rope. How was a repo man ever thought of as a wrestling character? I don't know, but the person who thought of it was a genius.
Keep Reading