EPL Power Ranking: All 20 First Choice Goalkeepers of Every Premier League Club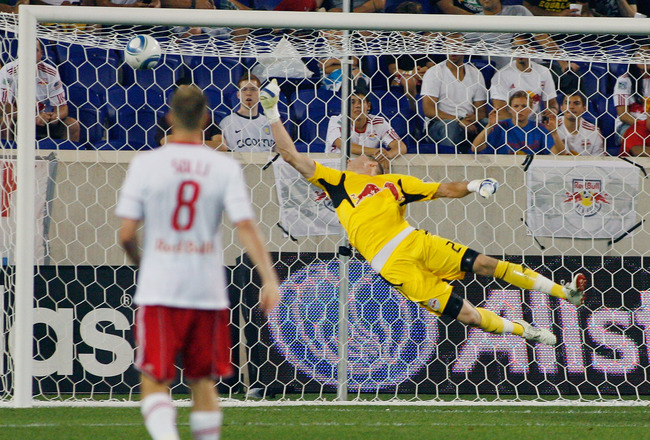 Andy Marlin/Getty Images
As we head into the new 2011-12 Premier League season, all the headlines, hype and transfer rumours surround the hefty fees shelled out over the past few months for, by and large, the world's most sought after forwards - whether it is Liverpool's record signing Andy Carroll, the British fee record Fernando Torres who scored just once in nineteen games for Chelsea, Arsenal's new signing Gervinho or Manchester City's Argentinian pair Kun Aguero and Carlos Tevez; one newly arrived, one wanting to leave.
But what about at the other end of the pitch?
What about the men charged with preventing these high-priced match winners?
What about, lest we forget, the poor guy charged with stopping Robin van Persie scoring each week?
Goalkeepers are a strange breed and always have been, and their style of 'keeping can be as different as a target man to a creative second striker up front.
This summer's transfer window has seen more activity than usual on the Premier League goalkeeper front with two of the league's biggest sides signing new stoppers; though of course only one will be a first choice this season. In addition, West Bromwich Albion, Tottenham, Aston Villa and Liverpool have all seen transfer movement for their goalkeeping area of the squad.
A sound goalkeeper is the bedrock of many a great side, and without one even a very good side can at times look disturbingly mediocre.
Here we rank every first choice goalkeeper in the league, and see how they will help or hinder their respective sides in the season to come.
You can follow me on Twitter @karlmatchett and on EighteenAndFive or become my fan on B/R!
Queens Park Rangers: Paddy Kenny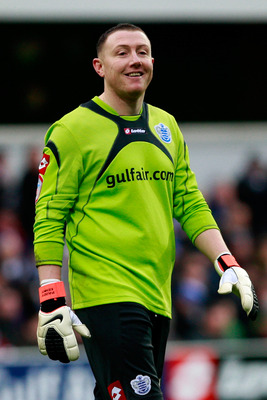 Dan Istitene/Getty Images
Paddy Kenny is perhaps not the most svelte of goalkeepers who will take the stage this coming season but at 33 years of age boasts a wealth of experience from his long career and has prior Premier League experience from his time at Sheffield United.
His reactionary saves and reflexes are good; his command of his area and organisational skills perhaps less so.
Like the league's other newcomers, he is likely to be severely tested this season as QPR try to handle the step up to the Premier League.
Swansea City: Jose Moreira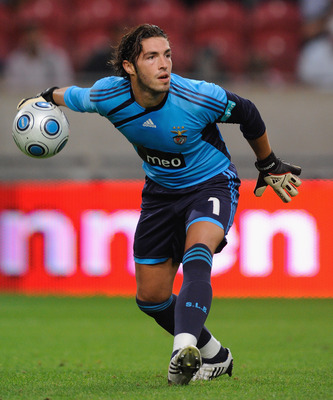 Michael Regan/Getty Images
Swansea are rumoured to still be after a new goalkeeper despite signing Portuguese stopper Jose Moreira from Benfica.
After ten years and over one hundred league games with the Portuguese giants, Moreira has made the move to the Premiership and will relish testing his abilities against the likes of Wayne Rooney, Robin van Persie and Luis Suarez.
He is not known for his domineering presence and may find it difficult coping with successions of crosses or set pieces thrown high into the box. Also doesn't have great distribution. However, he is a capable 'keeper as his time at Benfica shows.
Wolverhampton Wanderers: Wayne Hennessey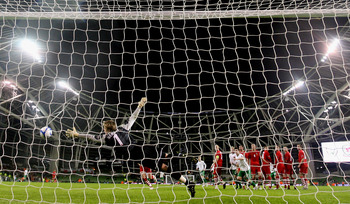 Scott Heavey/Getty Images
Wayne Hennessey seemed to win quite a lot of good reviews last season after he made the number one spot his own. I'll be honest: I think he is a comparatively poor Premier League goalkeeper.
Not a bad shot stopper, as is pretty much standard, but not good at organising his defence especially from set pieces and struggles at times to dominate his area.
Having said that, he has displaced a very solid goalkeeper in Marcus Hahnemann and Mick McCarthy is no mug, and perhaps Hennessey will this season repay his manager's faith with improved performances.
Blackburn Rovers: Paul Robinson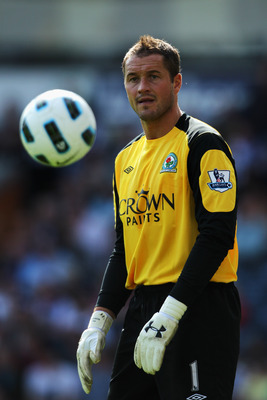 Dean Mouhtaropoulos/Getty Images
A poor man's Shay Given, Paul Robinson is almost the archetypal first rate shot-stopper and desperately poor goalkeeper.
Very low awareness and positional sense given his vast experience - over 300 Premier League games and 41 international appearances - and certainly prone to individual errors.
In terms of reactions and reflexes few can beat Robinson and in fairness with a deep lying defence, such as Blackburn tend to employ, this is traditionally the required type of goalkeeper.
Guaranteed to make a few point-saving matches, and cost a match or two with a howler.
Norwich City: John Ruddy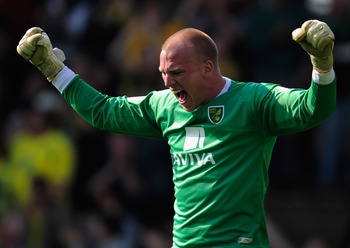 Jamie McDonald/Getty Images
24 year old John Ruddy has a grand total of one match Premier League experience - he came on as substitute once for previous club Everton after the starting goalkeeper was red carded.
He does however have a wealth of loan experience, having spent nine separate spells out at temporary clubs during his five years at Everton.
Ruddy signed permanently for Norwich last season and enjoyed a debut campaign to remember as he missed just one match en-route to helping the Canaries climb back into the Premier League.
The English goalkeeper is a good organiser and isn't afraid to put his body on the line, though is perhaps not as excellent in the reactionary category as some of his opposite numbers.
He does not lack for confidence but is sure to face a lot of tough tests this season and will need to be at his best to stop Norwich conceding a huge amount of goals.
Newcastle United: Tim Krul/Steve Harper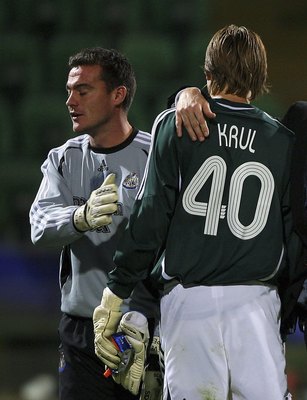 Stu Forster/Getty Images
Tough to call which goalkeeper will be the regular choice at Newcastle - last season Tim Krul made 21 League appearances compared to Steven Harper's 18, though Harper was arguably the 'first choice' who merely suffered with a string of injuries.
Krul is a promising 'keeper who is an excellent shot stopper and confident in his ability both aerially and on the ball, but he made several high profile errors last season after getting his chance in the first team.
Harper is a solid, middle-of-the-road goalkeeper who has waited a long time to get his chance as the Magpies' number one, but while he can't be said to be dreadful at anything in particular he probably also doesn't excel in any category.
West Bromwich Albion: Ben Foster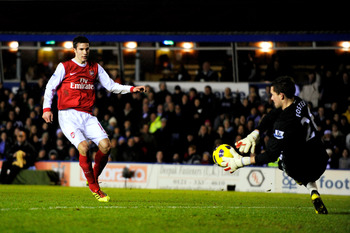 Michael Regan/Getty Images
Last season's first choice goalkeeper for West Brom, Scott Carson, has moved on to pastures new with a move to Turkey outfit Bursaspor, leaving the Baggies without a first pick 'keeper until just a couple of weeks before the start of the season.
They have now, however, completed the loan signing of Birmingham City player Ben Foster who will be the new number one with a view to a permanent deal next summer.
Foster is a terrific athlete who can make absurdly good saves at times, but has also suffered from concentration lapses and not managing to do the simple things consistently. His kicking has improved from his younger days but can still be bettered, while he appears a little reluctant about straying outside his six yard box to dominate aerially.
Fulham: Mark Schwarzer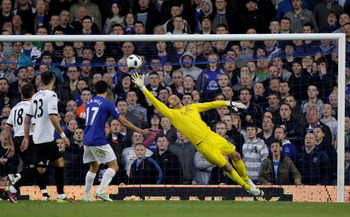 Ross Kinnaird/Getty Images
One of the veterans of the league, Mark Schwarzer has accumulated almost 500 league matches in England since joining Bradford City back in 1996.
At 38 years of age he perhaps no longer possesses the agility and reflexes that he once did but is still a sure and steady presence that Fulham's defenders can rely on.
Schwarzer is a calm presence who organises his players well, while his large frame makes him an imposing figure when one-on-one with an opposition striker.
His top flight career may be drawing to a close but he is still good enough to keep guard of the Fulham goal for another season.
Sunderland: Take Your Pick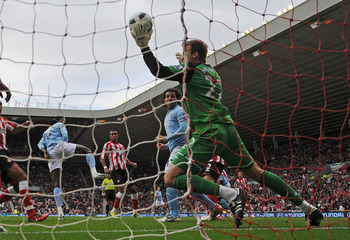 Michael Regan/Getty Images
Craig Gordon, Simon Mignolet, Keiran Westwood.
Three goalkeepers who are capable of being first choice for Sunderland, all who have their different strengths and weaknesses. Manager Steve Bruce will certainly have his work cut out to keep them all happy.
Last season Mignolet played 23 times in the league while Gordon played 15 times.
The ranking of the club in this position is based therefore on Mignolet being the first choice; his superior shot stopping and communication skills make him the more probable one to start the season, while Gordon seems to get chance after chance because of his high price tag. Not a particularly competent shot stopper, I would have rated Gordon at below Paul Robinson if he had been the undisputed first choice.
Stoke City: Asmir Begovic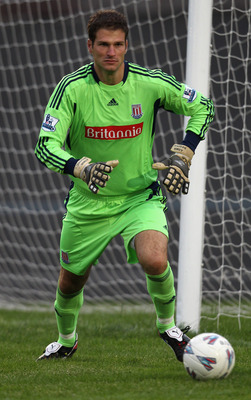 David Rogers/Getty Images
Just about having established him as the first choice Stoke City goalkeeper ahead of Thomas Sorensen (28 appearances to 10), Asmir Begovic is an improving goalkeeper who is both a steady shot stopper and a good presence at coming off his line to prevent chances before they fully form.
Again, not a terrific organiser but the Bosnian international has come a long way in the last three years since being farmed out on loan by Portsmouth to the likes of Yeovil and Macclesfield Town.
This should be his first full season in English football as a number one choice; he has not yet played 100 senior games despite his age of 24.
Bolton Wanderers: Jussi Jaaskelainen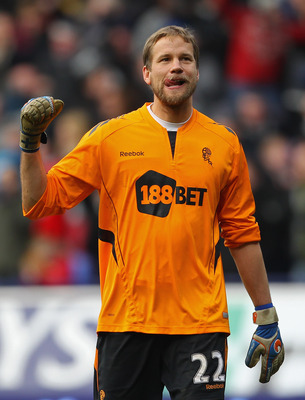 Alex Livesey/Getty Images
Into the top ten now and probably the first genuinely "good" goalkeeper on the list - veteran Finnish stopper Jaaskelainen is entering his fourteenth season as the Bolton Wanderers first choice and the 36 year old shows no signs of slowing down just yet.
An impressive shot stopper and a constant communicator, at his very best a few years ago Jussi was probably one of the top five goalkeepers in the whole league.
In recent years has probably lost a slight edge on his reflexes but his know-how and experience more than makes up for it.
Wigan Athletic: Ali Al-Habsi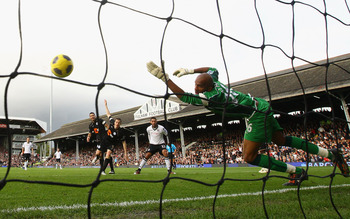 Julian Finney/Getty Images
Cut out the occasional complete and utter mess up and Ali Al-Habsi is probably in the top five or six in the league.
As it is, his phenomenal shot stopping and aggressive aerial prowess are sometimes undone by such a bad blooper that he is guaranteed to feature on any future Danny Baker DVDs.
Reflexes bettered by probably only one other goalkeeper in the league and a good ability to distribute the ball, Al-Habsi has waited a long time for his chance in the Premier League and really took it when it finally came, on loan at Wigan last season where he has now signed permanently.
Arsenal: Wojciech Szczesny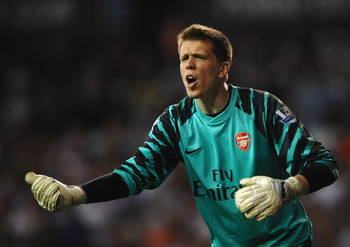 Laurence Griffiths/Getty Images
Rumours abound, as usual, that Arsenal will sign a new goalkeeper in time for the 2011-12 campaign but manager Arsene Wenger's comments appear to state that Szczesny will remain the first choice for Arsenal in the coming months.
A very confident and domineering goalkeeper; the Pole has no shortage of belief in himself and despite his tender years has already displayed a maturity in games borne of his loan experience and being thrust into the Arsenal starting eleven at the earliest opportunity.
He has his faults; at times his decision making for crosses and set pieces is not the best and perhaps at times even his shot-stopping is not quite up to standard - but Szczesny will only get better from this point and in a couple of years' time could easily be one of the very best in the league.
Everton: Tim Howard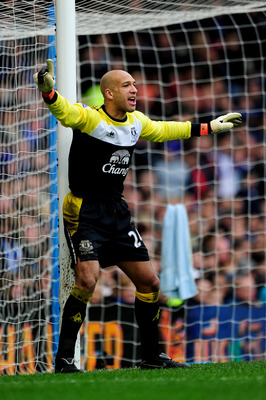 Jamie McDonald/Getty Images
In a mediocre side Tim Howard is one of the few players who really stand out. The American is a domineering and vocal presence in the Everton goal and is a consistent player.
Excellent in the air and with good vision and distribution, he has really shown over the past few seasons that he is one of the better goalkeepers in the Premier League.
As with all players has the odd moment where his usual poise escapes him but it is a relatively rare occurrence when Howard does not make the opposition forwards work for their goals.
Aston Villa: Shay Given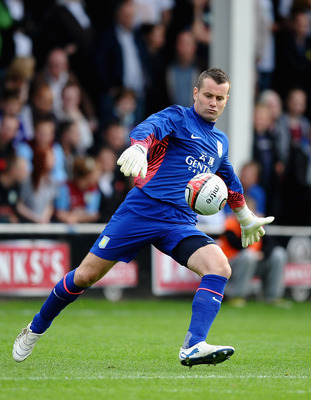 Laurence Griffiths/Getty Images
Now, I'm taking a bit of a leap of faith here - Shay Given has hardly played for the past year after falling out of favour at Manchester City, but his move to Aston Villa gives him first team football again.
At age 35 he is vastly experienced and has proved himself at the top level and, a bit of ring rustiness aside, should once again establish himself as a top class 'keeper.
Given has the best reflexes in the league for me; his agility and awareness combine to give him an edge even when a shot or header comes in from just a few yards away from him.
Certainly not the type of goalkeeper who likes to dominate his entire area though; Given will rarely venture beyond his six yard box, instead preferring to let his excellent reactions block any chances.
Obviously this comes with its own downfall, but Given is nonetheless - or should I say, was and presumably will be again, one of the finest exponents of goalkeeping in England.
Manchester United: David De Gea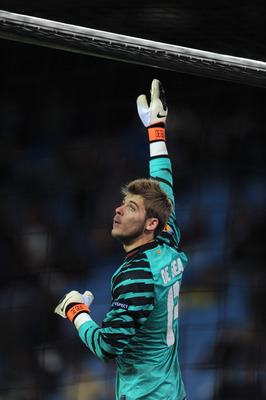 Jasper Juinen/Getty Images
Now now, Manchester United fans.
Don't scream and shout about de Gea's 5th placing.
He is a talented and able goalkeeper, with a lot of promise and his own set of skills - that much is evident.
A good shot stopper if not excellent; a fine reader of the game if an inexperienced one; a confident lad if not yet a vocal or communicative one - de Gea has a lot going for him and if he continues to improve at each area of his game he can be one of Spain's finest stoppers, but at present he does still have a lot to learn.
For the sake of himself and his side one hopes that he is as strong mentally as his predecessor Edwin van der Sar because de Gea is sure to get a lot of criticism in the press the first time he makes a mistake which costs Manchester United a goal or the game - and make them he will.
Not yet anywhere near the finished article when it comes to dealing with high balls and not yet imposing enough in one against one situations, any time a forward scores against him where he could have done slightly better, expect the brainless line of "van der Sar's experience would have told there" (or something similar) to be trotted out by mind-numbingly dumb pundits.
de Gea is a good goalkeeper. But he's not yet a great one.
Tottenham Hotspur: Brad Friedel/Heurelho Gomes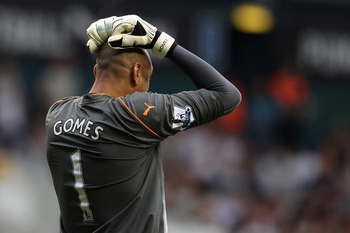 Scott Heavey/Getty Images
Again - this is a placing based on a prediction that Brad Friedel will become the number one for Spurs. While Gomes may well start in goal when the season kicks off, my guess is that the veteran American will displace him before long and become Spurs' last line of defence.
Friedel is an imposing, massive figure who is difficult to best in a one-on-one situation, excellent aerially and experienced enough to know how to compensate for his lack of speed. He organises his defence very well and is a safe handler of the ball.
Heurelho Gomes meanwhile is a superb shot stopper - 90% of the time. We all know of the complete howlers he can commit, and as such if he was first choice I would rate him down in about 8th behind Szczesny.
He is pretty good in the air and comes off his line well too, but again in both of these attributes he displays moments of real madness.
Manchester City: Joe Hart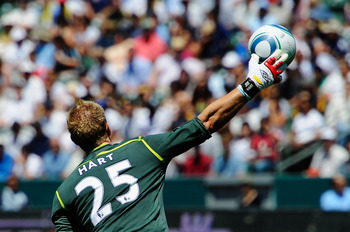 Kevork Djansezian/Getty Images
Top three now: Joe Hart is by no means the finished article, and if I'm honest I see quite a large gap between the quality of the top two and the rest of the good goalkeepers in the Premier League.
Hart is certainly an able and competent goalkeeper; his distribution is accurate and quick and his general shot stopping and willingness to close down of attackers is exemplary.
However he has also shown himself especially vulnerable to shots across his body from an angle, preferring to attempt to block with his legs rather than hands and his ability to deal with high balls can also be questioned at times.
Nonetheless, Hart is a top young goalkeeper and similar to the likes of de Gea and Szczesny will only get better as he gains more experience.
Chelsea: Petr Cech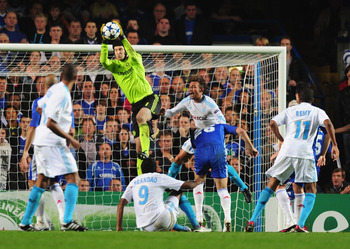 Mike Hewitt/Getty Images
Two things about Petr Cech: firstly; he is not as good as he was four or five years ago - his first three seasons with Chelsea he was arguably the very finest goalkeeper in the world and it is understandable if the head injury he sustained in 2006 has affected him negatively.
Whether or not that is the reason I have no idea - though it is clear that Cech is not now as utterly domineering as he was prior to that season.
Secondly, and even so, the Czech Republic goalkeeper is still one of the most commanding stoppers around; a technically superb shot stopper with a reach beyond that of most of his competitors. With a striker bearing down on him he makes himself as big as possible and is not easy to beat.
Perhaps one of the few downsides to Cech's game is his rare tendency to struggle collecting crosses in a crowded area; he seems now rather more reluctant to go charging through the middle of them to regain the ball than he once did.
Liverpool: Pepe Reina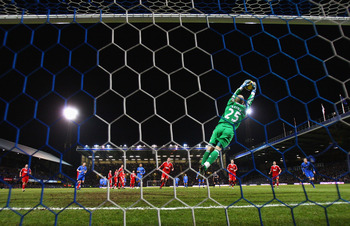 Mike Hewitt/Getty Images
Top of the pile, the best all round goalkeeper in the Premier League is Pepe Reina.
Reina has many attributes, among them his spot on distribution and lightning reflexes. In addition he is an expert at sweeping up long balls played over or behind his team's defence and is excellent at having a good starting position when needing to close down an attacker.
Perhaps his biggest attributes are his organisational and communication skills with his defenders; Reina is a master at setting up his team mates in the best way possible to stifle opposition attacks.
In terms of his limitations, Reina can on occasion make less than successful attempts at claiming high balls, a flaw brought about by his will to dominate his entire penalty area, and he has made several high profile errors in big games, notably against Arsenal on the opening day of the 2010 season and in a derby match against Everton. However, Reina's mentality and consistency are such that he is able to overcome any such errors and recover to put in match-winning performances on a regular basis.
One of the best goalkeepers in the world and a massive plus for Liverpool's team.
Keep Reading