What Houston's Signing of Johnathan Joeseph Means to the Lions Free Agency Plan
July 29, 2011
Andy Lyons/Getty Images
No Detroit Lions fan wanted to hear it. The news that Johnathan Joseph had agreed to a deal with the Houston Texans was awful to hear for Lions fans who were salivating over acquiring him and Stephen Tulloch to complete out defense. Now the real question is how this changes the Lions plans for free agency. I will try to explain what I think they will do now in this article.
First, the Lions still need to look for a number one cornerback. With Joseph off the market and Nnamdi Asomugha not that interested and too expensive, Martin Mayhew and his team will have to look into the second-tier of corners.
One conservative option is to return Chris Houston. Although we know that he is not a real No. 1 cornerback, we do know what he will provide. There will not be many interceptions, but he will do his job and will not be destroyed in the manner than Alphonso Smith was against New England.
Another option for the Lions is to make a move for Antonio Cromartie. To me, this would seem to be unwise. He will ask for much more money than Houston will, and will not upgrade the level of play at the right cornerback position enough to justify the jump in salary.
The only way I see a move for Cromartie being worthwhile is if both him and Houston were re-signed. In that case, one of them would be able to play against a team's second-best wide receiver, a matchup that they should win most of the time.
However, the cost involved would possibly be prohibitive to other moves being made, which is a necessity this offseason.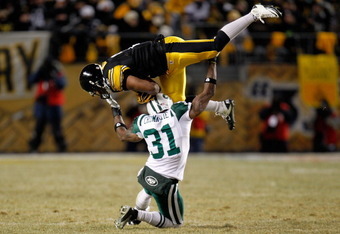 Gregory Shamus/Getty Images
Another problem with Cromartie is the interest he is getting from Oakland and the deep-pocketed Al Davis. Davis has a history of overpaying cornerbacks, and a bidding war with him would be futile or extremely expensive. As long as they are interested in Antonio, the Lions should be looking elsewhere.
With this is mind, the Lion still need to be active looking for a cornerback and while there are no stars left, there are a few decent starters still available. Nate Clements or Carlos Rogers would be solid stop-gap players who, although running out of time, still play at a high enough level to justify replacing Chris Houston as the top cornerback on the roster.
Richard Marshall is another younger corner who while he has struggled has the potential and track record to be a number one cornerback on a team that has a good pass rush.
On the next tier of cornerbacks, both Chris Carr and Kelly Jennings performed well in 2010 as nickel backs and spot starters, and would provide an upgrade at the number two cornerback position. Jennnings especially is a tempting prospect as he has the athleticism to potentially play on the right side if he continues to develop.
Of course, there is more than one way to upgrade the pass protection of the secondary, and if the Lions signed a top coverage free safety then whoever the Lions line up as cornerbacks in the coming season would have an easier job. Being a top-five coverage safety in the entire league, it is not surprise that Michael Huff would top out this list.
Huff has speed to burn, which is what makes him to good in coverage. He has unbelievable range and and has the closing burst to break up passes. As a bonus, he is also fluid enough to play man coverage against slot receivers.
A second, cheaper option is the New York Jets' Brodney Pool. He has looked bad in Rex Ryan's defensive scheme which relies on the safeties being great blitzers and run supporters, but if he was used as a deep safety then he could arguable play at the same level as Huff.
He is tall, fluid and excels at diagnosing plays and breaking on the ball. He is not physical in coverage or when tackling, but will not miss tackles much in the open field and can cover slot receivers in man coverage.
If Detroit signed Huff or Pool, the Lions secondary would receive a great boost. With a competent and experienced coverage safety playing at the back the cornerbacks would be able to take more risks to maintain tight coverage, knowing that if they were beaten they could be bailed out by the deep safety.
The presence of a top coverage safety would also free Louis Delmas up more to play closer to the line and make the most of his playmaking ability while at the same time minimising his time in deep zone coverage.
In conclusion, even without signing Johnathan Joseph, the Lions could still make significant steps to shore up their secondary. They could go out and sign Antonio Cromartie, Nate Clements, Richard Marshall or Carlos Rogers to take the place of Chris Houston, or bring back Houston and another less well known player like Kelly Jennings or Chris Carr to improve the second cornerback spot to allow Alphonso Smith to play nickleback.
A second path the Lions could take, which they could afford now if they do not take on a big contract in the secondary is the sign a top coverage safety Michael Huff or Brodney Pool. While it would do less to improve the pass protection than upgrading at cornerback, it is close to being a guarantee of improved performance.
Personally, I would favour re-signing Chris Houston or Richard Marshall to play right cornerback, signing Chris Carr to play left cornerback and Michael Huff or Brodney Pool to play free safety.