New York Giants Free Agency: Setting Odds on Top Free Agents Returning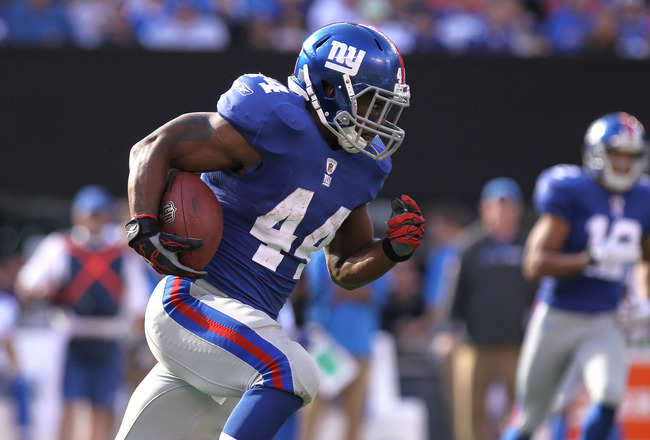 Nick Laham/Getty Images
The lockout is finally over, and players are now free to sign where they want.
Unfortunately for the G-Men, they have a lot of important players they need to focus on re-signing.
It goes without saying that signing a bunch of these guys is the top priority for Jerry Reese and the Giants now that they are eligible.
The fun has already begun, with Mathias Kiwanuka staying put and Barry Cofield headed to Washington, but there are still plenty of big names to focus on.
Here is a breakdown of the odds of each of the Giants' top free agents returning.
Dave Tollefson, DE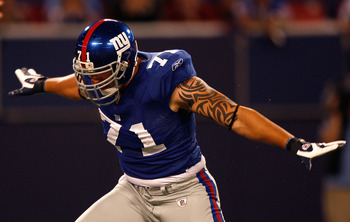 Mike Ehrmann/Getty Images
It isn't always the big names that win games.
Dave Tollefson is a perfect example of that, as he has been a big part of the Giants special teams since 2007.
He gives the G-Men depth at defensive end and is worth keeping around to have on special teams.
Odds of returning: 60 percent
Derek Hagan, WR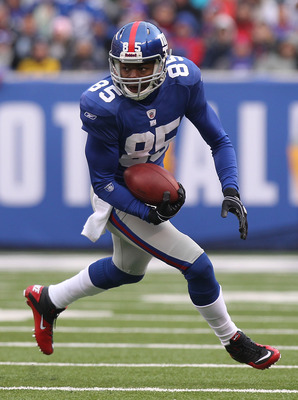 Nick Laham/Getty Images
The Giants have plenty of guys at wide receiver, but Derek Hagan is a guy they should seriously consider keeping around.
He is a veteran player who knows the offense and can step in if theres an injury.
Hagan is likely hoping that Plaxico Burress signs elsewhere, giving him a better shot at coming back to New York and making the roster.
Odds of returning: 50 percent
Chase Blackburn, LB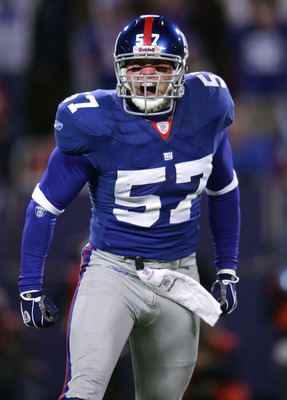 Chris McGrath/Getty Images
Chase Blackburn was elected special teams captain in 2010 and is a big spark for the Giants.
He is a backup linebacker, but he has played all three linebacker positions when needed.
It has been rumored that he is being targeted by former defensive coordinator Steve Spagnuolo, now with the Rams.
Blackburn has been a known favorite of Tom Coughlin over the years, which gives Giants fans the impression that he will be back, unless he is offered big money elsewhere.
Odds of returning: 90 percent
Keith Bulluck, LB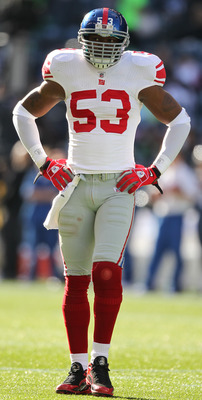 Otto Greule Jr/Getty Images
Once a superstar in Tennessee, Keith Bulluck is now older and more injury prone.
He claims he is back to his old form after returning last year from knee surgery and has made it known he wants a bigger role in the defense.
There has been rumors that Detroit is interested in the 34-year-old.
The 11-year pro could be solid this year, but the Giants will likely take a look to see what else is out there at linebacker.
Odds of returning: 40 percent
Kevin Boss, TE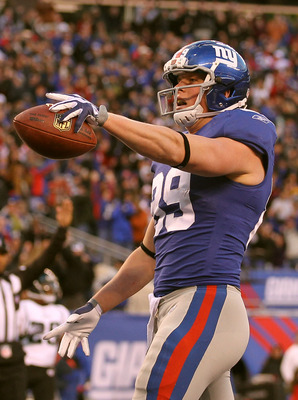 Al Bello/Getty Images
Kevin Boss has been the tight end for the Big Blue since the departure of Jeremy Shockey in 2007 and has done an excellent job.
Boss is Eli Manning's biggest target and has been extremely clutch over the years.
Bringing back Boss should be a top priority for Jerry Reese, especially because the market for another tight end is nothing special.
Odds of returning: 75 percent
Steve Smith, WR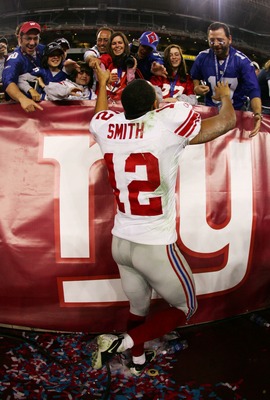 Harry How/Getty Images
Steve Smith has been a large part of the Giants offense since 2008 and has made it clear he wants to stay in New York.
The feeling is mutual, as the G-Men would love to have Smith on the roster for the future.
He is still recovering from last years knee surgery, so he will likely make less money than if he were healthy.
Odds of returning: 85 percent
Ahmad Bradshaw, RB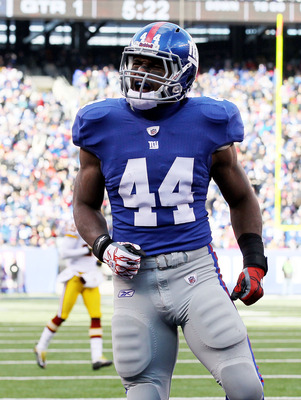 Jim McIsaac/Getty Images
The Miami Dolphins trading for Reggie Bush is excellent news for the Giants.
Miami was one of the teams that drew interested in Bradshaw, and now that they are out of the picture, the odds of Bradshaw returning increase.
DeAngelo Williams re-signing with Carolina takes away the chances of him signing with the Panthers, but the amount of money he received does not work in the Giants favor.
The Giants have been trying to restructure Brandon Jacobs' contract to create salary-cap space to spend on Bradshaw.
Bradshaw has stated that he felt there was a "75-25 chance" he would return to New York, and that was previous to the Williams and Bush news.
Odds of returning: 80 percent
Keep Reading

New York Giants: Like this team?