English Premier League: The 15 Hardest Working Players in the EPL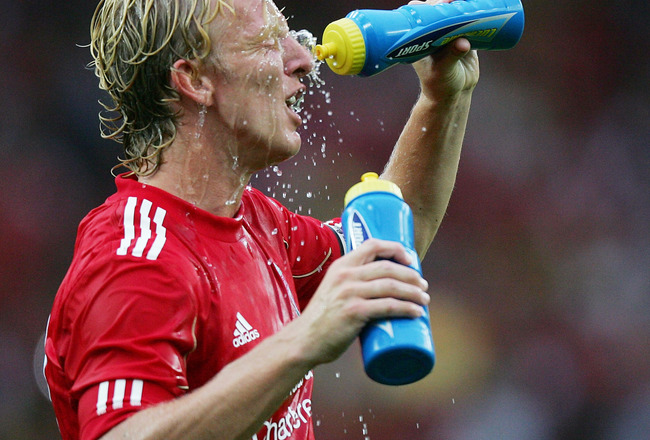 Stanley Chou/Getty Images
The English Premier League is one of the toughest in the world.
In order to be successful, each team needs their own workhorse and never-say-die player to help drive the team to victory. Some teams have several.
It takes a lot more than just talent to make it in the EPL, so here are the 15 hardest working players in the English Premier League.
Honorable Mention: Gareth Bale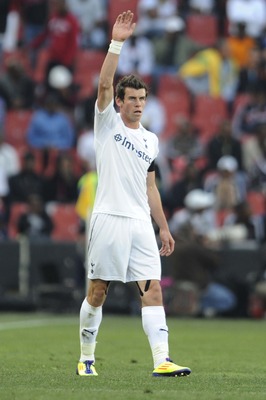 Gallo Images/Getty Images
The 22-year-old Tottenham winger narrowly misses the top 15.
15. Lee Cattermole (Sunderland)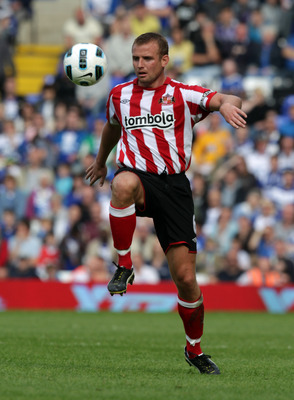 Ross Kinnaird/Getty Images
Former Sunderland captain Lee Cattermole practices a rather harsh brand of football. This hard-tackling, no-nonsense player makes his living by patrolling the area in front of the back four.
While the 23-year-old works tirelessly to defend his back line, his disciplinary record becomes an issue. In fact, Sunderland manager Steve Bruce cited this as a main reason for handing the captaincy over to new arrival John O'Shea.
14. Kevin Davies (Bolton)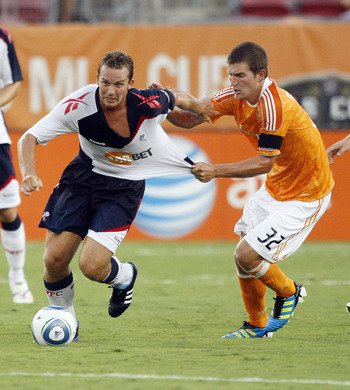 Bob Levey/Getty Images
The Bolton skipper works tirelessly on both sides of the ball. A dangerous striker, Davies is one of the most fouled players in the EPL as his work rate makes him hard to contain going forward.
Davies does a fantastic job of tracking back on defense to help out; something not many strikers enjoy. Unfortunately, he may be too aggressive defensively, as he currently holds the single-season foul record, racking up 131 fouls in the 2010-11 EPL season.
13. Jack Wilshere (Arsenal)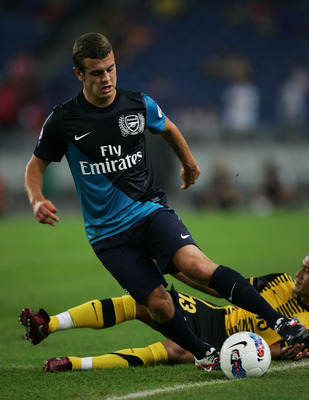 Stanley Chou/Getty Images
After a successful loan spell at Bolton in 2009-10, the young Wilshere returned to have a truly breakthrough season at Arsenal in 2010-11.
Wilshere epitomizes the box-to-box midfielder, and alongside the likes of Cesc Fabergas, Alex Song and Samir Nasri, the young boy seems to be developing both the offensive and defensive sides of his game.
If Wilshere can continue to develop without having a drop in his work rate, the midfielder can become one of the most dynamic players in the EPL.
The 19-year-old has been touted as England's future star, and looks set to be an establish piece in both Arsenal's and England's midfield for years to come.
12. Leon Osman (Everton)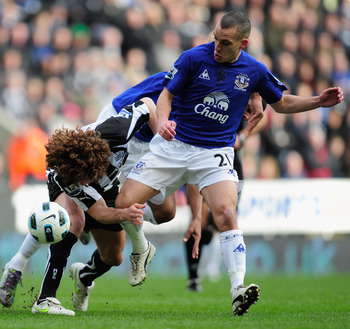 Jamie McDonald/Getty Images
Measuring in at a whopping 5'8'', Leon Osman has recently emerged as a stalwart at Goodison Park.
Consistently running up and down the width of the pitch, Osman provides his side with significant pace.
Confined by small stature, the 30-year-old midfielder is forced to work even more to compensate for his small frame, but that does not stop the Englishman from performing at the highest level.
One of the best examples of Osman's ability was his recent game-winning header against Manchester City.
11. James Milner (Manchester City)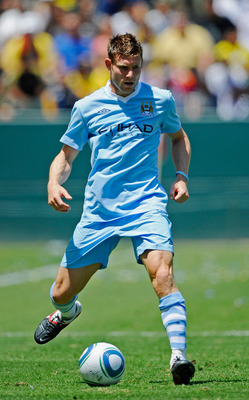 Kevork Djansezian/Getty Images
Though Sir Bobby Robson recognized his ability earlier, James Milner didn't really emerge as a top talent until his second stint at Aston Villa in 2008-09. Throughout the 2009-10 season, Milner took on more of a central role, and showed his talents as a box-to-box player.
High levels of stamina help Milner perform tirelessly, an attribute that has helped him become a regular for the English national team.
After earning the PFA Young Player of the Year in 2009-10, Milner transferred to Manchester City at the beginning of the 20010-11 season.
Though his playing time has dropped significantly since the move, Milner continues to perform tirelessly.
10. Youssuf Mulumbu (West Bromwich Albion)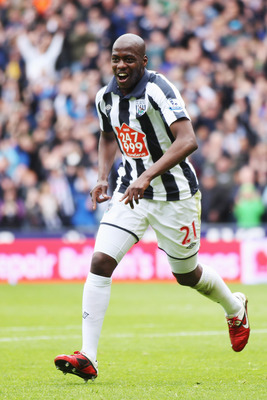 Mark Thompson/Getty Images
Joining the Hawthorns during the 2009 January Transfer Window, the young Congolese midfield has developed into an integral part of the West Brom team, and a significant reason why they avoided relegation.
Joined in midfield by Paul Scharner, Mulumbu has repeatedly put in impressive defensive displays, and demonstrated his work ethic and determination.
These displays have drawn the defensive midfielder with links to bigger clubs, but Mulumbu quieted the rumors by signing a new contract that ties the 24-year-old to the club until at least June 2014.
9. Clint Dempsey (Fulham)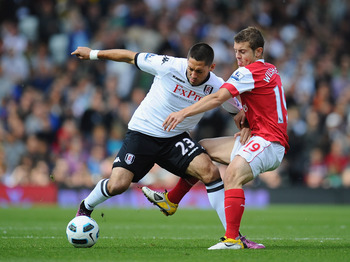 Clive Mason/Getty Images
One of the few Americans to hold a starting place on an EPL team, Clint Dempsey has become one of the best players in the Fulham Side.
The current leading goal scorer in the first team, the versatile American can play wing, attacking midfield or striker. Regardless of the position, Dempsey will surely be hustling all over the pitch covering tons of ground.
The aggressive midfielder's work ethic and contributions don't go unnoticed, as Dempsey picked up Fulham's Fan's Player of the Season in 2010-11.
8. Phil Neville (Everton)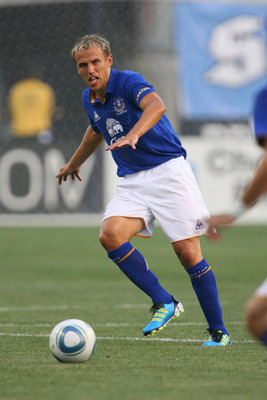 Hunter Martin/Getty Images
The Everton captain has been patrolling the right side of Goodison Park since his switch from Manchester United.
Much in the mold of his older brother Gary, Phil gives 100 percent every outing, making him an instant crowd favorite.
A regular on the England side until his international retirement, Neville is approaching the end of his storied career, but that won't stop him from giving it his all.
7. Matthew Jarvis (Wolverhampton)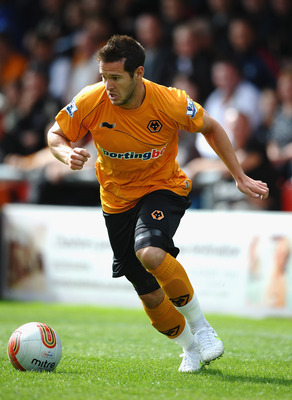 Laurence Griffiths/Getty Images
Jarvis had a truly breakout year during 2010, helping the Wolves stay afloat in a tight relegation race.The winger is one of the first names on Mick McCarthy's team sheet, largely due to his effectiveness on both the offensive and defensive sides of the ball.
While most will recognize him for his ability to race down the sides of the pitch and deliver a scintillating cross, it is his equally impressive work ethic on the defensive side of the ball that earns him a spot on this list. Often, Jarvis is seen sprinting back to help out his fullback teammates with defensive cover.
It is this mix of hard work and talent that earned the 25-year-old both the 2010-11 Wolves Fan's Player of the Season and Player's Player of the Season awards, as well as his first senior England call-up.
6. Carlos Tévez (Manchester City)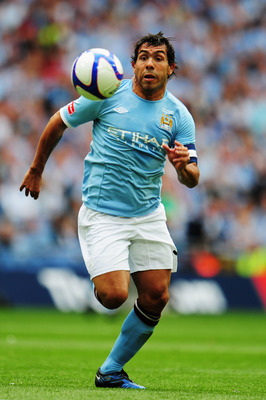 Shaun Botterill/Getty Images
While off the field he is absurdly problematic, on the field Tévez is an absolute monster.
The Argentine international is a nightmare for defenses, and has been in absolutely fantastic form since his move to Manchester City.
Despite his want-away attitude, while on the pitch, Tévez always gives his all. He is often seen tracking back and harassing the midfield; helping City's defense become one of the best in the league.
The striker is fantastic off the ball, moving consistently to create opportunities his teammates as well as himself. When his teammates aren't clicking, Tévez will go back into the midfield, get the ball at his feet and run at the defense himself.
Although he may not be at City for much longer, Tévez's aggressive on-the-field play earns him a spot on this list.
5. Wayne Rooney (Manchester United)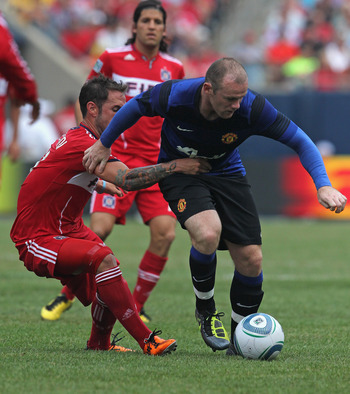 Jonathan Daniel/Getty Images
Loved by the United faithful and loathed by so many others, Wayne Rooney is an extremely controversial player. Regardless of whether or not you like the guy, one must admit that he works his butt off.
The embodiment of Manchester United, Rooney is expected to give 100 percent every time he steps on the field; and most of the time, he delivers.
Though he is a forward, Rooney is not an out-and-out striker. Instead he is a workhorse, often playing a more withdrawn role that allows him to use his aggressive style to create chances all over the pitch.
Additionally, Rooney is often the first line of defense for Untied, working tirelessly to disrupt the opposition's midfield.
Rooney's passion is exemplified in his game, and Sir Alex Ferguson would expect nothing less.
4. Michael Essien (Chelsea)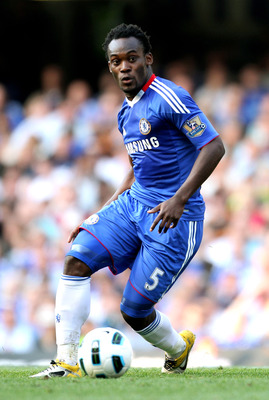 Scott Heavey/Getty Images
When healthy, Michael Essien can be one of the most dynamic players in the world.
A deep-lying midfielder, Essien patrols in front of the back four using his aggressive and strong style of play to break up opposition's attacks.
Despite his defensive prowess, the Ghana international is a huge threat offensively as well. Essien has one of the best long range shots in the league, making him arguably one of the best box-to-box midfielders in recent years.
While injuries have hampered the 28-year-old as of late, when Essien is on the field, he is a terror for opponents.
3. Leighton Baines (Everton)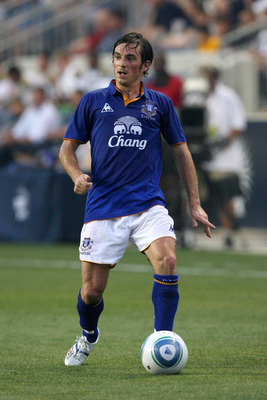 Hunter Martin/Getty Images
After moving to Everton from Wigan in 2007, Baines has progressively developed into one of the best left backs in the league.
Baines in an influential left wing back, which allows him to utilize his work ethic on both the offensive and defensive sides of the ball. Baines is especially potent offensively, scoring seven goals in the 2010-11 EPL season. His constant runs up and down the left side of the pitch provide Everton with fantastic width and deadly service.
Baines' high work rate and results do not go unnoticed, as the he picked up Everton's 2010-11 Fans Player of the Season, Player's Player of the Season and Goal of the Season, while he played every minute of the Premier League campaign.
2. Dirk Kuyt (Liverpool)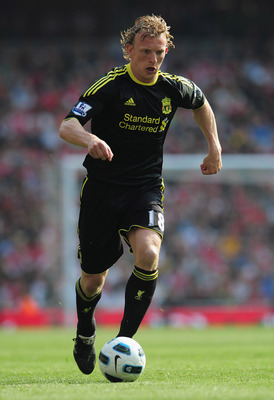 Shaun Botterill/Getty Images
The Netherlands international isn't nicknamed "Dangerous Dirk" for no reason. The 31-year-old striker/winger plays with a never-say-die attitude that drives his dangerous ability.
Applauded by many for his extremely high work rate, Kuyt has a habit of delivering for Liverpool in moments of need.
The player never gives up on a ball, and his work ethic and post-match habit of applauding all the fans have earned him a spot in almost any Liverpool fan's heart.
While he may not be the most naturally talented man on the pitch, Kuyt is almost always the hardest working...
1. Park Ji-Sung (Manchester United)
Mike Stobe/Getty Images
...Unless he is playing against Park Ji-Sung.
The recent MVP of the MLS All-Star Game has recently gained the recognition he deserves as an integral part of the Manchester United side.
Prior to the 2010-11 season, the South Korean retired from international play so that he could focus on his club aspirations. It seems like his plan worked, as Park had his best season to date, helping the Red Devils to their record 19th league title.
Often selected by Sir Alex Ferguson for big games, Park pairs a tireless work rate with incredible stamina, allowing the player to seemingly be all over the pitch. He can provide offensive support one second, and defensive cover the next; and will never give up on a play.
For all of these reasons, Park Ji-Sung takes top honors as the hardest working player in the Premier League.
Leave a comment below with your reaction!
Keep Reading