NFL Fantasy Football 2011: Peyton Manning Heads 12 Big-Name Busts
July 29, 2011
Andy Lyons/Getty Images
To me a bust in fantasy football can be defined as a player who significantly underperforms relative to where they were drafted. If Peyton Manning throws for only 25 touchdowns and 3,500 yards, and you drafted him in the first round, he might be considered a bust. However, if he puts up those stats and you got him in the fourth round—which is very unlikely—then he might not be a bust. 
The following 15 players are likely to under perform compared to where you'll have to draft them over the next several weeks. 
1. Peyton Manning. Let's stick with the above example. I don't like the numerous negative circumstances surrounding the stalwart quarterback this season. First, he's recovering from his second neck surgery in less than two years. Next, his top receiver, Reggie Wayne, is unhappy with his contract and will be 33 at the start of the year. Also, Manning's contract situation could be a mild distraction. Finally, the offensive linemen drafted to help protect Manning are going to be very behind on schemes, conditioning and turning into pros as a result of the lockout. Don't expect the typical year from Manning and don't overpay for him this year.
2. Michael Turner. Atlanta's potent offense will allow Turner plenty of touchdown opportunities; however, there are many concerns about this aging back. Turner's coming off another 300-plus carry campaign, and he saw his numbers plummet toward the end of last year. He no longer has the burst that earned him his "Burner" nickname, nor does Atlanta have to cater their offense to him. With Roddy White, Julio Jones, Tony Gonzalez and more, quarterback Matt Ryan is more than capable of carrying this team. At age 29, and never a threat to catch passes, let someone else take Turner as their No. 1 running back. 
3. DeSean Jackson. This talented, mercurial receiver seems to get lopped in with the elite talents because of his ability to score anytime he touches the ball. Granted, he's beyond electrifying; but fantasy-wise he's a bit of an inconsistent headache. He's not the type of guy you want as your No. 1 receiver. He cracked the 1,000-yard mark last year on a mere 47 catches; but that just offers further proof that his game is hit or miss. In PPR leagues he should not be even close top receiver status, and in standard leagues he may still disappoint. Throw in a potentially lengthy holdout and I see several reasons to avoid D-Jax.
4. Marques Colston. Colston's made a living proving people wrong. But coming off of his fifth major knee surgery and playing in a New Orleans' offense with plenty of other weapons, I'm not counting on him being the viable number one receiver fantasy owners have grown accustomed to expecting. Lance Moore, Robert Meachem, Jimmy Graham and rookie Mark Ingram are all pieces to the offensive puzzle. Colston will have value, but he's going to cost more than he'll be worth.
5. Antonio Gates. Don't get me wrong, I love Gates and know he's a first ballot Hall of Famer. The problem is the fact that his feet issues are never going away. He's too big and puts too much pressure and strain on them each and every season. Will he have monstrous production when healthy? Of course, but as he ages (31 now) the question becomes how often will he be healthy? I think paying the fourth-round price tag for him is no longer a no-brainer. Not with cheaper, viable options available much later such as Owen Daniels, Zach Miller, Aaron Hernandez or the aforementioned Jimmy Graham. 
6. Maurice Jones-Drew. Jones-Drew should be commended for playing through his knee injury for a portion of last year, but he's not making any of my teams as an early second-round pick in 2011. First of all, there's not much offensive excitement in Jacksonville, meaning MJD won't be automatically scoring touchdowns and racking up yards. Secondly, there's a good chance he'll be playing with a rookie quarterback at some point in the season. Finally, his balky knee, combined with a talented backup in Rashad Jennings, means further injury or issues could equal a greater timeshare of the rock.
7. Peyton Hillis. I have two words: Madden curse. Of course, there's more to his name on this list than his infamous cover work, but don't doubt the curse. Montario Hardesty returns healthy and eager to split time plus Hillis' inability to maintain his production over the final four games of 2010 is very concerning. Again, Cleveland is not an offensive juggernaut, so don't be surprised if the Albino Rhino doesn't come close to duplicating 2010's lofty numbers. 
8. Anquan Boldin. Big Q fell off a cliff in the second half of 2010 after a promising start in the purple and black. No longer anchored by the ridiculous skills of Larry Fitzgerald, Boldin's lack of explosiveness and speed were evident last year. He's never a sure bet for a full season and he's likely to draw the focus of opposing defenses. Don't expect a rebound and don't pay for previous production. 
9. Donovan McNabb. I know the failure in D.C. wasn't completely on Donovan's shoulders, but let's not ignore the facts either. He's an aging, no-longer-mobile quarterback who has never been very accurate in his entire career. With Sidney Rice gone and AP demanding 25 carries a game, odds are McNabb won't even have a chance to produce. Many will draft him as a No. 2 quarterback, but I wouldn't waste the pick. 
10. Chris Johnson. CJ is a freakish talent and a fantasy goldmine. When you consider his 1,300-plus yards rushing and 11 touchdowns last year were a bit of a disappointment, you understand how valuable he can be. However, he wants a record contract and he doesn't strike me as the kind of guy who's going to worry about a lengthy holdout. I'd be surprised if he's in camp before the end of August. Many players, running backs especially, tend to get injured after prolonged holdouts. You'll still have to invest in him in the first round and unless he signs quickly, I don't think the reward outweighs the risk.
11. Steven Jackson. I know running backs who get the bulk of the carries are a rare commodity in today's NFL, but there are a few reasons to be leery of investing in Jackson in the second round. First, the addition of Josh McDaniels as offensive coordinator means a shift to a pass-heavy attack with young Sam Bradford at the helm. Also, Jackson's numbers have dipped in the past few seasons and his touchdown totals have been anemic. Jackson doesn't have the same burst as he once does and he has over 900 carries the past three seasons. I don't expect a full season and neither should you. 
12. Cedric Benson. Benson was going to make this list before he unleashed his furious anger upon his former roommate resulting in yet another offseason arrest. The Bengals have used and abused this former first rounder and despite rushing for over 1,100 yards again last season, he saw his yards per carry drop from 4.2 in 2009 to 3.5 in '10. With a rookie quarterback taking over an average team, I expect Benson to struggle mightily and be a lame duck on draft day.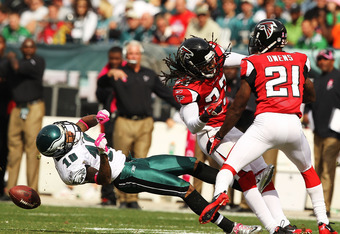 Al Bello/Getty Images
Best of luck as the preseason gets started and drafts begin anew. For more information and related fantasy goodness check out my other recent articles:
Players to target: http://bleacherreport.com/articles/768475-20-20-vision-20-fantasy-targets-from-matt-ryan-to-calvin-johnson
Running Back Ranks: http://bleacherreport.com/articles/752936-rb-rankings-jamaal-charles-all-day-over-adrian-peterson-and-co
Quarterback Ranks: http://bleacherreport.com/articles/751253-2011-fantasy-qb-rankings-philip-rivers-over-tom-brady-and-peyton-manning
Draft Day Rules: http://bleacherreport.com/articles/741196-michael-vick-or-aaron-rodgers-10-fantasy-drafting-rules-for-success