MLB Trade Rumors: St. Louis Cardinals Must Land Heath Bell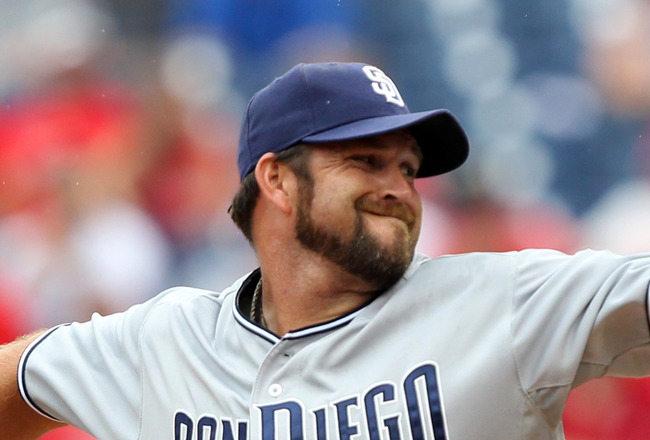 Hunter Martin/Getty Images
St. Louis is currently entrenched in a tight division race with the Milwaukee Brewers, Pittsburgh Pirates and Cincinnati Reds. After making a blockbuster move to sure up the rotation with Edwin Jackson for Colby Rasmus, the Cardinals must continue to put the pressure on the rest of the division with another blockbuster move.
Though they lost a young stud of Rasmus' caliber, he was far from living up to his potential on this team. His loss may seem great in the long run, but soon-to-be 28-year-old Jackson is a premier addition this summer.
He comes back to the National League with overpowering stuff and will finally have a stud veteran to guide him in Chris Carpenter. Jackson had a 7-7 record with a 3.92 ERA, 1.42 WHIP and 97 K's in the American League this season. Watch that ERA and WHIP come down drastically coming back to the NL rejuvenated to be with a contender.
With the rotation insured heading into the dog days of August and stretch run of the September, it's time to think ahead towards the postseason. This lineup has been frequently injured, but still has what it takes with a trio of supreme sluggers in Albert Pujols, Lance Berkman and Matt Holliday to make a push to the top in the division.
It is time to finally secure the bullpen, which has been a main goal for the Cards this entire summer. The one man who could put the Cardinals over the top as a major threat in the National League is Padres supreme slip-n'-slide closer Heath Bell.
Should St. Louis Trade for Heath Bell?
Bell has stated in the past that he is willing to set up for a contender, but everybody knows the No. 1 pitching rental on the market desperately wants to remain the closer. He is looking to complete another 40-plus save campaign after accumulating at least 42 saves the past two seasons.
"If I had to guess, to be honest with you, I couldn't pick one city. I'd probably say it'd be Texas, Philly or St. Louis. Those are the top three that I've heard. ... I'd set up under [Philadelphia closer Ryan] Madson and [closer Neftali] Feliz in Texas, and in St. Louis I'd probably close. I don't know. Just have to wait and see and see what happens," according to Bell per ESPNDallas.com.
Clearly St. Louis is ideal for Bell and Bell is ideal for St. Louis moving forward for the remainder of the season.
The Cardinals need to take a long hard look at their bullpen and understand it will not get the job done in the postseason, if they happen to make it there without Bell's services.
Fernando Salas has been flat out awesome for the Cards considering he came from nowhere to be the closer. He has a 2.57 ERA, .92 WHIP and 50 K's to go with a whopping 19 saves already this season. Yet he has also blown three saves over the past two months resulting in four losses on his record.
Now that Salas has the experience to pitch in pressure situations, he is even better suited to go back to the set up role for the remainder of the season. Yet does St. Louis really want this youngster to close in the postseason when an experienced veteran is on the trade block to be had for the right price?
Will St. Louis Win the NL Central?
Bell is essential for the Cardinals closing out big games. He would be an excellent mentor to Salas, who should be the future closer in St. Louis after his stellar production. Yet even then, St. Louis should heavily consider making Bell their closer of the future if they were to land him.
We are talking about arguably the best closer in the game next to Mariano Rivera. He has ice cold water running through his veins when the pressure and heat mount while he takes the mound in big situations.
It is impossible to deny his stuff and experience, which would be invaluable for this veteran squad. Perhaps just as important, he would send a jolt throughout this clubhouse and will cause the team to pick up the pace to regain their throne atop the NL Central.
St. Louis has an opportunity to make a power move for this season and beyond by landing Bell. The opportunity is there staring them dead in the grill.
When Adam Wainwright returns next season, the Cards will have a supreme lineup, rotation and bullpen if they can boast bringing in Jackson and Bell this summer.
St. Louis' bullpen, at the very least, would be locked down for the remainders of the season with Salas in the set up role and Bell closing in a time when every game counts in the tightest division race in the Majors.
-Brandon Galvin is a Bleacher Report Featured Columnist and Syndicated Writer. Follow Him on Twitter.
This article is
What is the duplicate article?
Why is this article offensive?
Where is this article plagiarized from?
Why is this article poorly edited?

St Louis Cardinals: Like this team?