UFC 133 Fight Card: Best Quotes from the Rashad Evans vs. Tito Ortiz Media Call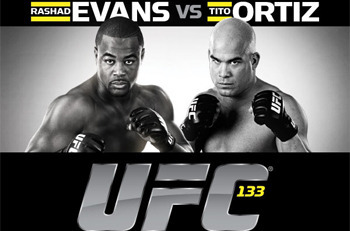 On Saturday Aug. 6, Rashad Evans and Tito Ortiz will face off in Philadelphia in the main event of UFC 133.
Evans has had a wild ride in getting to the bout with Ortiz, whom he previously fought to a draw at UFC 73 back in July 2007. Ortiz was penalized one point for holding the cage during the course of that fight, and at the end, the cards read 28-28 across the board.
Evans was originally set to face Jon Jones for the UFC light heavyweight title, but that fight was called off before it was ever given an official date or location. Jones, suffering from a nagging hand injury, opted to take time off and allow his hand to heal, opting out of the bout.
Evans was then given an official booking for UFC 133, where he was scheduled to meet the up-and-coming Phil Davis. With less than a month to go before the fight, Davis was forced from the card with a knee injury.
The UFC then asked Ortiz if he wanted to step in. Ortiz originally turned down the fight, but after some consideration elected to get back in the cage on short notice to face Evans.
Ortiz is coming off a career-saving submission victory over Ryan Bader at UFC 132, which took place July 2.
Evans has not fought since he defeated Quinton "Rampage" Jackson at UFC 114 back in May 2010.
On Thursday July 28, the two light heavyweight contenders took part in a media conference call that Bleacher Report sat in on.
What follows are the best quotes from the UFC 133 media call.
Rashad on Being Anxious for Return
"I'm very anxious to get back in the cage, you know, it's been a long 14 months, a lot of ups and downs inside and outside the cage. I'm looking to get in there and get used to competing again. It's been a long time and I love to compete and being out for 14 months, it was hard for me. I had no idea I was going to be out this long, but things happen and circumstances arise. I'm happy to get back in there, and I'm happy Tito Ortiz took the fight and I got a chance to fight."
Tito Ortiz on Memories of Fighting on the East Coast in the Old Days of the UFC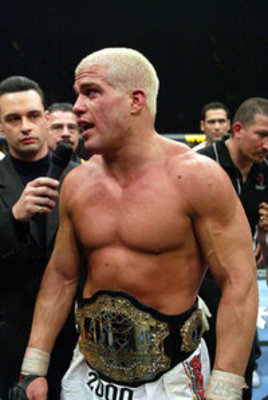 "I was fighting in front of an audience that were diehard fans when this sport was very, very new and now it's whole different new business completely, and I'm still at the top of my game. I just can't wait to go back to the East Coast and fight for all my fans, especially in Philly..."
What Made Tito Change His Mind and Take the Fight?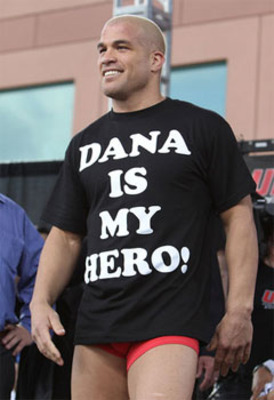 "After I beat Bader, top of the world I felt, I wanted to indulge in the glory. I took a week off, I came home, I was relaxing, watching TV, Dana gave me a call and I was with my family, I missed my family, I hadn't been around that much because of training. You put in six-hour days, six days a week to put in the hard work and when he asked me, my first thinking was, 'I gotta take care of some stuff at home.' I got business, Punishment Nutrition, my clothing company, my gym, there's stuff that I'm trying to plant the seeds and watering and watch them grow, I had to take care of some of that stuff.
"The fighter in me, kind of doubted it. 'You know, maybe you should fight, you're in great shape. I never got touched, sparring's been great, my wrestling's been really good, I'm strong, I have no injuries, my back and neck have been awesome.'
"It took me a day just to think about it. I talked to Jenna (Jameson), I talked to my training partners, I talked to my coach. We kind of just sat down and said, 'You know what, let's do this.' Here's an opportunity we're never gonna have again. Dana asked me to help him out, they needed my help, and I wanted to show that I'm a businessman with them, so I stepped up."
Rashad on Tito's Development as a Striker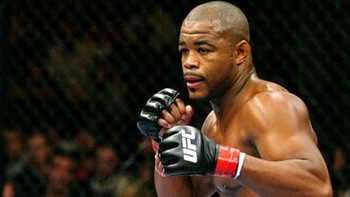 "I think Tito's definitely gotten a lot better in striking, from what I've seen in his last two fights, just from his movement and where he is when he finishes his combinations, but I'm not really worried about his striking to be honest. What I need to worry about is my own execution, and as long as I worry about my own execution, it doesn't matter what Tito Ortiz does."
Rashad on the First Fight with Tito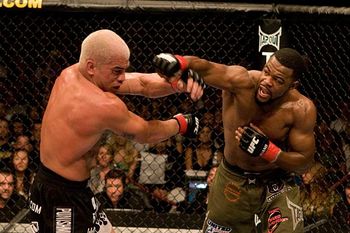 "I felt horrible about the performance. I felt horrible about the performance for years. It was one of those fights that you just want to get back. Just young and inexperienced at that level, I really get my mind into the situation until it was a little bit too late, but I'm a long ways from that now."
Tito on the First Fight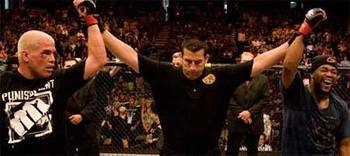 "I think it's gonna be a lot different on both sides. I think Rashad has matured as a fighter a lot, gotten a lot better. I watched from that fight to his last fight against 'Rampage,' his shots are a lot better, and he's a lot faster. I've gotten a lot better, my boxing skills of course, my wrestling takedowns and defense have gotten better.
"I've gotten stronger with not having my injury anymore. It's nice to not have a back problem. It's nice to go in and want to train. Before I didn't want to. I'd get out of bed and feel like an old man getting out of bed. When I got everything fixed. I'm hungry, it's just one of those things, I feel a lot better. I don't feel like a 40-year-old man, I feel like a 30-year-old man who's in great shape. I'm strong, my weight's where I want it to be..."
Tito on His Advantages over Rashad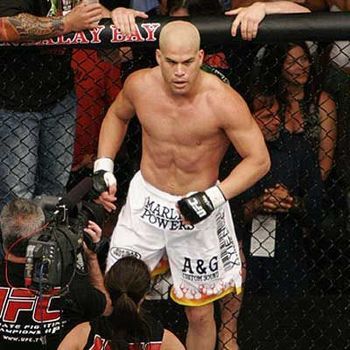 "My advantages will be my heart of course, 100 percent. He's fast, I'll give him that. His wrestling skills are good, yes, I'll give him that. His boxing skills have gotten better, but I'm prepared. I'm prepared for anything and everything, and I'm going to go in focused, positive, knowing that my hand's going to be raised."
Tito on Knowing When It's Time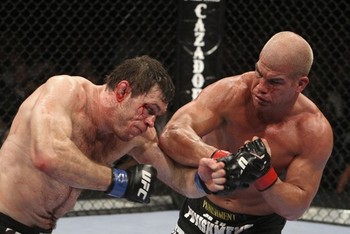 "Look at Lidell, when he was running at champion he was 36. When Couture was running as champion, he was 36. Why do I gotta go? Just because I lost a few fights by a split decision and decision and draws? That doesn't make any sense to me.
"I think I should go on my own terms, when I know it's time for me to go. Like I said, I'm healthy, I'm good, I'm ready to fight, I want to fight, I have the aggression, I have the heart and determination to be in the gym every day and push myself.
"When it's time for me to retire, you guys will know. It'll be soon, the next couple years possibly, I'm not going to be 40 years old fighting, no way."
Rashad on Jon Jones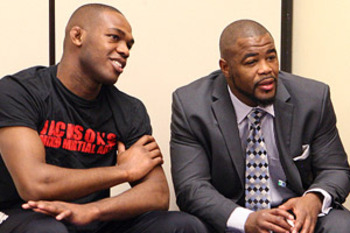 "I don't like Jon Jones, I'm just gonna leave it at that. There's really nothing more I can say about him, I just don't like him."
Rashad Talks Time off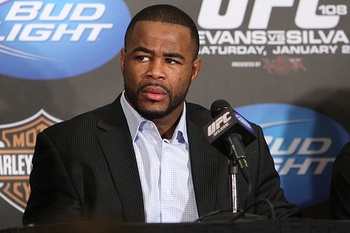 "I'll definitely use the time off to my advantage. I've been competing in sports since I was probably about 15 years old, and I've been going season after season. I've had so many seasons back-to-back that I haven't really had time off, and when you put that much wear and tear on your body, it does a little bit of damage. I've been going to camps in MMA, and I'll just have injury after injury. I pulled a muscle when I fought Thiago Silva, and then I went to camp and I fought 'Rampage' and I had the same pulled muscle. It's just the kind of injuries that build on top of each other, but having the time off allowed me to let my body heal up and get better in areas where I need to get better in, just take my time doing it...
"This 14 months has been really good mentally because it allowed me to miss Mixed Martial Arts a lot. To almost have the taste of going in there to fight and then have it taken away, it's something that just mentally built up in my mind. I've been out of the cage so long I've been having dreams about it. I just want to get back in there and fight."
Rashad on What He Has Missed About Fighting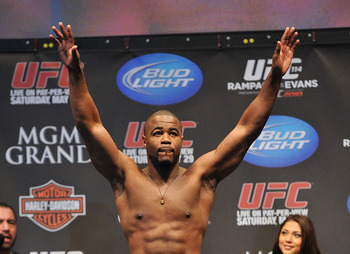 Jon Kopaloff/Getty Images
"I've missed the emotional roller coaster that you go on. It's like a trip, your body, your brain, from so many emotions, you get very introverted, and then you kinda go through these, your mind just takes you on a journey. There's times where you second guess yourself and you kinda file that away, and your mind just takes you on this huge trip and it's amazing to overcome all those thoughts, all of those feelings and try and harness it into one moment. One moment where you actually win the fight and your hand is raised and you're like, 'Everything was all worth it.'
"All of that hard work and sweat and nervousness and anxiety and all those feelings of anger and frustration has all amounted to that moment where you've got your hand raised and then you just can't wait to do it again.
"That's why it's so addictive that it makes it hard for anybody to leave the cage. Somebody asked Tito Ortiz when it'll be time for him to walk away and you never know when it's time to walk away because that's the hardest thing to walk away from, that feeling that emotional high and that's what I've been missing."
Tito on Feeling After Bader Win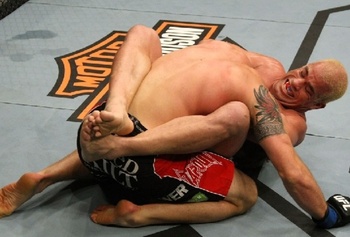 "Finally and thank God. All the hard work paid off, all the questions have been answered, and my training partners were right, my family was right, I was right and you can't explain the emotions. There's no emotions at all. My heart was so touched just knowing that I am still one of the few guys on top.
"I've always thought of that in my mind. Even before the fight, people asked me 'Where do you see yourself?' For sure the top five in the world, I think. I feel like that. I feel strong, I do great against my training partners, I feel really, really good, and when that fight was over with, I looked at it as the hard work paid off and let's keep doing this hard work. God has great plans for me. I just gotta keep focus and keep my nose to the grindstone and make sure everything stays sharp as it has and just one of those things you can't really explain the feeling just because the feeling, right then, everything was on the line."
Keep Reading