Bayern-Barcelona: This Performance Provides Plenty of Hope for Bayern in 2011-12
July 28, 2011
Bayern lost to Barcelona, 0-2 in the AUDI Cup Final. Thiago Silva struck twice for Barcelona. However, as Jupp Heynckes put it, there were plenty of good signs, especially for the defence. Bayern fielded out a B team against what I would call a Barca "A-" team. The defence that Bayern fielded was classy all the same.
Hans-Joerg Butt was the Bayern keeper. Rafinha served as the right-back and Diego Contento played as the left-back. Holger Badstuber and Jerome Boateng formed a young partnership at the heart of the defence. Luis Gustavo and Danijel Pranjic formed the defensive midfield combo. Gustavo was recently called up by Brazil for an August friendly against Germany in Stuttgart.
Takashi Usami, who stated that Barca did not faze him, played on the right wing while the energizer bunny, Ivica Olic, played on the left. David Alaba played in between the two behind the striker. Nils Petersen played as the main striker.
Jupp Heynckes knew from the get go that Bayern did not have to win this match. Bayern played very defensively in the first half and arguably had the better chances. They restricted Barca to one, just one, chance in the half and had two very good chances of their own. They looked dangerous on the break and even the duo of Les Ferdinand and Gordon Strachan, who couldn't stop talking about Barca on ITV 4, had to admit as much.
Jerome Boateng was highly impressive and formed a wall alongside a very confident Badstuber. This looks set to be the centre back duo for the upcoming season. Rafinha hardly allowed the Barca full-backs and wingers any space on his wing.
Contento also played well but it was his error that led to the first goal. On a fifty-fifty chance, he misjudged the cross sent in by Barca and failed to deal with Thiago, who headed in past Jorg-Butt. Bayern attacked immediately but to no avail. Bayern should have led in the match, but Alaba missed a great chance when he was through on goal with only Victor Valdez to beat. Petersen also hit a volley straight at Valdez. A little more on the volley might have resulted in a goal.
Two players who caught the eye in the first half were Luis Gustavo and Takashi Usami. Usami took his time on the ball and put some very accurate crosses into the box. Gustavo was the sort of wall that Mark Van Bommel used to be. The only exception was that he wasn't having a word with Wolfgang Stark every second. Gustavo seems to be the one who will partner Bastian Schweinsteiger in the season's opener.
The second half began slightly sluggishly. As Barca made substitutions, taking their 'A-' team players off and bringing on their B team players, Bayern did the opposite. Thomas Mueller, Bastian Schweinsteiger, Mario Gomez and Toni Kroos came on. These four though never quite adjusted and despite continuous pressing, failed to score. This was perhaps the only downside.
Had Franck Ribery and Arjen Robben been present, Bayern might have taken the match. The second goal scored by Thiago was a wonder-strike and there was little that Bayern could do about it. When Anatoliy Tymoschchuk came on, he defended wonderfully as well and put his body on the line for an almost certain goal, preventing Barca from scroing.
Had this match been played last year, Bayern would have been torn to shreds. Heynckes has already got the defense plus Toni Kroos running. If Bayern qualifies for the group stages of the Champions League and meets Barca somewhere in the competition, they will have little to fear. Restricting Barca to about three and a half chances over 90 minutes is good and having two clear cut chances of your own is brilliant. When Pedro was substituted, I realized I had hardly seen him  or even Andres Iniesta in the match beacuse of the way Bayern stood up to these two players.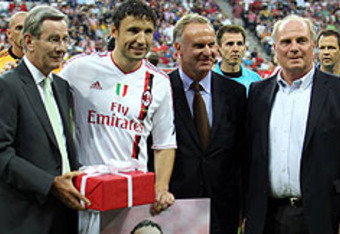 Finally, the day before this match, Bayern beat AC Milan on penalties. The score in normal time was 1-1. Zlatan Ibrahimovic scored after four minutes but the brilliant Toni Kroos who is beginning to show his Leverkusen form equalized. Bayern should have won in normal time but failed to make their chances count. Bayern won 5-4 on penalties in which Manuel Neuer (surprise, surprise) saved a spot kick.
What my worry is how the defence and the midfield and attack will gel together. Against AC, the attack looked stellar while against Barca, the defence looked classy. Getting the two together will be key for Heynckes. Also, Bayern gracefully bid farewell to Mark Van Bommel by presenting him with a gift and a large photograph. I perhaps speak for all Bayern fans when I say this:
We love you Mark and we will always love you. You are the kind of player who leaves a mark in peoples' hearts. You always gave your all for Bayern. We can't have you back and we have to try and move on. Good luck and we hope that you have a great season with Milan, as long as you don't terrorize Bayern if you meet them in Europe!
Bayern's next game is against Eintract Braunschweig in the German Cup. Watching the AUDI Cup made me realize just how much I have missed Bayern in the last couple of months. A first competitive fixture so early is rare, but Heynckes and Bayern look ready. I will try and put up a preview soon. Meanwhile, let me hear your thoughts about the AUDI Cup.