Liverpool: Charlie Adam and the Top 10 Other Liverpool FC Left-Footed Stars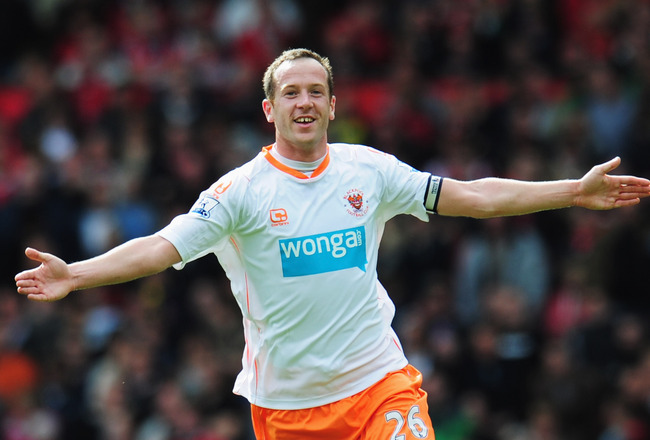 Shaun Botterill/Getty Images
Charlie Adam signed for Liverpool from Blackpool earlier this month after completing a protracted transfer saga, which had dragged on since late January.
In becoming one of Liverpool's four signings under Kenny Dalglish this summer, the inevitable comparisons were drawn between himself and Xabi Alonso; the last real central playmaker that the Reds had the pleasure of watching who had the ability to spread play from the middle of the park with a wide range of passes.
Adam has his similarities to Alonso, but they also certainly have their differences—the most obvious of which being the foot with which they primarily choose to play.
Liverpool have often been blessed down the years with some truly stunning players whose gloriously delicate lefties have delighted and wowed the crowd with deft touches, sublime skill or spanking shots from range—or indeed any other attribute from predominantly left footed players.
If Charlie Adam can emulate some of those on this list in any way, we'll have a real player on our hands. Here's 10 of the best left-footed Reds from yesteryear.
You can follow me on Twitter @karlmatchett and on EighteenAndFive or become my fan on B/R!
The New Boy: Charlie Adam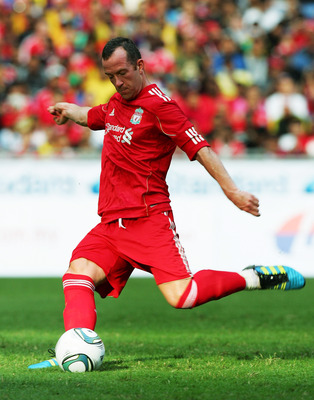 Stanley Chou/Getty Images
Nationality: Scottish
Joined LFC: 2011 from Blackpool
Left LFC: Current squad member
Position: Central midfielder
Games / Goals: 0 / 0
A set piece expert who we can expect to see plenty of over the coming season, Adam was instrumental in initially getting Blackpool to the Premier League, and then very nearly keeping them there. He netted a dozen league goals in his debut Premier League season and will be a key component of the Reds new-look side for 2011-12 under Kenny Dalglish.
Aside from his accurate penalties, corners and free kicks, Adam is fond of placing long range passes into the path of wide runners with his talented left boot.
He has already scored a re-taken penalty for Liverpool with his left foot and will likely make his competitive debut at the beginning of the season against Sunderland.
10. Stig Inge Bjornebye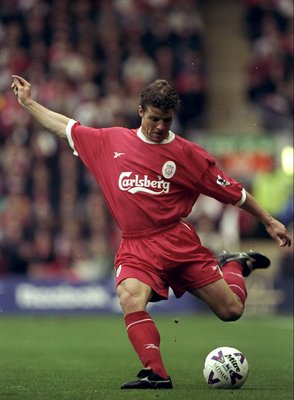 Ross Kinnaird/Getty Images
Nationality: Norwegian
Joined LFC: 1992 from Rosenborg
Left LFC: 2000 to Blackburn Rovers
Position: Left back
Games / Goals: 184 / 4
Stig Inge Bjornebye was a left-sided defender who joined the club under Graeme Souness but enjoyed his best spell at the club as a regular under Roy Evans.
Bjornebye was known for his defensive reliability and pinpoint crosses, and he excelled during the 1997 season to such an extent that he was named in the PFA Team of the Year.
Injuries and the return to the club of a certain player who features later in this slideshow meant his Liverpool career came to an end not long after that, but Stig will be affectionately remembered by Reds as a good servant of the club.
9. Harry Kewell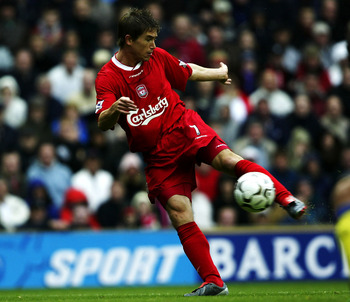 Clive Brunskill/Getty Images
Nationality: Australian
Joined LFC: 2003 from Leeds United
Left LFC: 2008 to Galatasary
Position: Left wing
Games / Goals: 139 / 16
Definitely a player who should be figuring far higher up this list if he had made the most of his Anfield career; Kewell started excellently for the Reds, notching 11 goals in 49 games in his debut season.
Considering he scored only a further five goals in the following four years, his first season with the club was quite clearly his stand-out year.
A tricky and pacey wide player who featured on both flanks as well as up front for Liverpool during his time at the club, Kewell was signed by Gerard Houllier and was one of those fabled "final pieces of the jigsaw" who didn't quite work out.
He won the Champions League and FA Cup finals with Liverpool but was substituted with injury in both of those matches—a recurring theme of his time on Merseyside.
8. Steve Staunton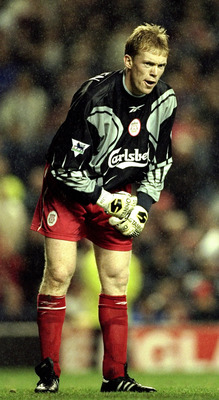 Michael Steele/Getty Images
Nationality: Irish
Joined LFC: 1998 from Aston Villa
Left LFC: 2000 to Aston Villa
Position: Left back
Games / Goals: 148 / 7 (2 spells)
"Stan," of course, featured for Liverpool earlier on in his career before the inception of the Premier League and was a much more important player then, but he still played a good few games and made an important contribution in his second spell at the club—even covering in goal one game for a few minutes, as pictured here, after Sander Westerveld was sent off in the derby against Everton.
Staunton played in midfield and in the centre of defence in his time at the club but was predominantly a left back.
7. Julian Dicks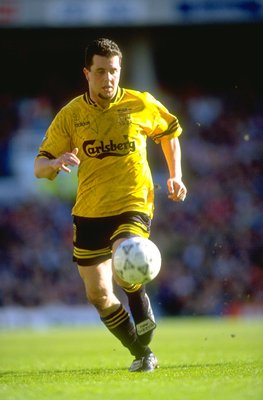 Shaun Botterill/Getty Images
7: John Arne Riise
Shaun Botterill/Getty Images
Nationality: Norwegian
Joined LFC: 2001 from Monaco
Left LFC: 2008 to AS Roma
Position: Left back
Games / Goals: 348 / 31
John Arne Riise filled the left flank of Liverpool's team, both in defence and midfield, for seven seasons after Gerard Houllier brought him to the club from French side Monaco.
He scored a series of terrific efforts with his powerful left foot including memorable drives against Everton and Manchester United, as well as a few lesser-remembered but no less great ones against Bayern Munich and Bayer Leverkusen.
Riise also scored a volley against Chelsea inside 45 seconds of the 2005 League Cup final with his favoured left foot.
Though he lost his way somewhat in his final couple of years at Anfield before being sold to Roma, Riise is remembered by many fans as being a good defender and a potent weapon in attack.
6. Patrik Berger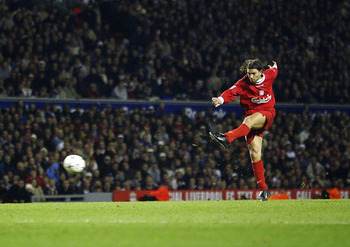 Gary M. Prior/Getty Images
Nationality: Czech
Joined LFC: 1996 from Borussia Dortmund
Left LFC: 2003 to Portsmouth
Position: Attacking midfield
Games / Goals: 196 / 35
Patrik Berger was one of the most skillful and talented individuals to grace a Liverpool side during the 1990s.
After excelling in the European Championships in '96, Roy Evans swooped to bring the midfielder to the club from Germany and he won the hearts of Reds fans with a succession of strikes in his opening months at the club, scoring twice against Leicester City off the bench and then netting another brace in his full debut for the club against Chelsea.
The following season he scored a hat trick against the same opposition.
From either left midfield or an advanced central role he scored thunderous goals against the likes of Leeds United and Derby County for several more seasons, but his final campaigns at the club were marred by injury. Perhaps he never hit the heights his initial performances promised. Though, he was a truly excellent player for Liverpool nonetheless.
At times perhaps too greedy and individualistic, especially early on in his Reds career, Berger continued to score spectacular strikes after he left Liverpool for the likes of Portsmouth and Stoke City.
5. Daniel Agger
Stanley Chou/Getty Images
Nationality: Danish
Joined LFC: 2006 from Brondby
Left LFC: Current squad member
Position: Centre back
Games / Goals: 136 / 7
Daniel Agger is one of the best central defenders in the Premier League—no doubt about it.
The problem is, he has been beset by injury ever since he joined the club and has never really managed to string a run of games together for the Reds lasting an entire season.
Composed on the ball and eager to search out a pass into midfield, Agger is a fierce competitor who complements fellow defender Jamie Carragher extremely well. He loves to rove into midfield and has been known to hit the odd thunderbolt from range, such as his strikes against Blackburn Rovers and West Ham United, with his cultured left foot.
4. Jerzy Dudek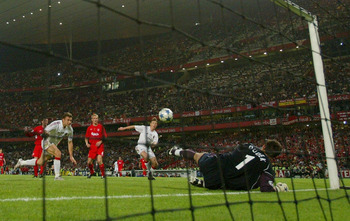 Ben Radford/Getty Images
Nationality: Polish
Joined LFC: 2001 from Feyenoord
Left LFC: 2007 to Real Madrid
Position: Goalkeeper
Games / Goals: 186 / 0
Maybe not an outfield player, so we wouldn't have seen so much of his left foot providing goals, assists or tackles as other players—but Dudek made a huge contribution to Liverpool over his first four seasons at the club, none more so of course, than on the 25th May 2005, where he helped Liverpool to win the Champions League Final.
For what it's worth, Dudek did make saves with his left foot, of course, but it's with his hands that he made his most famous stops.
Nonetheless, a priceless asset for the club for what he did—and a left footed one at that.
3. Luis Garcia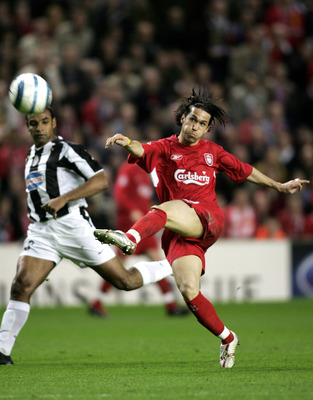 Michael Steele/Getty Images
Nationality: Spanish
Joined LFC: 2004 from Barcelona
Left LFC: 2007 to Atletico Madrid
Position: Attacking midfielder
Games / Goals: 121 / 30
Luis Garcia, the supposedly Sangria-drinking Spaniard, serenaded the Kop with a succession of incredible performances and goals—the best of which is depicted here, his amazing thirty yard lob of Gigi Buffon at Anfield in the quarter finals of the Champions League against Juventus.
Garcia made European goals something of a speciality of his during his time at Liverpool, with goals against Bayer Leverkusen and, of course, Chelsea—an important part of the Reds' run to winning the tournament in 2005.
He also netted many times in domestic competitions, with Norwich and Chelsea again falling foul of his talented left foot in particular.
He irked some fans with his at-times whimsical passing which conceded possession, but more often than not, he was a huge part of Liverpool's attack for two and a half years.
Luis Garcia was unfortunate to miss two finals—the FA Cup in '06 and the Champions League in '07—because of suspension and injury.
Though predominantly seen as a second striker or attacking midfielder, Garcia often took to the field playing on either flank for the Reds or even as a lone striker on several occasions.
2. Robbie Fowler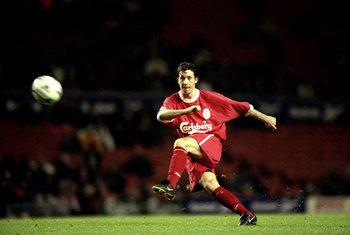 Ross Kinnaird/Getty Images
Nationality: English
Joined LFC: as a trainee and 2006 from Manchester City
Left LFC: 2001 to Leeds United and 2007 to Cardiff City
Position: Striker
Games / Goals: 369 / 183
What can you say about a player called "God" by his own teammates and fans alike?
Robbie Fowler was, quite simply, the most gifted and talented forward to have ever come through the club's Academy system and set about scoring goals from almost the very moment he broke into the first team.
With a left foot which could pick out the top corner from 30 yards or stab home through a crowded penalty box, Fowler was a lethal marksman who scored against almost every Premier League club he came up against. Until he left Liverpool first time around, only Barnsley escaped unscathed.
Fowler scored a debut goal against Fulham in the League Cup and netted five goals in the second leg of the tie, aged just 18. His fifth Premier League game brought him his first league hat trick, against Southampton, while he netted 12 altogether in his first 13 senior matches.
In 1994-95 Fowler netted a hat trick against Arsenal with just four minutes and thirty-three seconds between the first and third goals, a still-standing Premier League record.
He scored four against Middlesbrough in 1996, bringing up his century of Reds goals in one less game than club legend Ian Rush, and continued scoring in prolific fashion, though under Gerard Houllier he started to see less playing time and also began to see injuries take their toll.
In 2000-01 Fowler scored and won in the League and UEFA Cup finals and in the final game of the season scored twice to help seal Champions League qualification for the following season.
However, the writing was on the wall for Fowler, and Houllier sold him to Leeds after the start of the following season.
Fast forward five years and Rafa Benitez brought Fowler back to Anfield on a free transfer; not the same player he once was but still capable of scoring goals when needed.
His final game was at Anfield against Charlton Athletic, and after he left the pitch on 88 minutes without scoring, Fowler was left helpless to look on as the Reds were awarded a penalty less than a minute later, which Harry Kewell duly dispatched in God's absence.
Robbie Fowler will forever remain a legend of the club for his goals and association with the club, which he maintains to this day.
1. John Barnes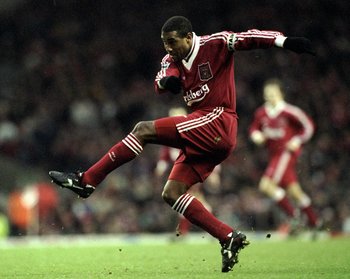 Clive Brunskill/Getty Images
Nationality: English
Joined LFC: 1987 from Watford
Left LFC: 1997 to Newcastle United
Position: Left wing / central midfield
Games / Goals: 407 / 108
"Digger," as he is affectionately known by Liverpool fans, was one of the greatest talents English football has ever had the privilege of watching.
A sublimely gifted and explosive left winger in his early days and even around the start of the Premier League, he reinvented himself after injuries and struggles with weight robbed him of his blistering pace thereafter and played as a ball playing, deep lying midfielder for the rest of his time with Liverpool.
Winner of countless individual awards as well as collective ones during his time on Merseyside, Barnes was made captain of the club and helped guide through the new era with the likes of Jamie Redknapp, Robbie Fowler and Steve McManaman benefiting enormously under his tutelage.
Barnes was probably one of the three or four best players to have ever pulled on a Liverpool shirt and right up until the end of his playing days with the club he was a magnificent servant and rarely conceded possession of the ball in true Liverpool style, even after the heydeys of his lightning forays down the wing had gone.
In addition to his excellent passing, Barnes was also a stellar set-piece taker and notched over one hundred goals for the club from midfield.
Keep Reading

Liverpool: Like this team?