Seattle Mariners Sign Slugger Wily Mo Pena to Minor League Deal
July 28, 2011
Thearon W. Henderson/Getty Images
Have you been sitting there, craving something—anything—to make this offense more enjoyable to watch? Are you willing to sacrifice average and walks for some dingers?
Well, the Seattle Mariners have made your dream come true.
Coming off one of their biggest offensive "explosions" of the season, the club went out and added a bat only slugger with a bad approach.
Pena, as you may recall, was once a slugger who hit a decent amount of homers in the major leagues. His days with the Reds and then Red Sox in the early part of this century saw him hit for plus power, but not much else.
He struck out a lot and didn't walk much. He was a liability in the outfield and on the base paths. Basically, with Wily Mo Pena, you were hoping he'd launch some balls over the outfield fence from time to time in limited at-bats against left-handed pitchers.
Fast forward several years and four organizations. Pena is still the same guy, only now older. In AAA Reno this season, he put up a slash line of .363/.439/.726 with 21 homers and 63 RBI in 63 games.
While the Pacific Coast League has seen quite an offensive surge this season, the Arizona Diamondbacks thought they'd see if Pena's results could be transitioned to the big leagues. In 17 games, with several being in AL parks with a DH, Pena hit .196/.196/.522 which is a pretty funny slash line thanks to five homers but zero walks while going 9/17 during his stint in the desert.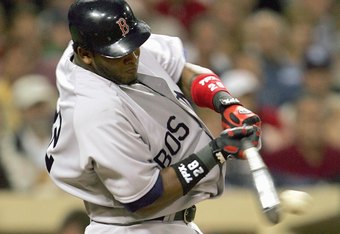 Stephen Dunn/Getty Images
So what can the Mariners reasonably expect?
A low-cost and low-risk player with some pop who can certainly fill the shoes of some under-performers. Wily Mo Pena isn't going to ride into town and make this offense watchable. He's not going to make it anymore hard to watch than it already is, though, either.
It's a minor league deal, so head to Cheney and watch him launch some big flies down there before he comes up to replace Jack Cust on the roster if he gets tossed overboard.
I've spent a lot of words talking about a guy who isn't likely to make much of an impact, if any at all.
I suppose that shows you how hungry we are for something—anything—to make the offense more enjoyable to watch.