Top Agenda for the New York Football Giants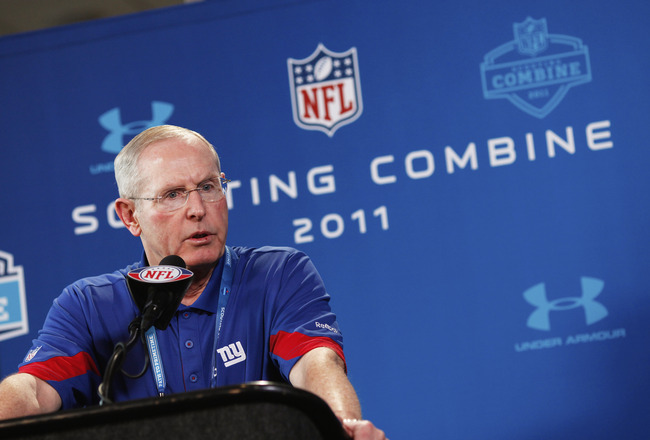 Joe Robbins/Getty Images
The lockout is finally over, and now Big Blue needs to get down to business. Gang Green is running their mouths, as usual, and the Giants are flying under the radar.
There are some major free agents the Giants need to lock back up in order to make it back to the playoffs and go for another title run.
Here are those moves.
Sign Ahmad Bradshaw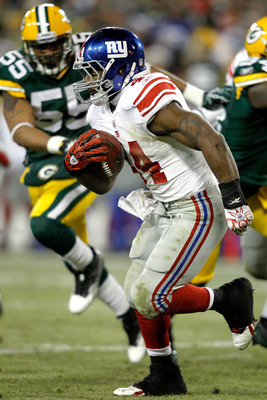 Matthew Stockman/Getty Images
Issue 1, 1A, 1B. Sign Bradshaw.
Bradhsaw is the every-down feature back the Giants need. Bradshaw is a top-10 RB for yardage last year, amassing 1,235 yards and eight touchdowns. The low touchdown number is the only reason Bradshaw is not a household name.
He splits the glory with the big man Brandon Jacobs. Jacobs only had 823 yards, but he scored nine touchdowns. Bradshaw marches down the field taking all the brunt of the damage, but then the big man comes in and smashes it into the end zone.
The Giants need to sign Bradhsaw. Give him what he wants. He is your every down back, and Brandon Jacobs is not.
The next best option is Ronnie Brown, and trust me, you don't want him over Ahmad.
Kevin Boss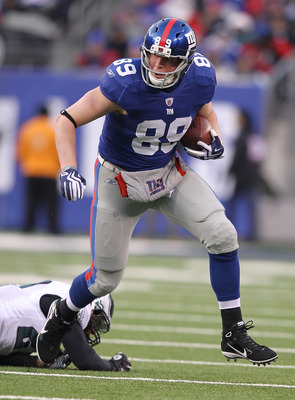 Al Bello/Getty Images
I know Kevin Boss isn't the marquee name, but he needs to come back.
He is a favorite target for Eli Manning, and he is a hard-nosed player.
I was never a fan of Jeremy Shockey. Too much talk and too little production, and In my opinion, Boss is the exact opposite of Shockey, and that's why I love him.
He keeps his mouth shut, and he produces. Behind Hakeem Nicks and Mario Manningham, Kevin Boss is Eli's next top target.
We know the two WR will be here, so make sure Boss is there as well.
Steve Smith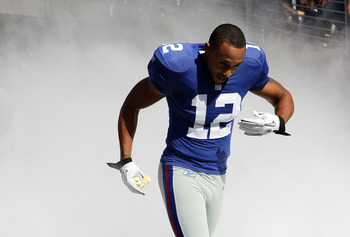 Nick Laham/Getty Images
Much like Kevin Boss, Steve Smith is an important piece in the Giants offense and not to be understated or overlooked.
He is Eli's fourth target in terms of numbers, and he is basically the best third-down WR out there. When you need that 3rd-and-5 conversion, you can bet your house that Steve Smith is going to convert.
Smith has gone from being "the other Steve Smith" to just Steve Smith.
Bring Back Plaxico Burress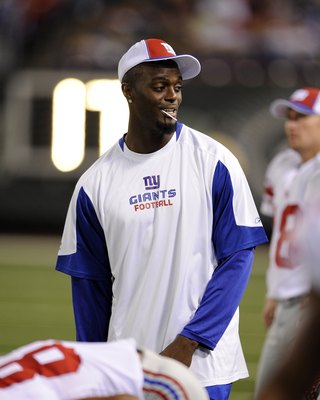 Jeff Zelevansky/Getty Images
This is probably the most debatable, heated, arguable statement I am making out of all. But I think it needs to be done.
However, it needs to be done AFTER Bradshaw, Boss and Steve Smith are accounted for.
Burress is that X-factor the Giants have been missing. Look at the Giants ever since Burress left. They have not been the same team. Why? Because Burress is that go-to guy.
It doesn't matter what down, how many yards or how much time is on the clock.
Remember all of those passes Eli overthrew last year that turned into picks? Don't count on him doing that to Burress.
Plax is 6'5". Those are right in his bread basket. Compare that 6'5" to the heights of Steve Smith (5'11"), Hakeem Nicks (6'0"), Mario Manningham (5'11").
Now, I know height isn't everything, and Nicks still put up stellar numbers, but it surely helps. It's a lot easier to run that fade route to the corner of the end zone and place that ball over the receivers shoulder when he is 6'5".
Just saying, bring him back. He has already stated that he is open to coming back. Tom Coughlin and Plax are meeting Friday to iron out their differences, and it seems like they may bring him back.
Keep Reading

New York Giants: Like this team?