WWE: Forget About Being the Next Steve Austin—CM Punk Is CM Punk
July 28, 2011
One B/R writer whose name escapes me put it best when he was writing about who the greatest basketball player of all-time was.
He said something along the lines of Jordan being Jordan, Kobe being Kobe and LeBron James being, simply, LeBron James.
He decided to state that these men were their own players. Michael Jordan would always be Michael Jordan and LeBron James would continue to be LeBron James.
Can't a man simply try to become the next great star?
This mentality can be applied to the WWE. Right now, it's going through a "revolution." We here at the Internet Wrestling Community would like to believe that, at least.
CM Punk, won the WWE championship at the promotion's Money in the Bank in front of a hometown crowd. The ending of the Pay-Per-View brought excitement back into the professional wrestling industry. After years of wanting something great to look forward too, we finally received what we demanded.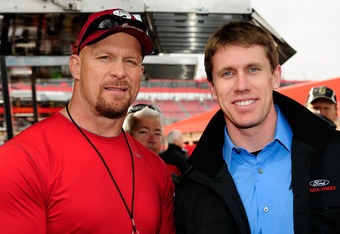 Rusty Jarrett/Getty Images
We received CM Punk, the most over professional wrestler at the moment.
People are dubbing him the new anti-hero of the WWE. That isn't necessarily verbatim, but I believe my description of him is pretty close. Furthermore, I don't think I'm wrong for giving him the label.
CM Punk is still a heel in terms of mannerisms and how he is portrayed on WWE TV. However, the crowds eat up his promos. No matter how much heat he tries to bring upon himself, it's hard to say that CM Punk is someone you would want to hate.
CM Punk has captivated many fans and may have kick started the boom era that some of us eagerly anticipated.
The Chicago native's solid attributes, ranging from his legitimate "Straight-Edge" lifestyle as his wrestling gimmick to his great in-ring skills, have catapulted him into of the biggest icons of the industry in this century, assuming his momentum continues.
Recently, people have been wanting to call him the next Stone Cold Steve Austin. I would have to say that I respectfully disagree.
I can see why fans would say that of him. There are striking similarities between CM Punk and Steve Austin.
Steve Austin did controversial promos himself. A lot of spectators can still remember his famous/infamous "Austin 3:16" victory speech at King of the Ring. It was a classic moment that started his ascension into superstardom.
Austin wasn't your everyday good guy, either. While men like Hogan upheld virtues of respect and honesty, Stone Cold was a little more rebellious. Of course, he didn't cheat often during his face run and on occasion was shown to be a man who capable of doing the right thing.
However, he just loved kicking ass. The crowds loved him for that reason alone and continued to love him until he turned heel at WrestleMania X-7.
CM Punk is again similar to Austin in these aspects. However, that doesn't mean that we should dub CM Punk the next "Stone Cold."
CM Punk is CM Punk.
He's his own man, his own superstar and his own icon. Everyone knows that.
I'm positive that people aren't really trying to give CM Punk the "Next Stone Cold" label out of a desperate, deliberate attempt to relive the "good old days" of professional wrestling.
Don't get me wrong, now. I don't mind comparisons and even enjoy them to an extent. If someone throws a name around, I won't fuss about it. Sometimes, comparisons are inevitable and even I tend to make them.
Comparing icons can be fun. However, I think it's best to keep the comparisons contained in articles such as ones that recreate the cards of WrestleMania in today's setting. We as spectators, critics and IWC fans alike have to realize that it's best not to ruin a star's image by labeling them as a predecessor.
In-depth comparisons are why we criticize John Cena for being a Hulk Hogan. It's why we feel confused when John Morrison fails to win a world title before The Miz, even though we were sure that the latter was the "Marty Janetty" of the duo.
We want to hold our superstars on a pedestal of greatness and say that they're the next "insert-name" in sports entertainment.
Instead of doing that, fans should try a different method. They can simply say that a wrestler is the next big thing—no Brock Lesnar pun intended.
CM Punk could be the next anti-hero, but he doesn't have to be Stone Cold Steve Austin. He could just be the next anti-hero.
I don't know if Hulk Hogan was called the new "Bob Backlund" or the "Bruno Sammartino" of the 1980s. The comparison would be understandable considering that those two were the faces of the WWE, if not all of professional wrestling.
However, Hulk Hogan stood out in his own way, becoming his own icon without living in the shadow of predecessors.
In the 1990s, men like Bret Hart, Shawn Michaels, Steve Austin and The Rock became headliners in the WWE. We should call them the faces of the last decade of the 20th century.
Bret Hart is Bret Hart, Michaels is Michaels, Austin is Austin and The Rock is The Rock. No one is calling them by another wrestler's name.
So, in today's industry, John Cena is John Cena, Randy Orton is Randy Orton, and CM Punk is CM Punk.
They're stars in their own right.
Think of that as this revolution grows. Hope for the WWE to be carried by a new star whose name is his own name and whose face is his own face.
We could be fans of the one and only CM Punk.