NHL Free-Agent Rumors: Zach Parise, Ray Emery, Alexei Yashin and Other News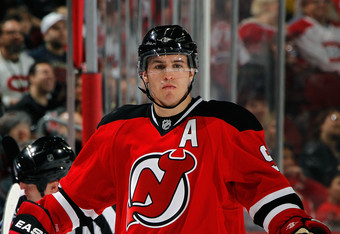 Paul Bereswill/Getty Images
Do you see that, people? It's the light at the end of the tunnel. August is right around the corner, which means that before we know it, NHL teams will be opening up training camp in anticipation of October's drop of the puck.
However, there is still a bit of unsettled business to be handled before the skates are laced up to start the season. The restricted free agency buzz is still a top news story, especially with arbitration fast approaching. Not to mention, a few marquee guys are still available on the unrestricted free-agent market.
The offseason seems to slow to a crawl at this time of year, but if nothing else, there is always the speculation about the season to come.
Also, feel free to follow me on Twitter @MatthewFairburn for the latest.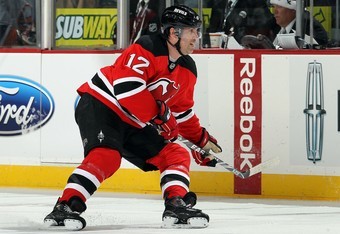 Well, the New Jersey Devils may have found some wiggle room to sign Zach Parise after all. The Devils traded away veteran Brian Rolston to the New York Islanders in exchange for Trent Hunter and a fourth round pick, according to USAToday.com.
The deal leaves New Jersey with roughly eight million dollars under the cap in order to come to terms with restricted free agent Zach Parise. Parise's arbitration hearing is scheduled for Wednesday, August 3rd in Toronto.
As for the trade, the Devils received healthy compensation for Rolston, who is now 38 years old and coming off of a 14 goal season. At his price tag, he was not worth having around in New Jersey any longer.
Of course, Brian Rolston and his agent still think the veteran has something left in the tank.
"I still think Brian has gas in the tank," said his agent, Steve Bartlett. "I don't think the dark cloud was just following Brian Rolston at the start of last season. The Devils had one of their worst starts in franchise history. … I know he's excited about going to the Islanders."
The Devils get an ever-valuable draft choice along with Trent Hunter, who figures to be a solid third line player for the club when healthy.
Overall, I think the Devils come out on top with this trade. They actually get something for Brian Rolston and free up cap space to sign Zach Parise. Meanwhile, the Islanders are also in talks of signing Alexei Yashin from the KHL. That's two high price tag plus 35 contracts that don't figure to be difference makers for the Isles next season. We'll see, but Lou Lamoriello seems to have gotten the better of Garth Snow here.
This article is
What is the duplicate article?
Why is this article offensive?
Where is this article plagiarized from?
Why is this article poorly edited?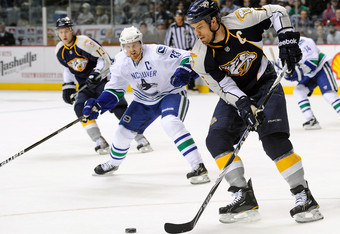 One of the big restricted free agents that hasn't come up in conversation as much as Steven Stamkos and Drew Doughty tend to is Nashville Predators' defenseman Shea Weber. Arguably the best defender in the league, Weber has an arbitration hearing set for August 2nd, but the team would love to get a deal done before that, according to the Tennessean.
"It would be way better for the player and the team to negotiate a contract," Predators General Manager David Poile said. "But the arbitration gives you that ability if you can't do that. And right now that's where we fall if we can't get a contract done."

"We are preparing to go to Toronto (for arbitration)," Poile said. "Would I like to sign Shea to a longer-term contract vs. going to arbitration? Absolutely."
Nashville has been characteristically stingy this offseason, letting Joel Ward and Marcel Goc leave the music city without much of a fight, which many presumed was in anticipation of having to shell out big money for Shea Weber.
Now, it's time to ink Weber, and the Predators cannot afford to screw this one up. Without Weber, the Predators would be significantly worse and likely have very little chance of making the postseason. He is the heart and sole of that defense, and Nashville gets by on their defensive strength. Weber will demand big bucks, but big time players make big time money, and it's time for the Predators to open their wallets for this guy.
Whomever signs first between Drew Doughty and Shea Weber is likely to set the market for the other, which is what is delaying these talks even further I presume. If nothing else, arbitration will settle this, though neither side wants it to come to that.
This article is
What is the duplicate article?
Why is this article offensive?
Where is this article plagiarized from?
Why is this article poorly edited?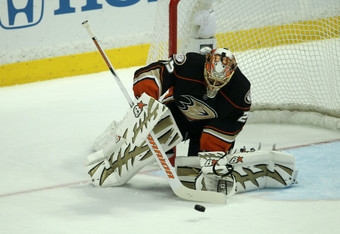 After letting Marty Turco hit the open market to no avail, the Chicago Blackhawks have decided to bring in veteran goaltender Ray Emery to tryout for the team during training camp, according to the Chicago Tribune.
Emery finished the season strong as the backup to All-Star goaltender Jonas Hiller for the Anaheim Ducks and should still provide a quality depth option for any team in the league. Emery's agent certainly thinks so.
"Ray's going to training camp with the thought to win a job," Emery's agent, J.P. Barry said Wednesday. "Ray's a pretty experienced goalie and he'll do his best to win one."

"Last year everybody saw the way Ray played," Barry said. "He answered every question along the way to show what kind of goalie he can be. (The Hawks) could end up with the best second goalie in the league."
With Corey Crawford cemented in as the team's starting goaltender, the Blackhawks desperately needed someone to push the youngster, so this is a savvy move on their part. There should be no concerns about Emery's motivation since he was brought in on an extremely low risk deal. Not to mention, Emery loves to battle, and being slighted in free agency won't do much to quell the fire in his belly. Absolutely brilliant move by the Chicago Balckhawks.
Ray Emery will be battling with rookie Alex Salak for the Chicago Blackhawks' backup goaltender gig. Salak is an extremely talented young prospect who could end up being a starting goaltender at some point in his career. But is he ready to go to battle with Ray Emery? We're about to find out.
This article is
What is the duplicate article?
Why is this article offensive?
Where is this article plagiarized from?
Why is this article poorly edited?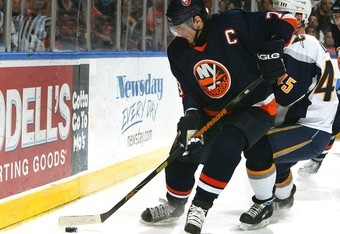 After four season in Russia in which he accumulated 144 points, Alexei Yashin is considering a return to the NHL to add to his 781 career points according to TSN, though Garth Snow prefers to keep things quiet for the time being.
"I've had discussions with both Mark and Alexei," Snow told Newsday on Friday. "I'd rather keep those conversations private, but Alexei has been skating at our practice rink in Syosset and he looks great. I've been on record saying I'd explore all options and any player that would improve our team and help us make that step."
Yashin in 37 years old, but has only been playing roughly 50 games a season in Russia compared to the 82 game grind of the NHL season, which could have saved his legs a bit. Either way, Yashin definitely still has some game. He averaged more than a point per game in the KHL. Yashin also managed at least 50 points in each of his final two seasons in the National Hockey League.
For a young team like the New York Islanders, a veteran leader like Alexei Yashin, who is familiar with the organization, could be a tremendous benefit to the club. Not to mention, Yashin would put people in the seats given his history with the club.
I think I will start having flashbacks if both Jaromir Jagr and Alexei Yashin are back in the National Hockey Leage again. It's only right that the two of them finish their careers in the best hockey league in the world.
That being said, Yashin is in no rush to make a decision right away
"The thing is, I'm an unrestricted free agent," ... "I'll look at all situations. We'll see what is the right decision for me."
Something tells me Yashin is going to wait until training camp begins to make his long awaited decision.
This article is
What is the duplicate article?
Why is this article offensive?
Where is this article plagiarized from?
Why is this article poorly edited?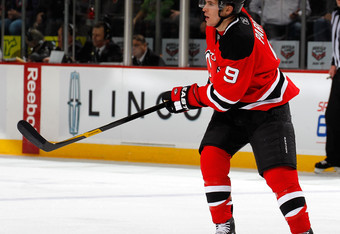 Having been in contract negotiations all offseason, the New Jersey Devils will put the full court press on to make sure veteran left-winger Zach Parise is rewarded with a new contract prior to his August 3rd arbitration hearing. According to NorthJersey.com, Devils General Manager Lou Lamoriello is ready to get a deal done.
"We'll do everything we can," Lamoriello said. "That's the total focus right now."
It better be the total focus if the Devils hope to pull themselves out of the cellar of the Atlantic Division, which isn't getting any easier with the addition of Brad Richards and the expected improvement to the New York Islanders. Losing Parise would be a huge blow to this team, and not having him under contract long term is just as big of a loss. He is one of the cornerstone pieces of this franchise, and the team struggled in his absence last season, further proving his worth.
New head coach Peter DeBoer will have his work cut out for him to begin with this season. Any situation with one of his superstar players is not going to make the transition into his job any easier.
In 420 career games, Zach Parise has already amassed 341 points, and he also has 28 points in 37 career games played. Parise is an elite left winger in the NHL and deserves to be paid as such. He and Ilya Kovalchuk would make an dynamic first line tandem for years. The clock is ticking.
This article is
What is the duplicate article?
Why is this article offensive?
Where is this article plagiarized from?
Why is this article poorly edited?