Baltimore Ravens: Biggest Questions Heading into Training Camp
July 28, 2011
Greg Fiume/Getty Images
The Ravens have certainly been active since the end of the lockout and have already cut several players to make room for a busy free agency period. They had issues before the lockout, and after releasing four of their most productive players in franchise history immediately after the end of the lockout, they have even more questions that need answering.
In this article we're going to look closely at several questions that the Ravens need to answer before the start of the season.
Who Will Backup Joe Flacco?
The Ravens are a team that's knocking on the proverbial Super Bowl door. They try not to be too aggressive in the off-season and don't want to jeopardize future teams, but there's no doubt that there's something special about where the team is right now.
The Ravens have tons of money and talent invested in this season and cannot afford to let an injury to their quarterback derail the entire season. They need a backup quarterback that can win games if Flacco has to come out of a game or misses one altogether.
The team is too close not to have a good backup quarterback.
Marc Bulger was the backup for Joe Flacco last season, but is currently an unrestricted free agent. The Ravens would probably love to bring him back, but his price tag may be too high.
Whether they sign Bulger or not, the Ravens need a reliable, veteran backup that can manage games if Flacco is injured.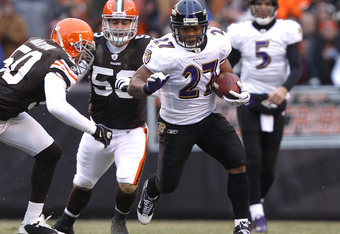 Matt Sullivan/Getty Images
Who's Going to Backup Ray Rice?
Cutting McGahee may have freed up some cap space, but it also created a huge void behind Rice. Over the last three seasons, Rice and McGahee have been one of the league's best backfield combinations. Rice took the lead role in 2009, but McGahee has always been a big contributor.
Starting Rice full-time with little rest would be reckless without at least having a capable backup.
The best option would be to sign a complimentary running back to take some pressure off Rice and who could specialize in short-yardage and goal-line situations, which are not Rice's specialty.
Is Ed Dickson Ready to Start at Tight End?
Since the Ravens cut Todd Heap, the natural assumption is that they are confident in Ed Dickson, Heap's backup from last season. There's no doubt that Dickson is a talented tight end, but he is unproven as a starter.
Tight end is an important position in Cam Cameron's offense, and having a mediocre tight end could limit the offense.
Dickson believes that he's learned the offense and is ready to step up.
"It means a lot to me that they have that much faith in me," Dickson told The Baltimore Sun. "I've been here one year, and all I can do is improve my game. I'm going to come out every day in camp and work hard to get that starting position. They didn't sign anything over to me. I've still got competition, and I love competition."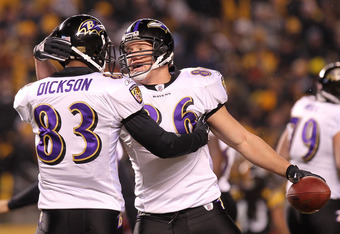 Nick Laham/Getty Images
There's the possibility of resigning Heap to a cheaper contract, but the fact that they cut Heap without any real assurances that he'd re-sign is a vote of confidence for Dickson.
Who Will Start at Wide Receiver?
The Ravens have dramatically overhauled the wide receiver position this offseason. They drafted Torrey Smith and Tandon Doss. They also cut Derrick Mason and are probably not bring back T.J. Houshmandzadeh or Donte Stallworth.
Anquan Boldin is the only significant player who's returning.
With the loss of Mason and Heap, Flacco lost his two biggest targets from his first three seasons. That could be seen as a huge risk since Flacco obviously has no experience with the rookies and has only been throwing to Boldin for one season.
Like Heap, the Ravens have the option to bring back Mason.
"If they want me back, I'm back," Mason told The Baltimore Sun. "That's all I can say."
Mason would certainly help Joe transition to all the new receivers and visa-versa, but there will definitely be some competition in training camp. Smith is a highly-talented receiver, and the Ravens will be trying to get him on the field early.
The same goes for Doss, but Boldin and Mason, if the team resigns him, will not go down quietly. The young receivers will need to earn their snaps, and it will be interesting to watch.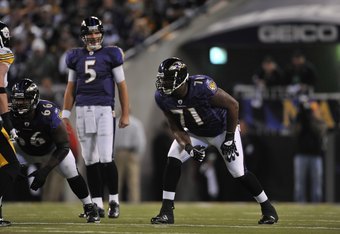 Larry French/Getty Images
How Will the Ravens Fix Their Offensive Line?
The re-signing of Marshal Yanda solves some serious issues for the Ravens, but they still have some things to figure out on the offensive line, which is arguably their biggest question mark heading into the season.
The Ravens would still love to retain Jared Gaither as a player, but they are unsure of Gaither as an individual. That is, they aren't sure if they can trust him. The problem is that the team is in a desperate situation. They need talent and depth at the tackle position.
Gaither also needs help. Sitting out all season not only raises questions with the Ravens, but every other team in the league as well. Gaither needs to prove himself, and no team is going to give him the big contract he wants until he does.
The best option for both sides is for Gaither to sign a reasonable one year deal. Gaither can prove himself, and the Ravens will get a help at a desperate position of need.
If the Ravens cannot retain Gaither, they will absolutely need to find some reliable help at tackle. They could actually use a few good tackles and would prefer players who can play left tackle in a pinch since they don't really have any backups for Michael Oher.
How Will the Ravens Fix Their Pass Rush?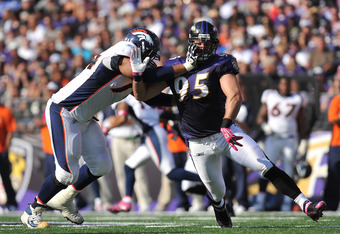 Larry French/Getty Images
The Ravens were an elite defense last season but had one of the worst seasons for their pass rush in franchise history. Terrell Suggs was virtually their only real pass rusher. The defense was able to hold things together versus average teams, but the lack of pressure on opposing quarterbacks was the Ravens' Achilles heel versus elite teams.
In order for the Ravens to be capable of beating teams like the Colts, the Patriots and the Steelers, they will need to improve their pass rush. The selection of Jimmy Smith and the return of Domonique will give the defense more time to get to the quarterback, but the Ravens could still use more help.
They don't really need a big-name pass rusher or every-down type player. The Ravens already have Jarret Johnson, who is an elite run-stuffing linebacker, to play on first and second downs. What the Ravens need is a good situational pass rusher to replace Johnson, who isn't a great pass rusher, in passing situations.
A situational pass rusher would help the Ravens get to opposing quarterbacks without dumping a ton of money into a big-name pass rusher, who are notoriously expensive in free agency. If Sergio Kindle, who missed all of last season because of injury, can contribute on passing downs, that could solve a lot of problems for the Ravens.
Who Will Start in the Secondary?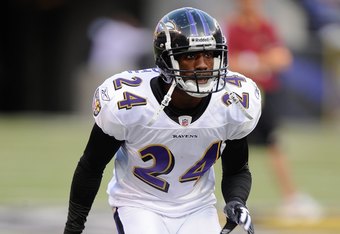 Mitchell Layton/Getty Images
The Ravens drafted Jimmy Smith and have Domonique Foxworth returning from injury. They also have Lardarius Webb who's continuing to show promise. With the loss of Josh Wilson, the team's best corner last season, the Ravens could use a veteran corner. Chris Carr is still a possibility but wants to be promised a starting role.
There are also other free agent options such as Jonathan Joseph and Nnamdi Asomugha. Asomugha has been linked to the New York Jets and the San Francisco 49ers, but many Ravens fans are still holding out hope that the Ravens will sign him.
The Ravens may contact Asomugha, but signing him is very unlikely. The fact is their cap space can be more effectively used in other areas. There are certainly more cost effective options and players that will give the team more bang for their buck.
Ultimately, the Ravens will probably go with Foxworth, Smith and Webb as their starting corners. They may sign a player or two for depth or experience, but don't expect a blockbuster deal.
There are tons of questions to be answered before the season starts…more than we could cover in a single article, but that's the way every season starts. It's easy to be disappointed when we see long-time contributors like Heap, Mason and Gregg leave.
It's also hard to watch young players with potential like Wilson move on as well, but before we get too upset, let's remember that the Ravens are consistently good because the don't keep dead weight or overpay players.
The Ravens are lucky to have a solid and surprisingly young team with core players that they can build around. They never need to reach in the draft or panic in free agency. They just keep doing business as usual.