ASU Football: With Losses Mounting, Which Sun Devil's Absence Hurts the Most
July 27, 2011
Jonathan Daniel/Getty Images
 Since their thrilling double-overtime win over Arizona, the fires of Arizona State excitement have been burning all offseason long.  However, harsh doses of cold water have been thrown in Sparky's face over the last three months as key players continue to fall.
A team that boasted a nearly intact starting lineup has since lost three starters, and the news regarding game-breaking running back Deantre Lewis from head coach Dennis Erickson at Pac-12 media day suggests another key player could be added to that grim tally.
"It's really up in the air whether he'll play at all, whether he'll redshirt," said Erickson. 
Lewis was shot in February as an innocent bystander in his hometown of Norco, Calif., and his hamstring is slow to mend.  Assuming the worst-case scenario and Lewis takes a redshirt in 2011, let's examine the losses for ASU and which one will prove to be the most critical.
Omar Bolden, cornerback
On the surface, the loss of Bolden to a torn ACL would be the easy answer as to the most damaging loss.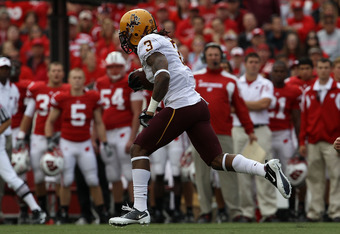 Jonathan Daniel/Getty Images
Bolden was one of only four unanimous All-Pac 10 first team selections in 2010.  He posted 52 tackles and three interceptions, returning one for a touchdown.  He also returned a kickoff 97 yards for a touchdown against Wisconsin.
Bolden, the leader of the Sun Devil defense, bypassed the NFL Draft to return in 2011 but tore his ACL in April.  Despite the injury occurring so early, his chances of returning are slim.
That places tremendous pressure on returning cornerbacks Deveron Carr and Osahon Irabor.  Both have the skill set and size to succeed, yet both come into the season with major question marks.
Carr was having a solid season before injuring his shoulder against Oregon State and being lost for the season.  Irabor replaced Carr and had an up-and-down campaign, making some plays but also leaving some on the field.
T.J. Simpson, wide receiver
The most under-the-radar loss for ASU occurred in April when Simpson also tore his ACL.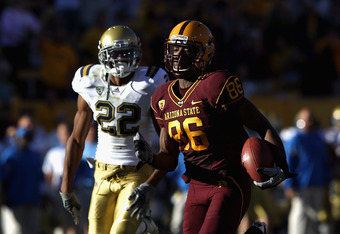 Christian Petersen/Getty Images
In his junior season, Simpson led the team with a 16.6 yards-per-catch average while emerging as the team's top deep threat.  The 6'1", 188-pounder was entering 2011 as a projected starter and figured to be a major piece to the Sun Devils' high-octane offense.
Fortunately, wide receiver is a position where the team is deep.
Seniors Mike Willie and Gerrell Robinson figure to be the top targets for quarterback Brock Osweiler this fall.
Willie is the team's leading returning receiver with 36 receptions, and he also led the team with six receiving touchdowns.  He is a big-bodied 6'4" target who made a habit of making the key catches that typically resulted in first downs.  Robinson, also 6'4", possess greater speed and will work downfield as he hopes to finally have the breakout season many expected of him since he came to ASU.
Also in the mix are Aaron Pflugrad, who showed a knack for underneath routes, George Bell and A.J. Pickens.  Arizona State also has prominent place in it's offense for its running backs, who can help to fill the void.
James Brooks, defensive end
The hero of the Arizona win, Brooks blocked both the critical Wildcat extra points in the Devils' 30-29 win.  He also seemed poised to capitalize on his vast talent after three underperforming seasons, as he posted career highs in sacks (4.0) and tackles (25).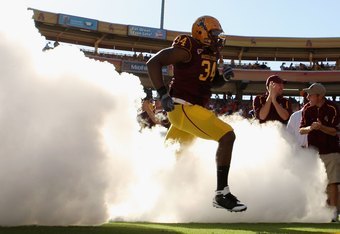 Christian Petersen/Getty Images
However, that came to a screeching halt on July 13 when he abruptly announced he would leave the team, yet remain in school to finish his degree.
While there is still talent along the defensive line, Brooks' departure spreads it perilously thin. 
Brooks was slated to start opposite Junior Onyeali, who garnered Pac-10 Defensive Freshman of the Year honors (the second straight Sun Devil to do so, following Vontaze Burfict) after leading the team with 6.5 sacks and 11.5 tackles for loss. 
The speedy sophomore figures to be among the top pass rushers in the conference, yet may now see more double-teams with Brooks' absence.
Likely taking Brooks' spot will be senior Jamarr Jarrett.  He finished second to Onyeali in both sacks (4.5) and tackles for loss (10.5). 
With the injury to Bolden, the pass-rushing ability of Onyeali and Jarrett will prove critical in aiding the ailing secondary.
Behind them stands uncertainty, with Greg Smith and Davin Coleman unproven.
Deantre Lewis, running back
If Lewis does in fact miss the season, the Sun Devils would be losing their best playmaker on offense.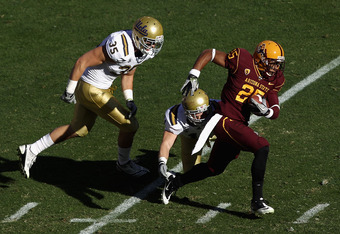 Christian Petersen/Getty Images
As a true freshman, Lewis posted 10 plays of over 20 yards from scrimmage, including three plays covering over 50 yards, and scored six touchdowns.  He had three consecutive 100-yard rushing games against Wisconsin, Oregon and Oregon State before a foot injury hampered him down the stretch.  He also was a dynamic factor in the passing game with 370 yards receiving and a pair of touchdowns.
His loss means that Cameron Marshall will see even more action as the lead tailback.  Marshall proved to be a reliable and powerful runner who excelled between the tackles and led the team with 787 yards and nine touchdowns.  He also was an adept receiver, catching 21 passes for 227 yards and another touchdown.  He lacks Lewis' game-breaking ability, but has deceptive speed.
Kyle Middlebrooks, arguably ASU's fastest player, saw some time last season as a change-of-pace scatback and will see a larger role this season playing the role of "lightning" to Marshall's "thunder".
Jamal Miles, who began 2010 as a running back before moving to receiver, could also see time at his former position.  An explosive player who primarily contributed as a kick returner last season, Miles should see greater work on offense.
The Bottom Line

All of these losses place a great strain on an ASU team that, while talented, is not yet as deep as the traditional national powerhouses, resulting in a narrow margin of error for the remaining Sun Devils.
Most of ASU's deepest positions are on the offensive side of the ball, where the team can better adapt to the losses of Simpson and Lewis.
Brooks' loss can be filled by a player who had a more productive season than he did a year ago in Jarrett, even though the talent behind him is thin.
Losing Bolden not only is a massive blow talent-wise, but also in the leadership department.  While he will certainly still be a critical part of the team off the field, it's now time for stats like Burfict and Onyeali to assume the mantle of team leader if the defense can make good on those championship aspirations.
If the remaining Devils at these positions can step up their games, look for the Devils to find their way to a Pac-12 South title.
Follow me on Twitter @BDenny29 for the latest analysis and insight on ASU football