NFL 2011-12: Which Team Has the Cheesiest Fan Following in Your Opinion?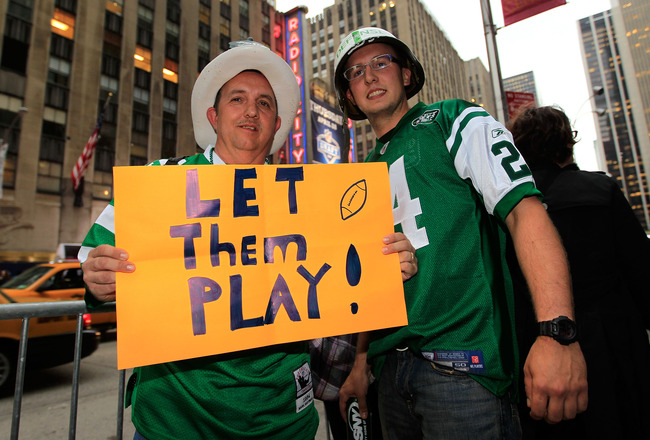 Chris Trotman/Getty Images
With the NFL back in almost full effect, fans are coming back slowly but surely. Some people are probably still shocked that the lockout ended seemingly overnight.
While I was prepared to have to write about replacement players, I held out hope the real NFL would show its face this season. Hope realized is a beautiful thing.
Recognizing the best fan bases in the league takes a specialized eye because several teams are able sell their stadiums out on a weekly basis. How well a team travels with fans either in tow or already living in the destination city is a key factor in determining the best of the best followings.
This list is a result of my eagle-eyed observations. Join me in a special report on the teams I found to be the most followed in the NFL.
You know what it is. Roll slides...
10. New England Patriots: Add More Flavor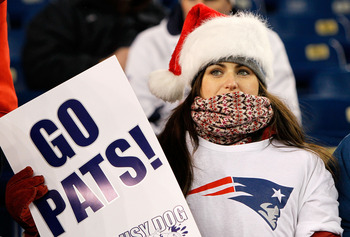 Jim Rogash/Getty Images
Patriots fans aren't exactly everywhere, but it seems like they are in New England.
For a team that has won 17 Super Bowls in the 2001 Millenium, they don't travel well in terms of fan followings. What's that? They only won three, you say, minus the 2001 game against the Rams.
I didn't say that, you did. I'm not a Patriots fan, but I'm not a hater. I don't want a rich super model because they are high maintenance and too prissy. I need a gangsta chick.
For example, I don't believe Gisele Bunn-Cheeks would show up in a bikini anywhere near the frozen tundra to cheer for Tom Brady. If she did, it would definitely be gangsta.
9. N.Y. Giants: Big Apple's Biggest Fan Base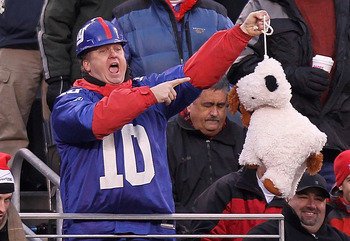 Nick Laham/Getty Images
Here we go. Now we're talking. New York Giants fans. That's what I'm stressing. I bet I could find a gangsta chick in Brooklyn, Little Italy or Rockefeller Plaza.
One of the Rockefeller chicks would do, though. Here in this picture, is not one of the Rockefellers. He's leaving something hanging like Jay-Z did Dame Dash of the record company with a name similar to the Rockefellers, though.
Like Nas said, I'm not into rocking fellas. All over the nation, people rock New York Jankees, I mean Yankees hats. N.Y. Giants gear? Eh, not so much. Plus, New York chicks talk funny. That's why Jay-Z married a hottie from Houston.
The search continues for my gangsta boo. Next slide, please...
8. Four Words: J-E-T-S, Jets! Jets! Jets!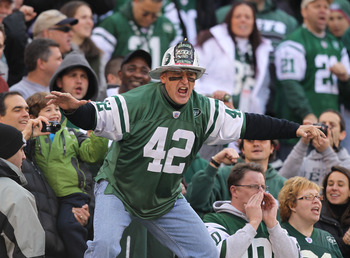 Al Bello/Getty Images
I thought maybe my boo would be on the other side of New York, but I was wrong. I found instead a bunch of people with green skin and some with gangrene.
Fireman Ed followed me everywhere I went, doing the exact same thing he's doing in this picture. I ask you, would you want to stay in a place where a guy wearing a fireman's helmet, a football jersey and eye black on his face tried to bear hug you and force you to cheer for Sexy Rexy? No? Smart. On to the next destination...
7. Da Bears! Almost Enough Said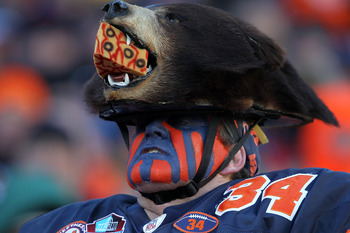 Jamie Squire/Getty Images
All righty. Chicago...home of big time gangsta boos and bear hugs. I don't need a chick with cheese on her breath, though.
Next...
6. Washington Redskins Fans: Hog Head Cheese Nation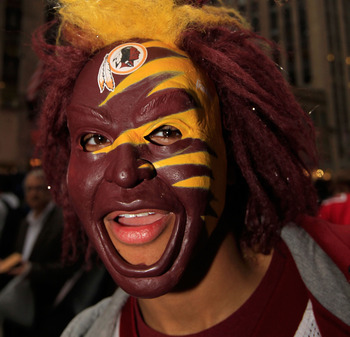 Chris Trotman/Getty Images
Cheese! Now, this is either the worst case of colored dreadlocks I've ever seen, or the Joker from Batman became a Redskins fan.
Choose one.
Skins fans are undaunted about the controversy surrounding the team's nickname. Somehow, I believe, red and skin should only go together when discussing my gangsta boo after a slapping session. Slap boxing, that is.
5. Philadelphia Eagles: Yes, Michael Irvin, There Is a Santa Claus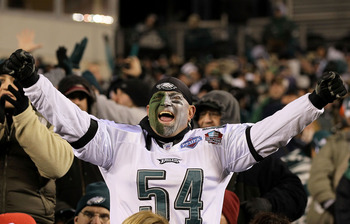 Jim McIsaac/Getty Images
Oh, no. Uncle Leroy is that you?
Back to the green skin thing. And I'm not referring to Michael Irvin. Although, I remember him half-dying in the embryo position and still getting the business from Philly fans while his face was scraping against the Veterans Stadium "turf."
Who is No. 54 for Philly anyway, and why is his jersey for sale?
This shows Eagles fans are more knowledgeable than most. Gangsta boos in Philly can name a Mafioso in two snowball hits or less on Santa. Philly chick's steaks are known to be chocked with cheesy buns. Easy on the onions, though, baby. Next...
4. Leaders of the Pack Know How Tailgaiting Should Go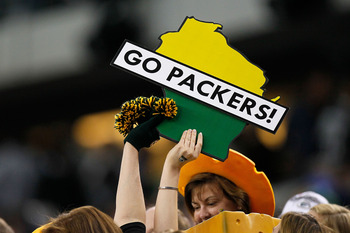 Kevin C. Cox/Getty Images
I'd like a chick who is tailgating and packing, but not cheese on her head. If there's any head and cheese going down, then it's...never mind. This is a family show.
I'd take some ham and cheese on a bun, though.
For show, though, the Packers have one of the most loyal fan bases in the NFL. It's just too cold in Green Bay for me. And Packers fans outside of Wisconsin melt like, well, you guessed it, Limburger cheese on a Texas sidewalk griddle. Whoa! W-E-F-U-N-K y'all.
We funk...
3. Black Hole Bunch Intimades and Hopes Their Team Dominates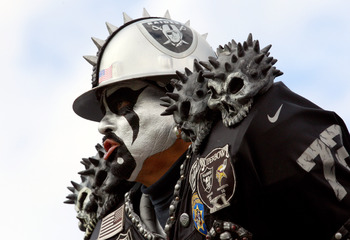 Sam Greenwood/Getty Images
Speaking of black hole, my gangsta boo better not come around me sporting this kind of makeup. This is just too much playing right here.
I've heard of Skull and Bones, but skull and shoulder pads is possibly the scariest thing I've ever seen in my NFL life. Wait, I take that back. Jerry Jones' face right after the first plastic surgery is most definitely scarier than this. Ask Jimmy Johnson's hair.
2. Cowboys Nation Runs North, South, East and West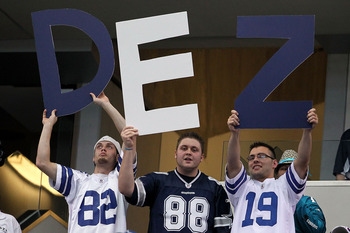 Chris Chambers/Getty Images
I could probably stack a harem with all of the Dallas Cowboys fans running around North and South America. Thing is, not many of them know how to spell. D-E-Z is not the proper syntax for the act of doing the act with your gangsta boo.
No wonder these nerds can't get a Dallas Cowboys cheerleader. I could, except I'm heading to the land of the No. 1 fan following in all of football...
1. Pittsburgh Steelers Terrible Towels Coming to a Town Near You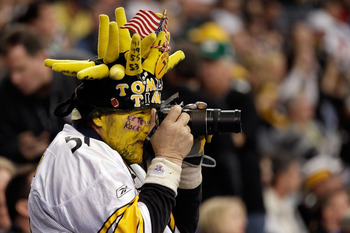 Rob Carr/Getty Images
"Yeah, uh-huh, you know what it is. E'ything I do, I do it big."
I've heard of reppin' the black and yellow, but with 19 bananas on your head, sir? That's stuntin.'
Have you lost your natural-born mind? Wiz Khalifa and Amber Rose are probably wishing he never wrote the song "Black and Yellow." Amber Rose. Now, there's a gangsta boo.
I'd like to see her as a Pittsburgh Steelers cheerleader. Wait. The Steelers don't have any cheerleaders. But, they still have the best fan following in the NFL.
This has been your football road dog, Lake Cruise, yellow-toweling out. I stay fly like I'm supposed to do. Follow me on Twitter at "Yeah, uh-uh, you know what it is..."
Keep Reading

Pittsburgh Steelers: Like this team?