Top 5 Detroit Red Wings Prospects: A Look into the Future in Hockeytown
July 27, 2011
Doug Pensinger/Getty Images
The Detriot Red Wings have quite a lot of talent coming to fill in for some of their stars.
They are well set-up to have many more years of success with a stellar core. Their prospects will become well known as the average age on the Wings continues to go down.
Detroit has a way of not forcing their prospects into the line-up, and this makes their prospects arguably the most seasoned in all the NHL.
What follows is a list of the top 5 prospects in their system, in order, according to what I deem their NHL potential is.
1. Tomas Tatar
Tatar is probably the most likely Red Wing to get called up from Grand Rapids because he has played 9 games with the Wings already following a great season in Grand Rapids which saw him put up 24 goals and 57 points in 70 games.
He has excellent hockey IQ, is hard-working, and has a great amount of speed. The Slovak is exactly the type of player that the Wings need going forward.
He can help immediately and may even be able to contribute somewhere in the area of 20 goals and 60 points in a full year with the Wings. Tomas is next in a long-line of solid European players that have helped the Detroit Red Wings be a perennial contender.
His excellent play in the World Juniors and at the World Championships has shown that he is a proud member of Team Slovakia. Tatar just needs to make some minor adjustments to the tempo of an NHL game and he will be on his way to NHL stardom.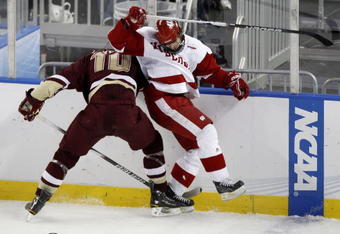 Gregory Shamus/Getty Images
2.  Brendan Smith
Smith may have shown a lot of signs of immaturity in his years at Wisconsin, but his game has evolved and shows that he is almost NHL ready.
A first round pick in 2007, Smith has begun to show himself to the organization with his excellent puck-moving skills. He also skates extremely well and plays a solid all-around game.
Brendan Smith has drawn comparisons to Brian Rafalski, which is impressive. He had 32 points and 124 penalty minutes in 63 games in Grand Rapids, which means that he will probably start the season in the AHL.
Smith could be a mid-season call up in the case of injury problems, but the Wings may choose to use their remaining cap space to bring in veteran help instead. Smith will be a top-pair defenseman one day.
 3. Teemu Pulkkinen
Teemu Pulkkinen has absolutely amazing shot power and accuracy to go with a quick release that is very frustrating to goaltenders.
Pulkkinen plays left-wing for Jokerit in Finland and had 54 points in 55 games, including 36 assists, which indicate his ability as a passer.
Pulkkinen has an excellent overall skill set that has caused a lot of hype about his play in the SM-Liiga. He was the 111th pick in the 2010 draft, and may prove to be another great find for the Wings in the draft.
The only downside to Pulkkinen's game is that he does not skate well enough to play great defense, but that may improve as he develops. He still projects as a first or second line skater in the future, and will hopefully be given a chance to play in the next few years.
4. Andrej Nestrasil
Nestrasil, a Czech player, has had three seasons of at least 50 points in the QMJHL including a 51 assist, 70 point season with the Prince Edward Island Rockets last year.
He skates well and his hands can stay with his feet when making plays on the rush. Andrej has NHL size at 6'2'' 195 lbs and should play like a power forward after he gets used to the game in North America. 
He does project as a top-6 forward in the future, and did play well for the Czech team in the WJC in 2010 (6 assists in 6 games). Nestrasil is more of a passing center than a pure scorer, but could produce around 15-20 goals once he gets used to playing in the NHL.
5. Calle Jarnkrok
Jarnkrok is yet another European (Swedish), which makes 4 out of 5 total players on this list.
Jarnkrok is what scouts like to call a safe choice. He skates well, knows the game inside and out, and has great vision. In the Mike Babcock era, puck control is important, and Jarnkrok probably controls the puck better than some players currently on the Red Wings.
He is a key player for winning the time-of-possesion battle, and he will helps the Wings in the future.
Calle's NHL career will probably start as a third-line forward, but he will move up to the second line and produce about 50-60 points (mostly assists).