NFL Free Agency: Santonio Holmes with New York Jets a Good Thing
July 27, 2011
Jim McIsaac/Getty Images
It didn't take long for Santonio Holmes to sign a deal with the Jets to stay in New York.
Both parties quickly agreed on a five-year, $50-million deal Wednesday morning that would keep Holmes in Jets green for years to come. 
It was the biggest move of the offseason so far and the most important business for New York to take care of following the lockout.
While some might question the Jets for signing troubled Holmes to a big contract—$24 million of which is guaranteed—it was unquestionably the right move.
The explosive receiver was the best offensive player and possibly the best overall player available in free agency, someone who can help young quarterback Mark Sanchez immensely and single-handedly carry an offense.
No. 10 needed to stay in New York for the Jets to remain a serious Super Bowl contender in 2011.
Losing Holmes to free agency would have been devastating for a team that also has two more free-agent wide receivers on its roster.
Santonio is the only one of the three free-agent Jets receivers who has experience playing in a Super Bowl game, and he surely knows how to perform under the bright lights. That will certainly help while playing in a big market like New York.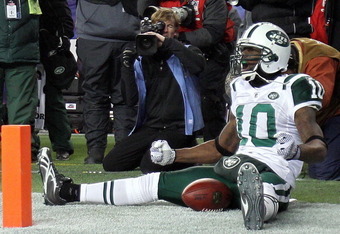 Elsa/Getty Images
The Jets made the right decision with Homes because of the chemistry he has already developed with Mark Sanchez.
Despite missing the first four games of the 2010 season, Holmes and Sanchez connected for 746 yards on 52 receptions with six touchdowns.
Both had a great understanding of Rex Ryan's offense and ran the quick slant to perfection. Santonio's signature slant over the middle was a frequent occurrence last year—one that provided the team with tons of big plays in big situations.
The deal for Holmes was a no-brainer in the end.
How could anyone ever question the speedy wide receiver after seeing him make clutch catches against the Houston Texans, Cleveland Browns, Detroit Lions and New England Patriots?
We also cannot forget the tremendous game-winning catch that made him Super Bowl XLIII MVP and crowned Pittsburgh champions. It was the defining moment of his career and it is what propelled him to superstardom.
At 27 years old, Holmes is in his prime. Now he is under contract for the Jets for the next five years.
He will be a Pro Bowler for the duration of his contract unless he suffers any injuries or gets into any disciplinary trouble.
His personality fits in well with what Rex Ryan is all about. Both Rex and Holmes are bold and are not afraid to speak their mind.
You have to believe that Rex being the head coach had a lot to do with Holmes' decision to sign. Players love playing for him, and he knows exactly how to get the most out of his players.
Finally, the big-money contract had to be done because of the interest Santonio attracted from just about every team across the league. 
His speed, athleticism and great route-running skills have made him one of the best receivers in the NFL, and one of the most highly-sought-after free agents this offseason.
The Redskins and their wealthy owner Daniel Snyder were reportedly interested in signing the wide receiver, and we already know the money that Snyder is willing to pay for a player he wants.
New York did a great job signing Holmes right away, getting him back to work at Jets training camp as soon as possible and avoiding a bidding war with the deep pocket of Daniel Snyder.
Things could have gotten too expensive for the Jets to keep their No. 1 priority this offseason.
Now that they've landed Santonio, the team can now focus its attention on possibly signing Braylon Edwards to add to the impressive receiving core.
The Jets are also actively pursuing arguably the best cornerback in the league in Nnamdi Asomugha. So stay tuned for more of the free-agent frenzy.
It was a good day for the New York Jets.
But things might get a whole lot better if they can somehow sign Asomugha.