Brett Favre: A Step-by-Step Lesson on How to Ruin a Legacy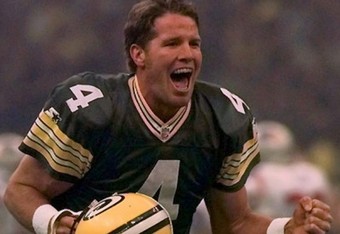 This week we were hit with the new that Brett Favre may return to the NFL. The initial shocked has waned as Favre remains retired. The reaction by fans worldwide to the possibility proves one thing; Bret Favre killed what could have been a perfect legacy.
The first step in destroying a perfectly good legacy is to build one up. Brett Favre had all the poignant moments and accolades you want in a sports legend.
Super Bowl victory? Check. Emotional win after a personal loss? Check. Continued passion to win and fire for the game? Check and check.
The Green Bay Packers had one more face to place on their Mt. Rushmore of success stories. Then the facade began to chip.
A career filled with miracle plays, last-minute drives and ridiculous passes gave way to self indulgence.
In 2006, we got a whiff of news that Favre was considering retirement. That would be the beginning of a yearly exercise in futility. Favre would retire, then un-retire.
He took off the proud uniform he built his legacy in, and traded it for a New York Jets one. It never quite fit, and his stay in New York proved fatal to his family man image.
Former Jets employee, Jenn Sterger, would later allege that Favre attempted a lewd relationship with her. The scandal refuses to go away, even to this day.
Then Favre pulled off a sacred no-no; he joined the enemy. Favre joined the hated Minnesota Vikings, and the Packers nation could do little other than fume.
Then he retired...again. There has never been a quarterback to play in as many consecutive games. There has also never been a player to retire as many times.
It is the latter record that has put a pall on his legacy. On Thursday, NFL fans were hit with news that a legend of the game could very well return.
Under normal circumstances, fans would have erupted in glee. Instead, eyes rolled and fans demanded an end to the madness.
If Brett Favre was looking to demolish an otherwise magnificent carer, he succeeded. Somehow, the gunslinger became the cowboy in black, the bad guy, the villain.
If you want to ruin a legacy, take a look at Brett Favre's last five years in the league. It is a perfect example on how to destroy a good thing.
Most recent updates:
This article is
What is the duplicate article?
Why is this article offensive?
Where is this article plagiarized from?
Why is this article poorly edited?