Brett Favre: Fans Asked to Stomach One Last Favre Frenzy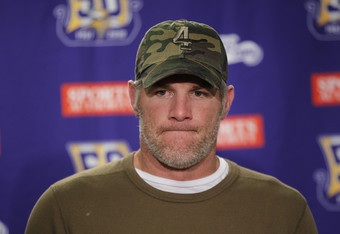 How far this grizzled man has fallen. Brett Favre was once heralded as the quarterback any fan would be proud to have on the their teams. On Thursday, he proved to be the reason many of us skipped lunch, and then dinner.
It all started with a tweet. Most mammoth deals start with a small detail, a post of 140 characters or less will pass as something small, but not benign.
South Florida Sun-Sentinel reporter, Omar Kelly dropped this bomb on Thursday via Twitter.
If Brett Favre is serious about continuing his career the Dolphins are serious about making Miami his next NFL team.Favre has thinking to do
From there, as they say, it was on. Every last news outlet had a take on Brett Favre. Some thought he could come back and be effective, others thought the rumors were ridiculous.
I was just trying to find a bunker to get away from the ensuing Favre frenzy. As I wept in my bed, being consoled by my wife, I realized this morning that the worst had past us by.
I went to the curtains, pulled them back to show a new day had dawned. The nightmare was over, there was no more Brett Favre. A dying career had one more blip on the monitor before it flat-lined forever.
According to his agent, Gus Bell, Favre was very much retired, and nothing had changed that. He stated, "Brett Favre's retired, that's all I can say. He's like Elvis now. People just won't let go."
And really, a very apropos comparison. Favre is exactly like Elvis. He has become an urban legend for the modern NFL fan, someone that invokes a story that starts with, "I swear I saw him practicing at a local high school once."
If you say his name three times in a mirror, he will join the Dolphins. A legend of the gridiron has come a long way. His legacy now rests in the land of mercurial villain. We can't stand to see Favre, because we have simply seen too much of him.
Sure he is one of the greatest. In time, we will remember that notion. It's like over indulging in chocolates, or in my case, pastrami sandwiches. At some point, the thought or taste of your favorite food becomes nauseating.
Brett Favre is making us sick.
Rest assured that we will now have time to look fondly on him. The boogey man does not reside here anymore. He will not sneak up on us anymore. By this time next year, we will forget about Favre. The year after that we will remember.
In five years, we will crave the gunslinger once again, and that is when we will really see where his legacy rests.
The stomach ache you feel now will pass in time. Brett Favre is not coming out of retirement. We can slowly come out of our doomsday bunkers now.
The greatest will one day be known as such. We just need time to miss him first.
Most recent updates:
This article is
What is the duplicate article?
Why is this article offensive?
Where is this article plagiarized from?
Why is this article poorly edited?