Jered Weaver: Angels Pitcher Deserves 6 Game Suspension for Temper Tantrum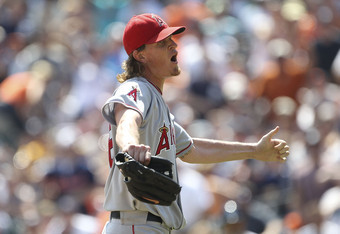 When you throw at someone's head in the middle of a baseball game, you deserve to be suspended.
It takes a real big man to throw a ball at someone standing still, and Weaver did just that on Sunday, getting himself ejected after he took issue with Detroit's attitude following a couple home runs he gave up in the Angels' loss. Weaver promptly buzzed the next batter and found himself heading to the showers and costing himself a start, which is key in the middle of a division title race.
The Cy Young candidate is appealing, but he might as well save his breath, because it's not going to weasel out of this, no matter how much be begs and pleads. If pitchers want to throw at someone's head, that's fine, but then they need to accept the consequences.
If a batter were to charge a pitcher with a bat, they would talk about what a thug he is for trying to injure someone in that manner. I understand that, but somehow, when Weaver tries to take a guy's head off, it's somehow part of the game and acceptable.
This is the problem with the baseball culture, where retaliation is not only accepted, but condoned, and all it takes is one player to get hurt, and the mood changes. Grown men shouldn't be throwing fastballs at the head area. They are not children, nor should they act like it when something happens that they don't like.
What Weaver did was childish and inexcusable, even if he wasn't happy about how the Tigers were carrying themselves on the field. You don't stoop to that level and if he had hurt someone, it would have crippled the Angels' playoff run and he would forever regret the moment he lost his cool and threw at someone's head.
Weaver is vital to Los Angeles' chances of catching the Rangers in the AL West, and even one missed start can cost his team a chance at the pennant. What happened on Sunday was an abomination, and the pitcher should have just taken his suspension like a big boy, instead of trying draw the process out with this appeal.
Most recent updates:
This article is
What is the duplicate article?
Why is this article offensive?
Where is this article plagiarized from?
Why is this article poorly edited?