Kevin Kolb Trade Rumors: Arizona Cardinals Must Land Eagles' Backup QB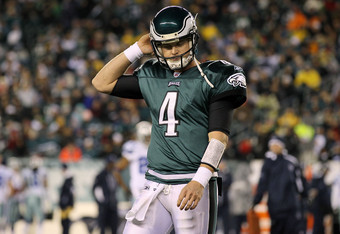 At this stage of the offseason, the Arizona Cardinals need to do what it takes to land Kevin Kolb.
With all of the other quarterback targets linked to other teams, Kolb is the last domino out there, and after all of this talk, the Cardinals can't afford to get cute and try and haggle with the Eagles over this deal. When you have no other options, you have to pony up, even if it's perceived that you have leverage in the trade talks.
Per SI.com:
Nobody potentially lost more in Tuesday's and Wednesday's quarterback shuffle than the Eagles, who were thought to be seeking both a first-round pick and cornerback Dominique Rodgers-Cromartie from the Cardinals in exchange for Kolb. Why would Arizona even think of giving up that much for the soon-to-be 27-year-old Kolb now, when the Cardinals appear to be the only team bidding for him? And with Orton and ex-Ravens backup/former Rams starter Marc Bulger still available as starting options, it's Arizona that holds all the, uh, cards, in this particular poker game.
The Eagles sense Arizona's desperation, and that is why Philadelphia has all of the leverage in this situation. If Andy Reid decides to hold on to Kolb, then the Cardinals have absolutely no direction for the future.
Arizona has tabbed Kolb as the quarterback of the future, and after all of this anticipation, a failure to land Michael Vick's backup would result in outrage from the fan base, a group that will not tolerate seasons like 2010 in the future. The quarterback play was atrocious, and Kolb would be an immediate upgrade for the Cardinals, who has weapons to be a potent offense.
This is a very fluid situation, and right now, with both sides close to a deal, the Cardinals have to pony up to get it done. Arizona either does the deal and gets someone who can lead the franchise into the future, or it can sign another journeyman quarterback who doesn't have the stuff to lead a playoff contender.
The choice is simple, Arizona has to get a deal done, and fast. It shouldn't have taken this long, when you think about it. This is a no-brainer move, and no price is too high for a secure future at the quarterback position.
Most recent updates:
This article is
What is the duplicate article?
Why is this article offensive?
Where is this article plagiarized from?
Why is this article poorly edited?