NFL Rumors: Why Donovan McNabb to Minnesota Vikings Is a Bad Move
July 27, 2011
Ronald Martinez/Getty Images
When you think of Minnesota Vikings football, what comes to mind?  The first thing I think of is hard-nosed, pound-the-ball-down-your-throat football. 
When you think of Donovan McNabb what comes to mind?  I think of a man who, while a warrior in his time, is past his prime and holding on for survival. 
Late Tuesday, NFL Network's Jason LaConfora reported that Donovan McNabb is expected to work out a new contract with the Minnesota Vikings on Wednesday.  If McNabb is able to work out a new contract, it would put the finishing touches on a trade with the Washington Redskins.
If I was a Vikings fan, I would not be happy with this. How much is this deal going to be worked out for?  If the Vikings can get him for cheap, then it would be a great deal. However, we are talking about a guy who did not want to wear the Redskins plays on a wrist band last season because of his image.  I see no pay cut in McNabb's future—at least not willingly.
McNabb has only played four complete seasons since 2000 due to injuries, and furthermore, the Vikings just drafted Christian Ponder, out of Florida State, with the 12th overall pick in the 2011 NFL draft.  It would not be in the best interest of the Vikings to pay two quarterbacks starting money. 
While Ponder was highly regarded as being drafted too high at pick 12, Minnesota could indeed be the perfect position for him to be placed.  Ponder plays under center and relies on his accuracy for success.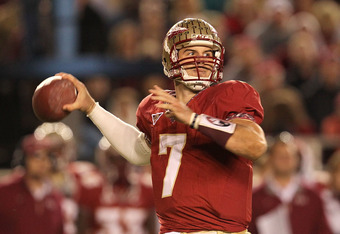 Mike Ehrmann/Getty Images
With the Vikings' running game, Ponder could step in and slowly learn the offense while handing the ball off to work horse Adrian Peterson.  McNabb is capable of doing this as well, but he won't.  McNabb will want to be the leader and focal point of the Vikings.  He will want the ball in his hands and not in Peterson.
The ball in McNabb's hands is not a good thing.  In 2010, McNabb threw more interceptions (15) than touchdowns (14) and had the second-worst completion percentage of his career.  McNabb was also benched for Rex Grossman, which should say something in itself. 
The Vikings were also looking into Tyler Thigpen, and speculation connected the team with Bruce Gradkowski.  At least with those two, the Vikings would not have to pay ridiculous money for a mediocre performance.
The Vikings should roll with the rookie Christian Ponder, who will listen to the coaching staff and will not get upset when the offensive coordinator feeds Adrian Peterson three times in a row. 
Ponder could not only benefit the Vikings now, through being a role player, but he could grow into the quarterback position and run the offense much like Matt Ryan does in Atlanta.