NFL Free Agent Rumors: Plaxico Burress Remains a Great Fit for New York Giants
July 27, 2011
Doug Pensinger/Getty Images
On June 6, 2011, former Super Bowl XLVII hero Plaxico Burress was released from jail and immediately, rumors swirled about where he would call home for the 2011 football season.
Some said Philadelphia would be a good fit, being that Mike Vick seems to have had a rebirth in the City of Brotherly Love following his own legal transgressions.
Others said Cincinnati, likely due to the fact that they seem to have branded themselves as a place for players with rap sheets.
Hardly anyone expected him to return to the Giants, a place where he went from revered playoff legend to castaway in a matter of moments. Buress even said that he couldn't see himself playing for Tom Coughlin or Big Blue ever again.
Despite all of that, there are rumors swirling that Burress and the Giants are having exploratory talks about bringing him back to New York.
If the two sides can get a reasonable deal worked out, I am confident that Plaxico could have a positive impact on the team both on and off the field if he were to return to bolster the wide receiving corps. 
As with any deal, even those not concerning a convicted felon and disgraced hero, there are positives and negatives. In my mind, the positives far outweigh the negatives. 
During Burress' time in New York, he and Eli Manning shared one of the greatest QB-WR connections in the league. Eli loved nothing more than to throw balls that the 6'5" Buress could so artfully pick out of the sky above the smaller defenders.
There is no doubt the the sometimes erratic Manning would love to have a receiver as skilled as Burress back on the field. 
Besides his on field prowess, Burress would bring some much needed experience to the Giants wideouts. It's unclear at this point if Steve Smith will be re-signed, though I expect that a one year deal should be forthcoming.
Smith was the most experienced of the bunch, and after that, there aren't any receivers who have real, intense playoff experience. 
Burress has that and he would be a valuable piece of the wide receiver puzzle as someone who has played under the most pressure in the biggest spotlight. It doesn't get much bigger than the game winning catch in the Super Bowl. 
And it's not just his on-field experience that will be valuable.
Who better to teach the younger players how to conduct themselves off the field than someone who has seen it all? Burress will no doubt be a positive impact on the younger players.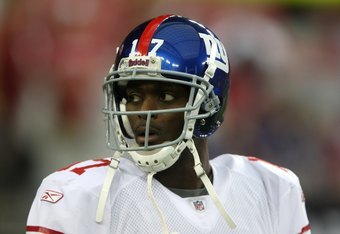 Stephen Dunn/Getty Images
Burress was and still is, by all accounts, a good guy who had a bad thing happen to him. The criminal justice system doesn't care how nice a guy you are, and Burress can certainly mentor the young players and let them know just that. 
Of course, there is also a major question to be answered about Buress' ability. Is he the same player he was before prison? If Mike Vick is any indication, I would say that chances are strong that Burress has retained much of his skill.
Do I expect him to be a No. 1 option and 1000 yard receiver? No, certainly not. Can he be a solid No. 2 or No. 3 that will demand attention? That, I think, is a reasonable expectation. 
Giants fans haven't forgotten how formidable the Giants were when Plaxico Burress was lining up outside the hashes. If New York has the chance to sign him, I think most fans would be willing to give him another chance to see if the old flame could be rekindled. 
The signing will have to come at a low price, and I think both Drew Rosenhaus and Burress are aware of that. Burress can no longer command the six year, $25 million contract he had signed with the Giants in 2005; an inexpensive one year deal with a second year team option would be most agreeable to the Giants. 
Plaxico Burress was a part of one of the best teams in Giants history. The team he left in 2008 was well on its way to repeating and it seems that the Giants are at least entertaining the thought of trying for a round two with No. 17. 
If the price is right, there's no reason why the Giants shouldn't sign Burress. 
Follow me on twitter at @Mike_Osterberg and read more of my work at www.ftrsports.com