NFL Lockout Over: Packers Fans and Football Fans Rejoice
July 27, 2011
Brendan Smialowski/Getty Images
Greetings from the Frozen Tundra, friends!
Okay, so anyone who has been reading what I have been writing over the past five months has probably heard me say some pretty wild things about the lockout or the offseason. I have been accused of having a sick and twisted sense of humor by multiple people who have read what I have written, and to that I say, "Yes, you are indeed correct, good sir or madam..."
So, on July 26, 2011, when I saw that the NFL owners and players FINALLY reached an agreement, I fell to my knees and thanked Curly Lambeau and Vince Lombardi, along with a few others. Why would I thank Curly and Vince, you may ask?
My friends, we are facing a federal government shutdown. As I have stated before, anytime you mention the words "compromise," "lawsuit" and "federal mediator" in one sentence, there is usually only one conclusion: deadlock. There had to be some sort of divine football intervention to the end of the lockout. 
Mr. Lombardi and Mr. Lambeau must've known that a football-less fall would have probably sent the state of Wisconsin into a state of shock so badly that recovery would've taken generations.  The trauma that this would've caused would've sent people into the streets. My goodness, Christmas may have been cancelled!
Yes, I am serious. Any Packer fan worth their salt has received at least one Packer related gift for Christmas. Without a football season, Christmas would be quite boring at Casa Moen-Kadlec.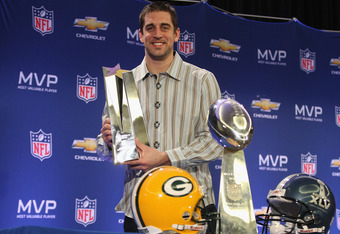 Streeter Lecka/Getty Images
Yes, Manpig received an Aaron Rodgers jersey last year.  A Clay Matthews jersey will be purchased this year, I'm sure.  But that is a surprise, so shh...
Yes, yes, I realize that I have spent the good part of the past five months in a football-less stupor, wandering aimlessly in the desert wasteland of sports that is known as Major League Baseball.  I've tried, friends, to be a good multi-sports fan. I've tried to sit down and watch a MLB game, and I believe that I have found one thing in the world that is capable of knocking the Norwegian coffee caffeine buzz out of my system: Major League Baseball.  
For some odd reason, unless I am watching a baseball game in person, baseball games will knock this writer out for a period of time that is usually unheard of. Manpig has been thrilled by the amount of naps I have taken over the past few months. A napping Jackie means an untormented Manpig.  Peace has reigned in our household.
NO LONGER, I TELL YOU!
Yup, it's time for football, friends! The lockout has been lifted, and the joy has returned to the hearts of all Packer fans, this fan included.
I have written about how the new draft picks and how they should sit in a "beer cave" for a few hours to see how they react to cold weather. I have written how fans should practice shaving their chest fur, without cutting off body parts in the process, and making sure they stand in the right place in the line. After all, nobody wants to see a misspelled word in the stands, right?  I have written how beer and sauerkraut companies were bracing for lockout related recessions.
No longer!
The Green Bay Packers training camp starts on Saturday, July 30. That means that across the great state of Wisconsin, fans of the Green and Gold are breaking out their Packers and Super Bowl related finest, ready to see what the new season brings.
Repeat!  Repeat!
Ahh...who wouldn't love to go to Green Bay, camp out under the stars by the Don Hutson Center or, the holy grail of stadiums, Lambeau Field, and wait to see the Super Bowl champs take the field, even if it is to practice? 
Who wouldn't love to watch huge football players riding tiny bikes, supplied by kids, to and from practice? Who wouldn't absolutely love to see the players who gave Packers fans everywhere a smile that has lasted for five months? Charles Woodson? Clay Matthews? Donald Driver? Frank Zombo? Aaron Rodgers? Welcome home, guys.
Or, you can be like some of my family members who seem to think that the trip to Mankato to watch the Vikings practice is the better option. I truly think that I am adopted sometimes, as football fandom may be one of the genes on the DNA double helix...and since half of my genetic strain bleeds Purple and Gold, rather than Green and Gold, you may see where my twisted sense of humor comes from. 
Anyway, I would say more, but truly? I'm just happy to know that I can park my pooper in my favorite chair this fall, watching football. I vow to even watch teams other than the Packers to show my appreciation that there is a football season and I even vow to watch the games SOBER so I know what is going on.
Ahh...football.
Anywho, have a good week all and get ready!