Chavaughn Lewis Looks to Bring Energy, Winning Tradition to Marist College
July 27, 2011
Just four months removed from the biggest game of his life, Chavaughn Lewis is working harder than ever trying to improve his game in preparation for playing Division I college basketball.
On March 12, Lewis's high school team, the St. Mary's Gaels, took on the Mt. St. Michael Academy Mountaineers in the NY State CHSAA Class A Championship. It was the second consecutive game in which Lewis dropped 30 points, but that alone, does not give you the full story.
St. Mary's trailed 51-43 and then by 10 with six minutes left in the fourth quarter. The Gaels, led by Lewis, then made a charge. Lewis scored 11 of the team's final 18 points, sending the game into overtime tied at 63. Lewis said, "When you're a past first kind of guy you try and get your team the ball. You need your team, but at the end of the game when your team needs you, then that's when you got to be 'Alright, my team needs me'…that's when you get aggressive."
St. Mary's went on to win 78-70 in overtime. "I just think [my performance] came from the eager to win, and the word losing not even being in my vocabulary," adds Lewis.
Lewis received a scholarship to play D-I basketball at Marist College in Poughkeepsie, NY, after also receiving offers from Long Island, Loyola (MD), and Siena. "The deciding factor was the coaching staff," said Lewis. "Coach Chuck Martin made it feel more like a family. I just feel comfortable with everyone. My mom liked them and that was a big factor."
Another perk to Marist is that Lewis's longtime friend TJ Curry will be on the team as well. Lewis and Curry began playing together at age nine and have been reunited after parting ways in high school.
The two friends, as well as incoming freshmen Manny Thomas and Isaiah Morton, are already on campus and working out with one another. "Each player has a different strength," said Lewis. "TJ is strong, Isaiah is quick, Manny is long so, like, that helps my defensive side. We all have different strengths and [playing against] each helps me improve my game."
Coach Martin made a big push for the summer workout program to help get all the players acclimated with one another; however, this year only the freshmen are on campus because of the construction to the McCann Center.
"We have seen what it can do at the other schools we have been at," said assistant coach Paul Lee. "Them showing up, not only getting a head start on their credits, but getting a feel for how this place works, where the buildings are, being exposed to the strength and conditioning coach…and getting to know each other, benefits these kids come September."
Lewis is taking a technology class, a writing class and working to improve his flaws such as shooting, stamina and becoming stronger. "College is a lot different. Way, way different. It's a lot more physical," said Lewis. I think that's the major transition that I'm going to have to face."
Lewis's few weaknesses are outweighed by his many strengths. "I'm a good scorer. I'm good at getting to the basket and setting up teammates. I'm good at defense," said Lewis. In addition, "For my height [I have good] speed and my [basketball] IQ and my instinct to do certain things."
With all the great attributes that Lewis possesses it may come as a surprise that basketball was not his first sport; it was tennis. "I was good at tennis and my father figured I would be a good tennis player," he adds. Lewis enjoyed playing chess, checkers, bass guitar and drums in addition to tennis.
"Then my brothers started playing basketball and tennis at the same time while I'm playing tennis. Then it got to the point where my father was not too into me starting basketball and dropping tennis…but he understood that I liked playing basketball more. Finally, he was supportive of it, and he supported me until he passed away."
Lewis's father died during his sophomore year of high school. But he always carries with him the lessons that his father has taught him, both metaphorically and with the image of his father with angel wings inked on his right arm. "Off the court, what he taught me has helped me become a young man, and helped me understand the ways of life. He used to come to all of my games, and he's not there physically [which] pushes me to just wanting to make him happy."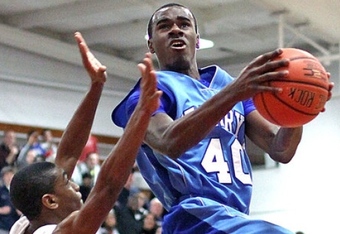 Another big influence on Lewis was high school assistant, Ira Hunt, who he originally met through AAU ball when he was nine. "He pushed me and always was like family and believed in nothing but success. In high school, he helped me become a better person."
The one thing that stands out to Hunt is the energy that Lewis always brought to the court. "He is a silent leader whenever he's on the court [and] his teammates normally feed off of that. They know he has the energy." Hunt adds, "It's very hard and difficult for him to have a bad game and for us to win because of his energy." Hunt also helped Lewis by contacting the Marist coaches while he was in the recruiting process.
Lewis's mom Pansy and brother Romaine have also been a major support system in his life. "She was a big influence when I lost my dad. I saw how strong she was, and she's just a big role model and big key factor in my life. [Romaine] pushed me since I was little and always made me believe I could do whatever I wanted to."
The 6'5", 185-pound Lewis plays both forward and shooting guard. "I could see myself playing both positions, because I'm tall, but I also am a wing player. Slashing is like my main forte and I operate on the wing…[setting] up plays for my teammates out there [is] where I fit in."
Coach Martin is confident in Lewis's capabilities. "He has the potential to be a prolific scorer," said Coach Martin in a press release. "He's the highest rated player from New York State I have ever recruited at Marist."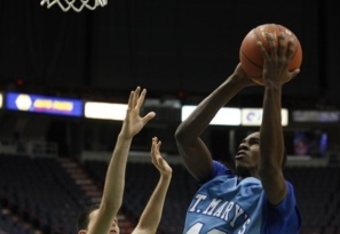 Lewis is also confident with his game but recognizes that there is at a learning curve. "In high school you get away with a lot of things, and their begins room for you to make up for it, but I think in college you have to be specific with the moves you make and the decisions you make because everyone is just as smart and just as talented as you."
The Red Foxes open the season at Kentucky, a school stacked with NBA talent. The Wildcats are coached by John Calipari, who was the head coach at Memphis when Coach Martin was an assistant there. "Kentucky is going to come into this game like we going to smack these dudes. If we come in with confidence, they're going to have something coming for them," said Lewis.
"Our goal this year is to get out of the first round in the MAAC tournament. This is the best recruiting class we have had since I have come to Marist, so hopefully it will also attract recruits who will come to the school next year," said Coach Lee