Donovan McNabb, Kevin Kolb, Kyle Orton and the Rest of the NFL's QB Free Agents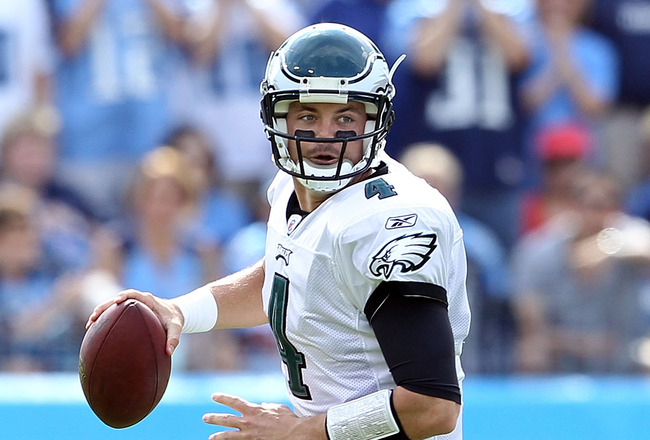 Andy Lyons/Getty Images
With the NFL lockout officially over, fans will soon witness one of the craziest weeks in recent memory. Over the next five days, teams will attempt to sign undrafted, drafted, restricted and unrestricted free agents.
Teams will make trades but won't be able to make them official until Saturday. On Thursday, teams will officially cut players and a second wave of free agents will become available.
Here are nine proven quarterbacks who will demand attention over the next few days:
Kevin Kolb Isn't Going Anywhere Unless the Eagles Lower Their Asking Price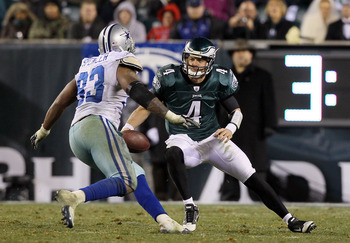 Kevin Kolb is a natural runner.
Jim McIsaac/Getty Images
Kevin Kolb, QB: is widely believed to be the prize of the available quarterbacks this offseason. Unfortunately, he's not a free agent and his availability is completely dependant upon the Philadelphia Eagles. With a cannon for an arm and natural running ability Kolb was touted as McNabb's replacement since 2007. Replace McNabb he did but only for a short while. After suffering a concussion in 2010 backup Michael Vick entered the game and Kolb hasn't started since. After the coup d'état, speculation of Kolb being traded has been constant and feverish of late. Kolb has been linked to the Arizona Cardinals since March but Kyle Orton has entered the picture as of late. We don't think Orton has the arm to consistently hit Larry Fitzgerald deep. Unless, Philadelphia gets greedy Kolb should end up in Arizona.
Donovan McNabb May Find Super Bowl Glory Witht the Vikings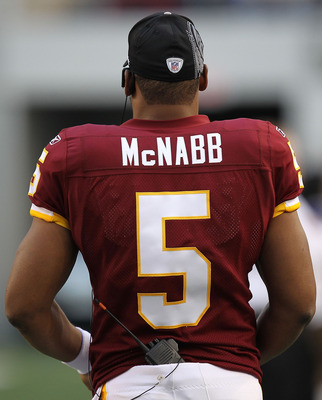 McNabb makes the Vikings a credible playoff team.
Ronald Martinez/Getty Images
Donovan McNabb, QB: is going to Minnesota. The Vikings have limited options at QB with Christian Ponder presumed to be the current starter. They need McNabb even more than he needs them. Despite there dismal 2010 season, the Vikings are still a talented team that may only need half of a Donovan McNabb to be relevant again. With the Favre saga over it's possible for Donovan and the Vikings to make a deep playoff run. This seems like a match made in heaven and we don't argue with those.
Vince Young May End Up with the Miami Dolphins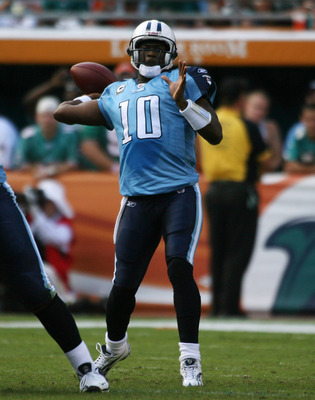 Taking his talents to South Beach
Marc Serota/Getty Images
Vince Young, QB: is in purgatory. His name hasn't been linked to anyone and with the league moving at a lighting pace he may be left behind. Statistically, Vince should be a sought after free agent but his mental breakdowns and off the field issues may be holding him back. Intuition tells me that if the Dolphins lose out on all other QB's they take a flyer on Vince. He's an inexpensive and relatively risk free investment.
Hasselbeck Will Party in Nashvegas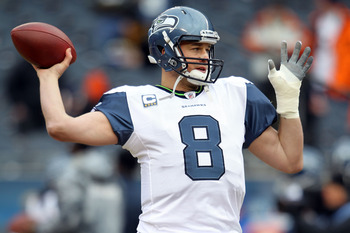 The Party is Over in Seattle
Andy Lyons/Getty Images
Matt Hasselbeck, QB: isn't signing with Seattle. Reports are surfacing that a little-known backup to Brett Favre will be joining the Seahawks which effectively ends the Hasselbeck area. So where does this leave Matt? Speculation has him joining the Tennessee Titans. Though I hate to go with the crowd its likely to happen. Virtually everyone in the Titans organization has ties to Seattle and Matt would be the starter from day one. Plus, it's Nashvegas! Right?
Tavaris Jackson Begins New Era in Seattle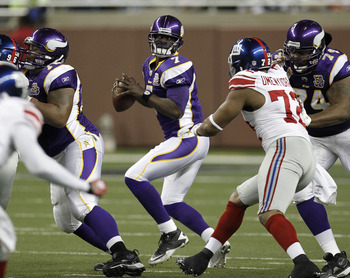 The Anwser to Seattles Problems?
Gregory Shamus/Getty Images
Tavaris Jackson, QB: is heading to Seattle? Sounds crazy but he'll likely start over Charlie Whitehurst. I always felt that Jackson got a raw deal with the Brett Favre saga as he wasn't a bad QB. He wasn't stellar during his 2007 campaign but he wasn't horrible either. Seattle doesn't have a good offensive line and it almost requires their quarterback to be mobile. Tavaris Jackson if anything is mobile.
Carson Palmer Will Retire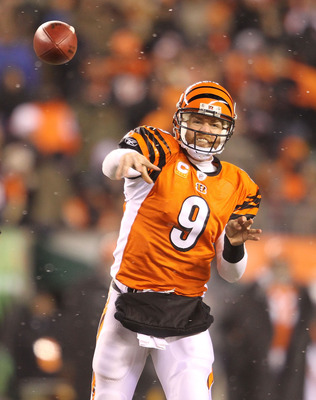 End of the Road
Andy Lyons/Getty Images
Carson Palmer, QB: will retire. Palmer seems like a man who stands by his word and Cincinnati's Mike Brown reasserted his firm stance in not trading Palmer despite his threat of retirement. At 32, Palmer may have difficulty with a comeback?
Kyle Orton Is a Classic Buying High Investment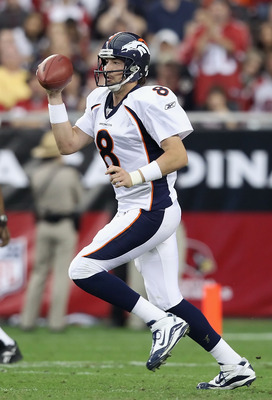 Did you buy a home in 2007? Orton is the same thing.
Christian Petersen/Getty Images
Kyle Orton, QB: is the hottest thing on the waiver wire. Sources have him linked to Arizona and Miami but we think Denver only trades him if they receive a king's ransom. It's no secret that Orton is being sold at his absolute highest value and some teams may shy away from this. Having Kyle doesn't increase the Dolphins chance of making the playoffs so why would they pay a king's ransom? Arizona is likely using Orton to lower the price on Kolb. Unless Philadelphia continues asking for a king's ransom then we think Kolb ends up in Arizona leaving Orton in Denver. Buffalo may be the sleeper for Orton's services.
Alex Smith Gets Final Chance with San Francisco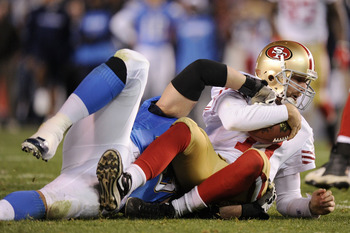 Harry How/Getty Images
Alex Smith, QB: is staying in San Francisco based simply on the organizations lack of time. Harbaugh hasn't even met half of his team so why would he bring anyone into the fold before figuring out what he has. Alex Smith was convenient. Nothing more, Nothing Less.
Marc Bulger Could End Up Starting for the Carolina Panters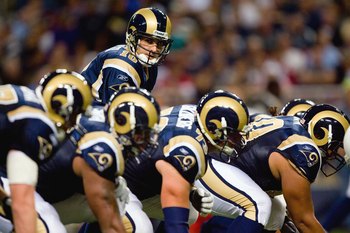 Dilip Vishwanat/Getty Images
Marc Bulger, QB: isn't a starting QB anymore and anyone who signs him is really looking for depth or a mentor for younger QB's. Thus, the Carolina Panthers may take a flyer on the former Rams superstar. That's his only chance of starting in 2011.
Keep Reading

Philadelphia Eagles: Like this team?