NFL Undrafted Free Agents 2011: Detroit Lions Show Their Teeth
July 27, 2011
Kevin C. Cox/Getty Images
Reports of UDFA offers and agreements to sign went on until the early hours of Tuesday morning, even though they could only technically be considered verbal agreements.  
The Lions came out of the gate early and twitter accounts were exploding with news of phone calls and exceptionally happy UDFAs who were reaping the benefits of an end to the 132 day lockout. 
According to ESPN's Kevin Seifert, "barring any immediate changes, NFL teams can formally sign those undrafted rookies starting at 10 a.m. ET Tuesday and can also begin negotiations with draft picks, their free agents and undrafted free agents."
The Detroit Lions took care of business by reportedly agreeing to deals with nine different players.
Each of these players made verbal commitments to sign with Detroit but still have the option of not signing.
Realistically, whether the undrafted free agent rookies end up signing or not, the direction of where the Lions front office will be going took shape in the course of a few hours.
If there was any doubt that head coach Jim Schwartz and general manager Martin Mayhew were looking to address the issue of depth at OLB, the fact that they pursued three players at that position on the first day should cast aside any residual doubt.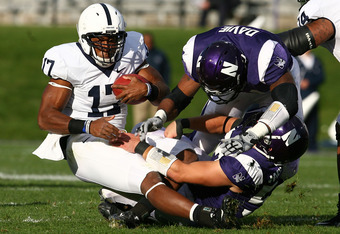 Jonathan Daniel/Getty Images
They reportedly made verbal agreements with three wide receivers, proving that one of two things are happening here.
One, the Lions are looking to add depth and are hoping to find an undrafted player who could step it up and fill their respective role.
Two, the Lions are just adding players to bring their roster count to the new limit of 90 for training camp.
No one knows if any of the UDFAs will make the final roster cut but it makes it clear which positions Detroit feels they need to address.
Truth be told, there may be some diamonds in the rough, but it is more likely that the Lions pick up two to three veteran players in FA to fill any positional needs. However, it would be great to see some of the UDFAs make it on the team. You can't help but root for the players who could prove that they deserved to be drafted.
The first mentioned offer went to TE Preston Dial from the University of Alabama. No small school issues here. 
Even though Dial is listed as a TE he would most likely be asked to play FB. Both Jerome Felton, a restricted free agent who was tendered at his original fifth round pick, and Jake Nordin, an unrestricted free agent who could be gone this year, are leaving an open roster spot at FB.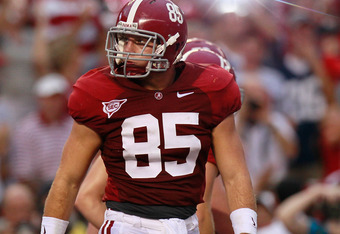 Kevin C. Cox/Getty Images
ESPN ranked Dial at 17 out of a possible 278 as a TE but NFL Draft Scout who had him listed as a FB rated Dial number seven out of 84. There is clearly the thought that he would be easy to convert to the FB position as he's a bit small for a TE.
Next up is Quentin Davie who had 90 tackles and five sacks in his junior year at Northwestern as an OLB. At 6'4 and 232 lbs Davie could be a beast on the outside if he gets his game back on track. What better place to do that than in Detroit, a team that boasts one of the most dominate lines in the NFL?
Davie was ranked 24th by KFFL for OLBs entering the 2011 draft. To put that into perspective, Doug Hogue—who was drafted by the Lions in the seventh round—was ranked 18. Davie was expected to be rated higher but after a disappointing senior campaign he slid down and out of the draft.
The other two OLBs to reportedly be signing with the Lions are Dejuan Fulghum from Texas Southern University and Cobrani Mixon from Kent State.
Fulghum is a 6'0, 225 lb OLB who received the 2010 SWAC (South Western Athletic Conference) football defensive player of the year award after leading his team with 91 tackles and nine sacks in his senior campaign.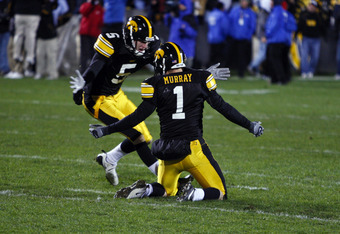 David Purdy/Getty Images
Cobrani Mixon is listed as an ILB who can also play on the outside. The 6'1, 241 lb linebacker was named to the 2010 All-MAC football first team. He started out playing for the University of Michigan before transferring to Kent State. Mixon recorded 108 tackles and three sacks in 2009. 
During his senior year in 2010, Mixon had some injury issues—shoulder, knee, and foot—that prevented him from playing in every game, but he still managed to post 82 tackles, six and a half sacks, one forced fumble and one interception.
Staying with the defensive side of the ball, the Lions offered to sign Ricardo Silva, a 6'2, 210 lb Strong Safety from Hampton. Silva posted 74 tackles, four interceptions for 68 yards and a touchdown in 2010 to lead Hampton's secondary. He had a solid Pro Day performance with a 4.6 40 and a 34 inch vertical jump.
Since the Lions are relatively set at this position, Silva may be asked to try to convert to the cornerback position and see if he can bring some competition.
The last defensive player reportedly offered a contract is Iowa Punter, Ryan Donahue. This may come as a bit of a surprise to many as Lions current Punter, Nick Harris is under contract until 2013 (5 yr/$8,550,000). 
However, Donahue was rated as one of the top punters in the nation—second overall—and  may just be one of those diamonds in the rough. If there is room to keep him, he would have two years to learn under Harris.
Switching to the offensive side, there were three wide receivers and one guard who have been offered contracts.
Jeff Maddux is a 6'4, 307 lb offensive guard from Central Michigan University who can play on both the right and left side. He can also play at the tackle position, which makes him the kind of versatile player the Lions' front office loves. He started in all 47 games of his college career.
Next up is Marcus Harris, a lanky 6'1, 187 lb wide out from Murray State who put up impressive numbers and was team captain. 
In 2010, according to ProFootball Weekly, "he became MSU's all-time leader in catches (216) and receiving yards (2,471)." Harris was productive on kickoff and punt returns and rushed 33 times for 155 yards (4.7) and one touchdown.
The second WR the Lions made an offer to is Keith Smith from Purdue. Smith is a 6'2, 232 lb receiver who tore his ACL in the early days of his senior campaign. However, in 2009 Smith posted 91 catches for 1100 yards. He knows how to get open and is considered to be an underrated possession receiver.
Last, but certainly not least, is Jared Jenkins.
Jared Jenkins, from Div. III University of Wisconsin at Stevens Point, is one of the most interesting UDFA pickups for Detroit. He was thought to be a target in the draft by the Seattle Seahawks who he visited with in the offseason. Danny Kelly, a reporter for the Seahawks on SB Nation had this to say about Jenkins:
At 6'4, 215, he's another big, speedy, small school prospect that could be interesting to watch for on Draft weekend. Jenkins has 234 career receptions at UWSP with a ridiculous 34 TDs, so he's definitely got a nose for the end zone. He runs a 4.47 40 and has a 35 inch vertical with a 12'8" broad jump—not bad for a guy his size.
Jenkins was also chosen as a "sleeper" for the New England Patriots.
The Lions hit the UDFA hard the first day, but have slowed down to focus on cutting their own players, making trades, signing their own FA's, and making other necessary changes to stay under the new salary cap.
This is just the beginning of a very exciting week in the NFL.