Robin Dutt: Is He the One That Bayer Leverkusen Need to End "the Neverkusen"?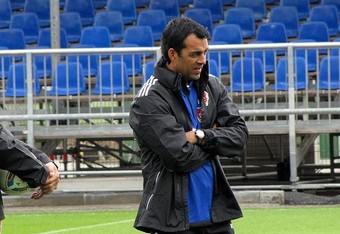 Robin Dutt: A Man with A Vision?

"I didn't come to Leverkusen to turn a second-placed team into a fourth- or fifth-placed team." — Robin Dutt
With that statement, Robin Dutt took the reins as the new trainer—succeeding Jupp Heynckes, who left for Bayern Munich—at BayArena on June 19, 2011.
The decision to take Robin Dutt to Leverkusen was already made in March.
Since then, the fans—who keep an eye on and give an ear to what's been done and what's been said—have been on some sort of "red alert," as they know that any wrong step could lead to a shambolic disaster to the great work that Wolfgang Holzhäuser and Rudi Völler have done together.
The season hasn't started yet, and anything to conclude on Robin Dutt at this stage would be shockingly mental, but we will walk down this street and have a look at how Werkself Stryder perceives the arrival of Robin Dutt.
By looking at his initial dealings, reactions and course of actions, we will assess that famous maxim: "First Impression is the last impression." (true or false; depends.)
Impressions
Robin Dutt is 46 years of age and probably comes in the wavelength of other young and ambitious managers like Michael Oenning (36), Thomas Tuchel (37), Markus Babbel (38), Holger Stanislawski (41), Ståle Solbakken (43), Mirko Slomka (43), Jürgen Klopp (44) and Bruno Labbadia (45).
This age group suggests that these faces will be around in the training business for a long time to come and surely will be looking to take first-hand advantage on any opportunity they will get, tactically or psychologically.
Something tells me that this group will be a lot of fun to watch if they all stick together in Bundesliga.
What's special about this group of trainers is that every one of them has his own distinct style when approaching the press, tactics, discipline and matches.
Almost all of them have had their chance to break and further their career (Stanislawski, Oenning). Some of them remained in doldrums all along (Labbadia), some stumbled on their first step but then straightened themselves up (Babbel), while one or two of them (Solbakken and Slomka) look tactical genius and already have had the Big European Cup ride. Some even look born genius (Tuchel, Klopp).
What's different with Dutt is that he's got his biggest chance of his life now.
Born on January 24, 1965, in Lindenthal (Köln), Robin Dutt is half-Indian (from father) and half-German (from mother)—although he was raised in Germany.
Dutt is one of those people who kept playing football at obscure or small-town football clubs all their lives and suddenly became the trainers with great "footbalistically" educated minds. He has climbed the ladder with discipline, hard work and work ethics.
It took seven years (2000-2007) for Dutt to stride from Ditzingen to Freiburg.
In between, he was at Stuttgart Kickers as well. His first season at Freiburg (SC Freiburg played in 2. Bundesliga at the time) was normal business, as the club finished fifth on the league standings (they had finished fourth the season before with Freiburg's ever-present Volker Finke).
It was his second season at Freiburg that earned him some plaudits, as the club won 2. Bundesliga and marched into elite Bundesliga with the promotion.
The first season in Bundesliga with SC Freiburg saw Robin Dutt escaping the relegation.
They finished four points ahead of the relegation playoff spot. In this season, which just ended and proved to be Dutt's last season at SC Freiburg, the club managed to cling onto the respectable ninth position on the league table.
They finished well ahead of usual suspects: Wolfsburg, Schalke, Werder and Stuttgart.
Opinions, Ideas, and Personality
Robin Dutt is very down-to-earth professional.
He has this aura which rubs off on others. He respects and values discipline and loyalty.
You can judge this from whom he brought in at BayArena from SC Freiburg: Omer Toprak (defender), Damir Buric (Assistant) and Marco Langenar (Goalkeeping Coach).
Not only that, but he also recently signed standby goalkeeper David Yelldale from MSV Duisburg, whom Dutt is familiar with from his Stuttgart Kickers days.
Robin Dutt surely knows that when he comes to Bayer Leverkusen, it won't be an easy task.
His first media presser confirmed not only that, but also reflected his ideas and composure in dealing with pressure with comfort and ease.
There is an air of likability about him.
He took on some serious issues revolving around Bayer Leverkusen, such as Ballack's issue with DFB, Adler's morale and confidence and Vidal's transfer situation (all of a delicate nature).
These issues have been handled by Robin Dutt very professionally with a clear mindset and pragmatic approach.
Dutt encouraged Michael Ballack to give it all for Bayer Leverkusen in upcoming season, saying "Ballack now can concentrate and fully focus on the season with us."
To put it mildly, he simply said that Ballack still has a place at Bayer Leverkusen and can show others that he's not finished yet by playing the season of his life.
It didn't mean—in any way—that he welcomed the DFB's decision of closing the doors behind Ballack once for all.
On the other hand—when asked about how to get Adler back into rhythm—he said, "Think Adler 'is' in the rhythm. If you start your career like Adler, then the bar is incredibly high. He has played a good season, I'm sure, and if it was his first Bundesliga season, then he would now be on everyone's lips. René Adler is better than the much-acclaimed Baumann and Trapp because he has more experience and has used it to the same benefits."
Where do you think Bayer 04 will finish in this 2011-12 season?
It might seem a very little thing, but René Adler was set as Germany's No. 1 for World Cup 2010.
Adler's Cup ended in shattered dreams, as he got injured and missed the tournament.
Manuel Neuer took advantage of the golden opportunity and sealed his name as the German No. 1 for the foreseeable future.
Since then, Adler has never been same. Whether there's something on his mind or not, no one would know but Adler, who started giving up some "pathetic goals" and seemed like he just forgot how to save.
Adler needs confidence. Someone needs to set his mind right.
After all, no one can recover from that so easily. With that quote, Robin Dutt gave Adler exactly what he needed the most: trust.
He has left Vidal's situation in the hands of Holzhäuser and Völler, which is a good thing, as publicly waddling into that matter wouldn't make sense when the team is training in Austria and needs to refresh and prepare for the season with clear mindset.
Whatever happens will happen.
But that doesn't mean that Robin Dutt has taken it for granted.
He has been playing Gonzalo Castro at CDM in the preseason friendly games, just in case.
If Castro adapts to that well and quickly then Ballack, Bender, Rolfes and Castro will be very valuable at the centre of the field.
However; Hanno Balitsch, who is naturally more of a centre midfielder, is being tested more defensively on the right-back position.
Balitsch has almost played each and every position for Bayer Leverkusen. The only position he needs to try one day is goalkeeper.
New signings Karim Bell Arabi and Schürrle have made good impressions but would need a little time to gel with the team and get used to how the team plays, especially Schürrle (only for his positional awareness of his teammates).
As the season approaches, this problem will sort itself out.
We also have Tranquillo—who resumed full training and successfully featured in preseason friendlies—and Sidney Sam for the wings, so moving Balitsch to full back makes sense. It would only be a temporary solution, however.
Leverkusen would need a traditional right back for the new season.
Defensively, Toprak has been getting enough time and looks like he will get more game time during the season.
Bastian Oczipka, the 22-year-old Bayer Leverkusen left-back graduate who has been sent on loans for past three years, has been promoted to the first team and will play the left-back position.
He will provide great cover to Michael Kadlec. Retaining Oczipka to the first-team squad was a good management decision, as the lad is really good and can only improve.
It has been a great first few weeks with Robin Dutt at the helm of Bayer Leverkusen all around, but the real test hasn't really begun yet.
The first impression of Robin Dutt has been great. Theoretically, it looks like Bayer Leverkusen have got a man for the long term who can build on success after success.
But the word "success" has another meaning in Leverkusen.
One can only hope that Robin Dutt will continue to deliver what has been perceived about him.
When the time comes, hopefully Robin Dutt will be able to deliver.
"We must aspire to improve beyond expectations. It'll be a bad season if we don't get into Europa. If we get into Europa, it'll be like an average season for us. It'll be good if we make into Champions League. But if we win the title, it would be fantastic!" — Robin Dutt on Bayer Leverkusen
You can read this post at Werkself Stryder and leave a comment there as well.
This article is
What is the duplicate article?
Why is this article offensive?
Where is this article plagiarized from?
Why is this article poorly edited?