Vancouver Canucks: Have the Canucks Dropped the Ball This off Season?
July 26, 2011
Rich Lam/Getty Images
As the 2011 NHL season draws closer and closer, it appears that the Vancouver Canucks are done making moves.  In doing so, they are missing an opportunity to improve and may pay for it in the upcoming season. 
All this despite last season, when they were one game away from winning the Stanley Cup. 
General manager Mike Gillis apparently sees no reason to mess with the strategy or the line up that got them there. 
The problem is that in those seven games with Boston, some serious issues were exposed. 
For one, the Bruins out-toughed the Canucks.   
Even though the Canucks matched Boston's hitting, it was the way the Bruins hit that made the difference. It was the way Boston was more disciplined and didn't let after the whistle games affect them. 
The series also exposed the lack of a scoring winger on the Ryan Kesler line.  All season long the Canucks struggled to find a consistent winger to play with Kesler, and it caught up with them in the Finals.
Kesler and his line were non-factors. 
The series showed that the Sedins could be pushed around and marginalized by physical play. This was also displayed against the Predators, who play a very similar style to Boston. 
For Vancouver to get over that hump, they need to get Kesler a scorer to play with. They need to find a way to have the Sedins play tougher, and they need to stay within their game when their opponent starts taking shots at them. 
The latter of these issues is not something that can be fixed necessarily through free agency, but the first two can. 
One way, would be to sign or trade for a sniper to play alongside Kesler.   
They could also consider moving Alex Burrows to play with Kesler, a move which worked marvelously against Chicago in round one and wasn't seen again until late in Game 7 against the Bruins. If they did that they could have picked up a physical winger to give the Sedins line some toughness and some room. 
So, what did they do? 
They signed a bunch of border line NHL players and Marco Sturm. 
Marco Sturm.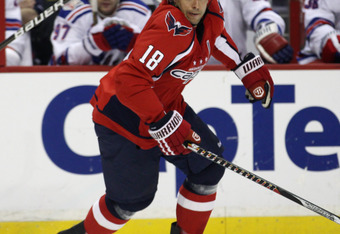 Bruce Bennett/Getty Images
Let that sink in for a while. 
There is no need to start planning the parade route in Vancouver after that move. 
Sturm is a serviceable player, when healthy, which he hasn't been. Even if his knee is as good as new, he is not an upgrade over Mason Raymond or Mikael Samuelsson to play with Kessler. 
What's even more frustrating is that the Canucks have some trading chips, but they haven't played them.
They have a young, up-and-coming goal tender in Cory Schneider, who could have fetched them a player they were looking for. Young Cody Hodgson could have been attractive to a team as well. 
Were there even any rumors or rumblings regarding these players?   
Hardly any.   
The only rumor surrounding Vancouver was that Colorado had offered a draft pick for Schneider and the Canucks declined. Was Gillis working the phones with anyone else? 
Why didn't they go after someone big and make a splash? Try to offer Schneider for someone like Evander Kane or Andrew Ladd, just to name a few.  They may not have worked out, but as a fan, don't you want to know that your team is trying? 
With Vancouver pursuing no free agents and no trades, Gillis is clearly indicating he is confident in the team moving forward in tact. 
This status-quo thinking is a mistake.  
While the Canucks still play in a weak division, some of their conference rivals have been making noise this offseason. With the margin of victory in the Stanley Cup Playoffs razor thin, the Canucks may be on the losing end of series against Los Angeles or San Jose this time around.
If the Canucks window closes without a championship, we may all look back to this offseason of inactivity and wonder what might have been.