Nicklas Backstrom, Alexander Ovechkin: Keys to Playoff Success for the Capitals
July 26, 2011
Len Redkoles/Getty Images
Even Alexander Ovechkin, one of the elite players in the NHL today, needs a healthy dose of sick assists from his friend Nicklas Backstrom, whose stellar play has made him one of the league's elite passers. Backstrom joined as a rookie in the 2007-08 season, adding 55 assists when Ovechkin had 65 goals.
It is only natural to assume that the two stars are dependent upon each other for statistics. Two years ago, Ovechkin and Backstrom were assumed by many to be the best tandem in the NHL (sorry, Pens fans, but Malkin and Crosby are not usually on the ice at the same time—except for PP).
Ovechkin, who had a sub-par season according to the lofty standards that we place upon him, only scored 32 goals last season. Anyone looking for a reason why needs to take a casual glance at the past two seasons for Backstrom.
Last year, Backstrom had 17 goals and 47 assists, in 2009-10, he had 33 goals and 68 assists. Thirty-three goals was enough of a shocker for someone whose previous best was 22; he emerged as an elite goalscorer and added another dimension to a line that already included Alexander Semin.
The 2009-10 season was a downright scary offensive year for the Capitals' first line and that starts and ends with Backstrom. Last season, Bruce Boudreau set up a new defensive initiative that resulted in less run-and-gun chances for Ovechkin and Backstrom.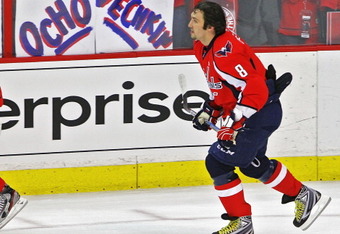 Len Redkoles/Getty Images
The season ended in a disappointing sweep at the hands of Tampa Bay, a team that was playing a trap-like defense and was accused of taking the excitement out of the game at many points during last season's playoffs.
Watching the Capitals play last year was also a lot less exciting, and coach Boudreau is running out of ideas for playoff success.
Bruce should let the first line play their game. After all, Tomas Vokoun gives the Caps a new chance to have a goalie who is used to being bombarded with shots.
You have to let Ovechkin take advantage of the setup man that he has in Backstrom. Both players had some struggles last year, but Ovechkin can score 50 with Backstrom, who can easily pitch in 80-90 points during the regular season.
Just because Boudreau thinks that a formula works better in the playoffs does not mean that he should use it all the time in the regular season anyway. Whether or not the formula does work is up for discussion anyway because the Caps still couldn't make it near the Finals.
Backstrom is the one player who is able to ensure the success of both Ovechkin and Semin, and arguably even the team in general.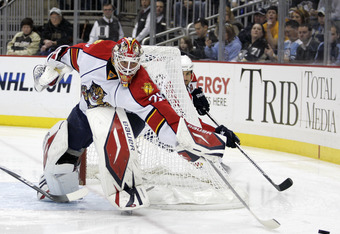 Justin K. Aller/Getty Images
He looked downright uncomfortable at some points last season being forced to re-learn how to do things that he already knew how to do quite well.
This season will hopefully represent a change in strategy for a team that at some points looked as though it was trying to win 2-1 games too hard. Playing for a point does not work in the playoffs, and teams who think they are being conservative often end up lost in the playoffs. No team is scared of the Caps in the playoffs any more.
The only exception to this rule might be the New Jersey Devils, who sat back and played a boring trap during some of their playoff runs in recent years. Tomas Vokoun does not quite have the reputation to tell the media what style of hockey the Caps should play the way Brodeur called out the Devils last season.
Boudreau has a tough decision in terms of what style to play next season, but why not try and display your power during the regular season. Backstrom is just scratching the surface of potential as a passer, and could post other 100-point seasons before it is said and done.
His comfort with Boudreau as a coach is integral to Ovechkin's success as the premier goalscorer in the NHL, which has been questioned recently (the Crosby, Stamkos, Ovechkin debate, in no particular order).
Backstrom is the integral piece of the Capitals who may be overshadowed by his Russian friend, but is seen as a leader in the clubhouse and a valuable asset on the ice.